Facilitating Mental Health
Living reference work entry
DOI:
https://doi.org/
10.1007/978-3-319-69627-0_6-1
The purpose of this chapter is to explore the concept of mental health within the United Nations 2030 Agenda for Sustainable Development. After providing an outline of the sustainable development goal agenda, this chapter defines mental health and highlights current global mental health and existing strategies for facilitating mental health. Following this, the chapter explores the concept of sustainable development and considers barriers to sustaining global mental health. To conclude, it presents alternative, nontraditional approaches to facilitating positive mental health and highlights the mechanisms that generate these improvements.
The 2030 Sustainable Development Goal Agenda
In 2015 the United Nations presented a global agenda for sustainable development (United Nations 2015). The comprehensive blueprint provides a plan of action that enables the entire world to embark on a collective 15-year journey to improve people's lives and protect the planet for future generations. The agenda presents 17 universal Sustainable Development Goals (SDGs) that are applicable to all countries and accepted by all. The goals consider economic, social, and environmental dimensions and cover a broad range of sustainable development issues, such as ending poverty and hunger, improving health and education, making cities more sustainable, combating climate change, and protecting oceans and forests. Within the agenda, health and well-being feature heavily, with SDG3 focusing on promoting physical and mental health for all ages. Importantly, global target 3.4 directs specific attention to mental health and aims to "reduce by one third premature mortality from non-communicable diseases through prevention and treatment and promote mental health and wellbeing."
Defining Mental Health
Traditionally, mental health has been viewed under the medical/clinical model, meaning the term is often used interchangeably with mental illness. From this perspective, mental health is directly linked to symptomology and associated with an absence of mental illness. However, this perspective has been critiqued as being too simplistic. For example, within a significant Canadian government document, Mental Health for Canadians: Striking a Balance, Epp (
1988
) framed mental health as distinct from mental illness. Rather than viewing mental health and mental illness at opposing ends of a continuum, Epp presented them as separate dimensions on two separate and simultaneously occurring continua (Fig.
1
). Optimal mental health and poor mental health represent the extremes on one continuum, while no symptoms of mental illness and serious mental illness represent the extremes of the second continuum. Optimal mental health, sometimes referred to as mental well-being or mental wellness, is defined as "the individual, group and environmental factors that work together effectively, ensuring subjective well-being; optimal development and use of mental abilities; achievements of goals consistent with justice; and conditions of fundamental equality" (Epp
1988
, p. 9). By contrast, poor mental health involves "individual, group and environmental factors that conflict, producing subjective distress; impairment or underdevelopment of mental abilities; failure to achieve goals; destructive behaviours; and entrenchment of inequalities" (Epp
1988
, p. 9). Consistent with this framework, a person with a specific mental illness can still experience positive mental health, while a person without symptoms of mental illness can experience poor mental health. Accordingly, individuals can experience good mental health and improvements to mental health, despite ongoing mental illness symptomology.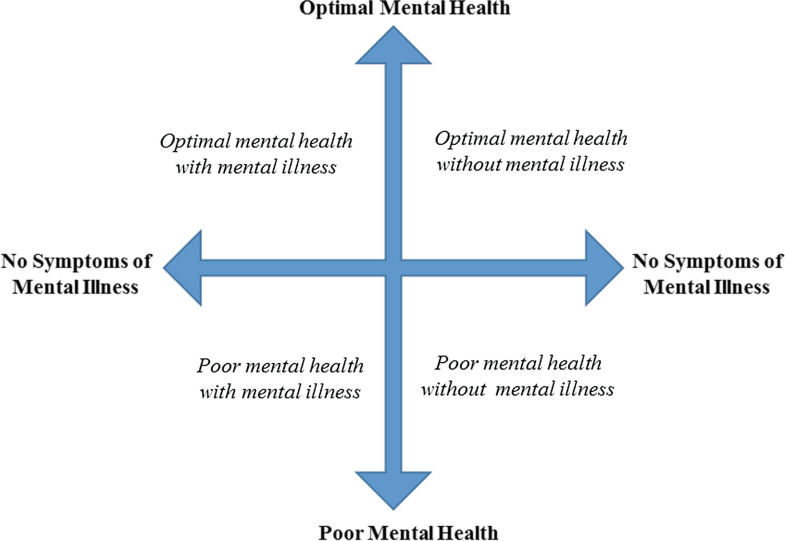 In light of the aforementioned, this chapter moves forward drawing upon the World Health Organization's (WHO) definition of mental health, defined as a "state of well-being in which every individual realizes his or her own potential, can cope with the normal stresses of life, can work productively and fruitfully, and is able to make a contribution to her or his community."
Global Health
The 2030 Agenda specially aims to reduce premature mortality from noncommunicable diseases (NCDs). NCDs are diseases which are not transmissible or caused by injury and are often of long duration with slow progression (WHO 2005, 2006). They present a significant threat to human health and leave no country untouched. In 2015, approximately 40 million deaths occurred due to NCDs, which accounted for 70% of the overall total deaths (WHO 2017a). The majority of such deaths were caused by the four main NCDs, namely, cardiovascular disease, 17.7 million deaths (accounting for 45% of all NCD deaths); cancer, 8.8 million deaths (22%); chronic respiratory disease, 3.9 million deaths (10%); and diabetes, 1.6 million deaths (4%). Moreover, although NCDs were historically considered "diseases of affluence," they are now becoming increasingly more prevalent in low-income and lower middle-income countries, where almost half of premature NCD deaths occur (Bloom et al. 2011; WHO 2017a).
Although common mental disorders (CMDs) do not fall under the umbrella of NCDs, it is well established that there is an inextricable and reciprocal link between mental health and NCDs. That is, mental health disorders affect NCDs and vice versa. For example, the relationship between diabetes and depression is bidirectional: individuals with diabetes are more likely to develop depression, and depression is a risk factor for diabetes (WHO 2017b). Elsewhere, Druss and Walker (2011, p. 4) identified that more than 68% of adults with a mental disorder reported having at least one general medical disorder and 29% of those with a medical disorder had a comorbid mental health condition. In light of this relationship, the prevention of CMD can be used as a strategy for minimizing or delaying the onset of NCDs.
CMDs pose significant threat and harm to the population. Across the globe, individuals with mental health disorders experience disproportionately higher rates of mortality. For example, the WHO found that persons with major depression and schizophrenia have a 40–60% greater chance of dying prematurely than the general population, owing to physical health problems that are often left unattended (such as cancers, cardiovascular diseases, diabetes, and HIV infection) (WHO 2013, p. 7). In addition to this, approximately 800,000 people commit suicide each year, and there are likely to have been more than 20 suicide attempts for every suicide death (WHO 2018). Among 15–29-year-olds, suicides are the second leading cause of death, and the majority of global suicides (75%) occur in low- and middle-income countries (WHO 2018).
Depression and anxiety disorders are particularly prevalent, and when the global burden of disease is viewed in terms of disability, and not death, major depression is the second leading cause of disability (O'Neil et al. 2015, p. 2). Across the globe, over 300 million people (4.4% of the world's population) suffer from depression, and 264 million people (3.6% of the world's population) live with an anxiety disorder (WHO 2017c). These statistics reveal an 18.4% and 14.9% rise in depression and anxiety, respectively, since 2005, which reflects the overall growth and aging of the global population.
Though mental illness influences people across the globe, certain individuals or groups in society are more vulnerable and may be placed at higher risk of experiencing symptoms. Worryingly, evidence suggests that a fifth of children and adolescents have a mental health disorder, with half of these beginning before the age of 14 years (WHO 2018). Moreover, the onset of depression and anxiety is higher among females, and these mental health issues are often associated with poverty, physical illness, unemployment, challenging life events, maltreatment, and neglect (WHO 2013, 2017c).
Supporting Global Mental Health
Across the globe, many governments have implemented a range of strategies to improve the quality and organization of mental health care and services. Most often this has involved the development of a mental health policy and/or mental health plan that is either a stand-alone approach or embedded into alternative policies/plans. A mental health policy is "the official statement of a government conveying an organised set of values, principles, objectives and areas for action to improve the mental health of a population" (WHO 2014, p. 23). A mental health plan "details the strategies and activities that will be implemented to realise the vision and achieve the objectives of a mental health policy" (WHO 2014, p. 23).
The Mental Health Atlas (WHO 2011, 2014) assesses whether a country has an approved mental health policy and/or plan and considers its level of implementation. In 2011, 60% of countries reported having an officially approved dedicated mental health policy, and 71% reported having a dedicated plan for mental health (WHO 2011). However, though approximately 72% of the world's population were provided with a clear mental health policy, there remained notable differences between regions, with policies being frequently more present in high-income countries (77.1%) than low-income countries (48.7%). For instance, while large proportions of countries within Europe (73.1%), Southeast Asia (70%), and Eastern Mediterranean (68.4%) had a dedicated mental health policy, they were less prevalent in Africa (42.2%), the Americas (56.3%), and Western Pacific (57.7%).
In 2014, the number of countries reporting to have a mental health policy or plan increased to 68% (WHO 2014). However, despite more than half of countries having a mental health policy or plan, the self-rated implementation of these policies indicated that only 15% of responding countries were fully implementing their policy or plan. Again, there were notable differences in implementation between regions. For example, while nearly a third of European and Southeast Asian countries were fully implementing their mental health policies/plan, no Eastern Mediterranean countries were fully implementing the plan.
Though the prevalence of mental health illness is relatively stable across countries, the availability of resources and services in countries varies considerably. Globally, the cost of mental illness in 2010 was estimated at US$2.5 trillion, which is expected to increase dramatically to US$6.0 trillion by 2030 (Bloom et al. 2011). Despite these figures, the gap between the need for mental health treatment and the provision of care remains large, and the resources being invested to meet the growing mental health need are insufficient (WHO 2011, 2013). Findings from the Mental Health Atlas indicate that annual spending on mental health is less than US$2 per person and less than US$0.25 per person in low-income countries (WHO 2011, p. 10). Moreover, wealthier countries devote a larger proportion of their health budget to mental health (WHO 2011, p. 28). Specifically, the median percentage of health expenditures dedicated to mental health is 0.5% in low-income countries and 5.1% in high-income countries, with graduated values in lower and upper middle-income countries (WHO 2011, p. 26).
In addition to the lack of funding, there is also a severe scarcity in provision and inequity in the distribution of skilled human resources. For example, as many as 85% of individuals with severe mental disorders in low-income and middle-income countries and 50% with severe mental disorders in high-income countries receive no treatment for their disorder (WHO 2013). There are also shortages of psychiatrists, psychiatric nurses, psychologists, and social workers, especially in low- and middle-income countries (WHO 2018). According to WHO (2013, p. 8) "almost half the world's population lives in countries where, on average, there is one psychiatrist to serve 200,000 or more people." Moreover, the rate of psychiatrists in high-income countries is 170 times greater than low-income countries (WHO 2018). The availability of facilities by income group follows a similar pattern. For instance, though there are 0.61 outpatient facilities per 100,000 people across the globe, these are more prevalent in high-income counties. The highest rates of facilities are located in Europe and Western Pacific (both 1.47), with the lowest rate in Africa (0.06) (WHO 2011). Markedly, "outpatient mental health facilities are 58 times more prevalent in high income compared with low income countries" (WHO 2011, p. 10).
Strategies to Promote Mental Health
Across the globe, there is a diverse array of traditional strategies in place to promote positive mental health and reduce mental illness among the general population. For the most part, these are either pharmacological or psychotherapeutic.
Pharmacological Therapy
One of the most familiar approaches to treating common mental health disorders is pharmacological therapy (National Institute of Health and Care Excellence [NICE] 2011). In particular, selective serotonin reuptake inhibitors (SSRIs) are frequently used to treat depression (Bauer et al. 2008; von Wolf et al. 2013), generalized and social anxiety disorder (Hedges et al. 2007; Baldwin 2001), obsessive-compulsive disorder (OCD) (Soomro et al. 2008), panic disorders (Kasper and Resinger 2001), phobias (Ameringen et al. 1999), and post-traumatic stress disorder (PTSD) (Tanielian and Jaycox 2008; Puetz et al. 2015). However, while the benefits of pharmacological therapy have been established, they come at a cost. First, prescribed medication is frequently associated with numerous adverse side effects, including hypersensitivity reactions (e.g., rash, photosensitivity), gastrointestinal trouble (e.g., nausea, vomiting, abdominal pain, diarrhea), sexual dysfunction (e.g., reduced libido), weight gain, and emotional detachment (Demyttenaere and Jaspers 2008; Charney et al. 2013). Second, adherence to prescribed medication is often low (Dolder et al. 2003; MacDonald et al. 2016). Further, although GP clinical guidelines state to avoid prescribing medication as a first-line treatment for common mental health disorders, the majority continue to prescribe medication as their most common treatment response (Mental Health Foundation [MHF] 2005).
Psychotherapeutic Interventions
In addition to pharmacological therapy, psychotherapeutic interventions are widely used for the treatment of mental illness (NICE 2011). For instance, cognitive behavioral therapy (CBT) is recommended as a first-line treatment for individuals with depression and anxiety (Pilling et al. 2011) and is frequently used among individuals with obsessive-compulsive disorder (Roth and Fonagy 2004). Equally, the WHO (2013) guidelines on psychological interventions for adults with PTSD recommend that trauma-focused CBT, eye movement desensitization and reprocessing (EMDR), or stress management should be considered for adults during the 1st month following a traumatic event.
Pharmacological and psychotherapeutic interventions tend to be underpinned by the medical model, which focusses on alleviating symptomology. However, as discussed earlier, mental health is not merely the absence of illness. Rather, an individual can experience positive mental health, despite ongoing symptoms. Therefore, it questions whether these clinical strategies are the most appropriate approaches to facilitating mental health.
Sustainable Development
Though there are many definitions of sustainable development, a widely accepted definition can be found in the Brundtland Commission Report, Our Common Future. Here "sustainable development" is defined as "development that meets the needs of the present without compromising the ability of future generations to meet their own needs" (World Commission on Environment and Development [WCED] 1987, p. 37). Sustainable development lies on three conceptual pillars: economic sustainability, environmental sustainability, and social sustainability (Khan 1995). Economic sustainability requires that a system of production uses its resources responsibly, so that it satisfies present consumption levels without compromising future needs. Environmental sustainability involves ecosystem integrity and requires us to live within the means of the globes natural resources. In doing this, ecosystems are seen as resources that should be harvested at a pace that enables regeneration. Social sustainability is connected to social well-being. As previously discussed, from a mental health perspective, these pillars can underpin causes of poor mental health or, if managed effectively, protect and promote positive mental health.
Barriers to Sustainable Development in a Mental Health Context
In order to fully explicate how a sustainable development focus can protect and promote good mental health, it is important to appreciate evidence surrounding existing barriers. Traditionally, barriers to the provision of mental health services are economic and social. These barriers are still evident today, with the provision and availability of services designed to protect and promote good mental health being a leading barrier (WHO 2018). In particular, services are most often constrained by financial and social factors, with specific barriers including (i) the absence of mental health from the public health agenda and the implications for funding, (ii) the current organization of mental health services, (iii) the lack of integration of mental health services within primary care, (iv) inadequate human resources for mental health, and (v) the lack of public mental health leadership (WHO 2018). WHO (2011, 2014) also notes that the financial implications of services to protect and promote good mental health are "modest," equating to approximately US$ 2 per capita per year in low-income countries and US$ 3–4 in lower middle-income countries. Therefore, a coordinated plan that involves potential users of the services and their families, governments, donors, and other supporting organizations (e.g., NGOs) would effectively meet these needs for a social and financial perspective.
Moving Forward
Sustainable development goals include social, economic, and environmental sustainability. From a mental health perspective, consideration of these factors can protect and promote good mental health. Importantly, working with mental illness and the development of good mental health can also benefit social, economic, and environmental sustainability. As noted above, at a basic level, it is important to provide services for those with mental illness and to promote and protect good mental health. Provision requires that mental health is considered an important social issue worth effort and resources. The vital nature of this type of investment should not be underestimated.
However, there are also a number of other evidence-based considerations that have implications for the sustainable development goals and mental health. For these to be implemented, there needs to be a shift in thought process from an overreliance on the medical model that focuses on treating illness to a broader appreciation of mental health factors. Across the globe an astonishing amount of money and resources is currently being spent on treating illnesses that are surprisingly easy to prevent (The Global Goals 2018). From an SDG perspective, this means that the available resources are not being used efficiently to promote and protect positive mental health and treat illness. Moving forward, it is important that the globe develops environments that facilitate good mental health and encourage healthy lifestyles, as well as put in place "preventive measures and modern, efficient healthcare for everyone" (The Global Goals 2018).
WHO Mental Health Action Plan
In 2013 WHO developed the Mental Health Action Plan 2013–2020. This comprehensive plan aims to "promote mental well-being, prevent mental disorders, provide care, enhance recovery, promote human rights and reduce the mortality, morbidity and disability for persons with mental disorders" (WHO
2013
, p. 9). At the heart of the action plan is the globally accepted notion that there is "no health without mental health" (WHO
2013
, p. 7). The comprehensive action plan identified four key mental health objectives (WHO
2013
, p. 10):
1.

To strengthen effective leadership and governance for mental health

 

2.

To provide comprehensive, integrated, and responsive mental health and social care services in community-based settings

 

3.

To implement strategies for promotion and prevention in mental health

 

4.

To strengthen information systems, evidence, and research for mental health

 
In order to achieve this plan for global mental health, there are six principles and approaches that are required (WHO
2013
, p. 10):
1.

Universal health coverage: Regardless of age, sex, socioeconomic status, race, ethnicity, or sexual orientation, and following the principle of equity, persons with mental disorders should be able to access, without the risk of impoverishing themselves, essential health and social services that enable them to achieve recovery and the highest attainable standard of health.

 

2.

Human rights: Mental health strategies, actions, and interventions for treatment, prevention, and promotion must be compliant with the Convention on the Rights of Persons with Disabilities and other international and regional human rights instruments.

 

3.

Evidence-based practice: Mental health strategies and interventions for treatment, prevention, and promotion need to be based on scientific evidence and/or best practice, taking cultural considerations into account.

 

4.

Life course approach: Policies, plans, and services for mental health need to take account of health and social needs at all stages of the life course, including infancy, childhood, adolescence, adulthood, and older age.

 

5.

Multisectoral approach: A comprehensive and coordinated response for mental health requires partnership with multiple public sectors such as health, education, employment, judicial, housing, social, and other relevant sectors as well as the private sector, as appropriate to the country situation.

 

6.

Empowerment of persons with mental disorders and psychosocial disabilities: Persons with mental disorders and psychosocial disabilities should be empowered and involved in mental health advocacy, policy, planning, legislation, service provision, monitoring, research, and evaluation.

 
Alternative Approaches to Promoting Positive Mental Health
The WHO Mental Health Action Plan presented above provides a solid grounding for the management of mental illness and aspects of protecting and promoting good mental health. Acceptance of and adherence to these guidelines are likely to impact the social and economic sustainability for current and future generations. However, in light of the recognition that mental health interventions should move away from traditional treatments within the medical model and direct attention toward improving mental health, in addition to preventing mental illness (Stewart-Brown and Janmohamed 2008), a broad appreciation of mental health that considers lifestyle habits and environmental factors is imperative. A broader recovery, protection, and promotion model (Mason and Holt 2012) opens up an ever-increasing range of lifestyle-type interventions that have a growing evidence base. For example, mindfulness and creative arts are nonclinical approaches to the development of lifestyle habits that have been shown to enhance mental health (Leckey 2011; Davies et al. 2016). A 10-week creative art intervention enhanced positive mental health and well-being among referred patients with a mental health problem (Crone et al. 2013). Alternatively, interventions using technology have also been found to support mental health. A recent systematic review identified that mobile phones were a successful way of encouraging individuals to access and engage in therapeutic activities outside of clinical settings (Seko et al. 2014).
The value of sport, physical activity, and adventure for mental health and well-being is now well established. Not only is physical activity linked to enhanced mental health, it also supports other areas, such as building relationships, that are strongly aligned with mental health. An example of how this approach is already being used can be seen in Wales, UK. Here, the WHY Sports Media Group (WSMG 2018) has developed an initiative called Getting Wales Moving, which aims to ensure greater participation in sport.
Exercise referral schemes are one of the most common physical activity interventions used to enhance mental health (Williams et al. 2007). Here, participants are referred by a primary care clinician to a tailored program of increased physical activity (Williams et al. 2007, p. 979). Interventions utilizing physical activity and sport for mental health promotion have also become increasingly more prevalent in low-income and lower middle-income settings. For example, sport has been used to support mental health in post-conflict Uganda (Richards et al. 2014) and post-siege in Beslan (Vetter 2016). Elsewhere, soccer has been used as an intervention for mental illness and to enhance mental health for women from the slums in India (Vybav et al. 2016) and to support the community of Bam, Iran, after the 2003 earthquake (Conrad 2016).
Another initiative which has attracted substantial attention is adventurous physical activity (Carless et al. 2013; Clough et al. 2016; Peacock et al. 2018), green exercise (Brymer et al. 2014), and ecotherapy (Wilson et al. 2011). For example, adventure therapy (AT) facilitates mental health by using adventure experiences to "kinaesthetically engage clients on cognitive, affective and behavioural level" (Gass et al. 2012, p.1). Such approaches can "range from short-term initiatives and trust-building activities lasting several hours to wilderness-based adventure experiences (e.g., camping, backpacking, rock climbing) lasting days, weeks, or months" (Scheinfeld et al. 2011, p. 188). Within the context of adventurous physical activity, mental toughness has also been proposed as a useful concept for understanding the relationship between physical activity and mental health. Drawing on existing research, Clough et al. (2016, p. 3) suggest that "mental toughness both encourages individuals to participate in outdoor adventure activities and then this participation helps them to further enhance their mental toughness as they participate." Outdoor and adventure activities could be useful promoters of good mental health if considered mandatory as aspects of community education and development.
The benefits of physical activity interventions are often enhanced if they take place within the natural environment (Bizub et al. 2003; Crone 2007; Pretty et al. 2005). For instance, using "blue spaces" to facilitate mental health is becoming increasingly popular (Gascon et al. 2017). Ocean therapy (sometimes referred to as surf therapy) uses nature to support the mental health of at-risk youth (Matos et al. 2017) and young children who have survived traumatic experiences (such as being a child soldier) (Elman Peace 2017; Rowsome 2018). Elsewhere, a surfing intervention has been used to facilitate mental health among combat veterans (Caddick et al. 2015). Equally, natural environments within urban and suburban "green spaces" are also being used to promote mental health. For instance, the availability of green spaces in megacities across 18 counties has brought positive health benefits to its residents (Huang et al. 2017). Elsewhere, green exercise is also linked to reduced experiences of state anxiety (Mackay and Neill 2010) and job stress (Calogiuria et al. 2016). Considering how best to design and manage natural spaces in urban and near urban contexts might provide a substantial boost to positive mental health.
Not only do physical activity interventions have similar therapeutic benefits as psychotherapeutic interventions (e.g., reduced symptomology); the benefits also appear to move beyond "classic" psychological factors (e.g., self-efficacy and self-esteem) (Mason and Holt 2012, p. 282). Further, the therapeutic benefit of physical activity has been highlighted for individuals with depression (Cooney et al. 2013; Josefsson et al. 2014), schizophrenia (Gorczynski and Faulkner 2010), anxiety disorders (Jayakody et al. 2014), panic disorder (Wolff et al. 2011), obsessive-compulsive disorder (Brown et al. 2007; Abrantes et al. 2009), and PTSD (Rosenbaum et al. 2015). Consequently, clinical practice guidelines (MHF 2005) and numerous review articles and systematic reviews have recognized the positive impact of physical activity on mental health and advocate the routine delivery of physical activity interventions (e.g., Rosenbaum et al. 2014; Stanton et al. 2015). Designers of community spaces would do well to consider these findings.
Mechanisms that Generate Changes to Mental Health
Although the positive relationship between physical activity and mental health is well documented, the evidence concerning the mechanism(s) responsible for this positive relationship is complex and remains unclear (Crone et al. 2005; Crone 2007; Mason and Holt 2012; Clough et al. 2016). Crone (2007, p. 168) acknowledges that there is growing evidence to suggest that the actual process of exercising, rather than the exercise itself, is influential in eliciting various mental health benefits. Elsewhere, Stathopoulou and colleagues (2006) suggest the mechanisms of change fall under two broad categories, physiological and psychological factors, while Biddle and Mutrie (2001) suggest the underlying mediators are likely to be a combination of psychosocial, physiological, and biochemical factors. For example, a review of qualitative literature highlighted valuable psychosocial mediators of therapeutic change (Mason and Holt 2012). Notably, (i) the shared experience among participants; (ii) the opportunity for social interaction and social support within a safe environment; (iii) the therapeutic relationship between staff and participants; and (iv) having the opportunity to engage in an enjoyable, meaningful, and purposeful activity which facilitated a sense of purpose and achievement were defining features of physical activity interventions.
There are also variety of theoretical frameworks and concepts that have been used to shed light on the mechanisms that generate change through a mental health intervention. For example, self-determination theory (SDT) recognizes that there are three psychological needs that must be achieved for an individual to achieve optimal psychological health and well-being (Ryan and Deci 2000). These are the need for autonomy, competence, and relatedness. Autonomy is a sense of control or ownership over one's action and behavior, with autonomy being achieved when individuals perceive they were able to make their own decisions. The need for competence is an individual's perception of proficiency and the ability to bring about a desired outcome. Relatedness reflects feelings of involvement and connection with others and the social environment. The three psychological needs are considered necessary for ongoing psychological growth and are collective in nature. While the satisfaction of one's need is beneficial, the SDT postulates that psychological well-being and overall functioning will be best served when all three needs are met (Deci and Ryan 2000).
Hope theory is another framework which helps explain the processes underpinning mental health interventions. Being grounded in goal-directed behavior, hope is defined as the perceived capacity to (1) develop workable goals, (2) find routes to those goals (pathways thinking), and (3) become motivated to use those pathways (agency thinking) (Snyder 1995, p. 73). Consequently, interventions are thought to promote mental health because they facilitate the development of pathway and agency thinking (Green et al. 2006).
Another theoretical perspective that directly relates to the SDGs, particularly environmental sustainability, and which aligns with evidence of the health-enhancing benefits of physical activity undertaken in nature, whether adventurous or otherwise, suggests that the environment itself has an important role in the alleviation of mental illness and the protection and promotion of good mental health (Davids et al. 2016; Fabjanski and Brymer 2017; Lawton et al. 2017). Evidence is mounting from a variety of fields that being in nature, being physically active in nature, and feeling part of nature have considerable positive mental health benefits (Yeh et al. 2017). Equally designing urban environments to encourage physical activity also has beneficial outcomes for mental health. This evidence suggests investments that involve (re)designing urban and near-urban environments to consider nature and other aspects of the physical activity environment might be viable interventions (Brymer and Davids 2016). On the one hand, this is about paying attention to constraints that prevent physical activity (such as pollution, safety, ease of access), while on the other, it is about health-oriented systems and experts working closely with ecological systems and experts, in context, to improve urban and near-urban environments (Davids et al. 2016). A reciprocal advantage is that the environment will be improved for future generations.
Conclusion
This chapter has explored global mental health and considered existing traditional, clinical approaches (i.e., pharmacological and psychotherapeutic approaches) to facilitating mental health. However, this chapter recognizes that to promote global mental health, a shift in thought processes is necessary. In particular, a movement away from the medical model that focuses on treating illness to a broader appreciation of mental health factors is required. In light of this, the chapter concludes by providing insight into alternative strategies that promote mental health (and benefits the environment) and explores the mechanisms that generate change.
Copyright information
© Springer Nature Switzerland AG 2019
Section editors and affiliations