Healthcare Financing and Sustainability
Living reference work entry
DOI:
https://doi.org/
10.1007/978-3-319-69627-0_35-1
Definition
Sustainable Development Goal 3 (SDG3): "ensure healthy lives and promote well-being for all at all ages" (UN SDG 2018a).
Health care, in this entry, refers mainly to health promotion, disease prevention, diagnosis, and treatment services covering primary care, secondary care, tertiary care, and rehabilitation services, provided either on an out-patient basis or in a hospital setting.
Health care financing refers to sources of fund (both public and private sources) that can be used to pay for the above-mentioned health care services.
Introduction
Seventeen Sustainable Development Goals (SDGs) have been established by the United Nations as targets for the world to achieve with an objective to uphold sustainability (UN SDG 2018a). This entry is about SDG 3, which is to "ensure healthy lives and promote well-being for all at all ages" (UN SDG 2018a), focusing on healthcare financing sustainability in light of population ageing. Environmental and social factors affecting human health are also broadly discussed. It first examines the relationship between sustainability (environmental and social) and health. It then explores the phenomenon of increased longevity worldwide and the magnitude of population ageing in developed economies. The various health financing components are examined with the associated implications are in light of population ageing. It points out the health care systems inefficiencies prevalent in most countries. The impact of socioeconomic and environmental factors on health is also discussed. A major change in health care delivery patterns and the associated payment systems, a substantial shift in funding priorities and adoption of technology in a more cost-effective manner, is envisaged as the way forward and governments' political will and stewardship are necessary.
Framework
Taking reference from the generally accepted social determinants for health (World Health Organization
2003
; Marmot
2005
), acknowledging that the socioeconomic and physical environment that causes illness in the first place are as important, if not more important, than health services, the following framework is proposed integrating the interrelationship between health financing, the health care delivery system, and other sustainability factors (see Fig.
1
). Health care financing, from both public and private sources, enables the health care sector to deliver various forms of health care services. The health system's effectiveness, efficiency, and sustainability depend on the governance, payment systems, and other arrangements. Socioeconomic factors, such as poverty, age structure, education, affect health directly and through the health care system indirectly. Similarly, environmental factors, such as air and water quality, waste disposal, also impact on health directly and through the health care system indirectly. Whether or not SDG 3 can be achieved depends on how these issues are tackled.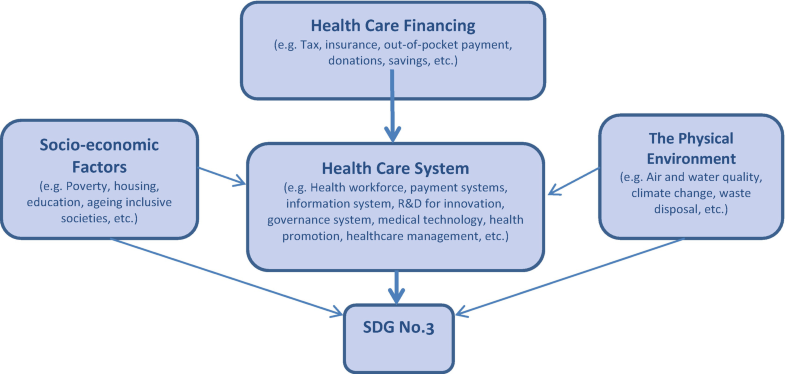 Sustainability and Healthcare Financing
Health care in different countries are financed through a mix funding sources, including tax, compulsory health insurance, voluntary insurance, out-of-pocket payments, donations (local and foreign), and medical savings accounts. The proportion of each type of funding varies from territory to territory. Tax funding plays a dominant role in territories such as the UK, Sweden, and Hong Kong. Compulsory health insurance is the main source of health care funding for territories such as Germany, Canada, and Japan, whereas the USA relies heavily on voluntary private health insurance. Donations are important sources of health care financing for many low-income countries. Singapore is the only country that has medical savings accounts playing an important role in health care financing. Out-of-pocket payments feature prominently in almost every territory.
Population Ageing
As a result of longer life-expectancies, the elderly population is rising at a speed, which is unprecedented in the history of mankind. It is a global phenomenon affecting every country and region, with industrialized economies experiencing the highest ageing growth rate at the present time. The share of the population aged 80 years and over is expected to more than double in coming decades across the OECD, growing from 4% in 2010 to close to 10% by 2050 (Colombo and Mercier
2011
). This ageing process is widespread and enduring, because of the ubiquitous and sustaining nature of the trend of longer life expectancies and lower fertility rate of developed economies. The world is not likely to return to the kind of age structure that the previous generations experienced (United Nations Population Division
2001
). Longer life expectancy inevitably translates into higher health care expenditure. Hong Kong data suggest that a person aged 65 or above uses on average six times more in-patient care than a person aged below 65 (Food and Health Bureau
2008
), and US data indicate that approximately 24% of the persons over the age of 65 will require some long-term care services (Feldstein
1993
). Unless effective measures are put in place in the financing and service delivery of health and long-term care, accessibility and quality of service are likely to suffer. This ageing process has rendered serious problem of sustainability for most health financing systems. The following paragraphs explore the impact of population ageing on the sustainability of the above-mentioned health care financing mechanisms.
For tax-based funding, it includes all forms of government general revenue, such as income tax, sales tax, special taxes, and different types of levies. Tax is generally a very important source of health care financing, even for countries with mandatory or voluntary health insurance. In some countries, tax revenues are used to build facilities and to subvent services from NGOs and/or private providers. In countries with compulsory health insurance, tax revenues are often used to subsidised the insurance so as to keep the premium low, as well as to pay for the premium of the unemployed, retirees, and those in low income. The reliance on tax income to finance health care has become a common problem for most countries with an ageing population, as revenue from direct taxation normally declines with a shrinking working population, and at the same time, the demand for health care from the elderly population increases substantially. Some forms of tax broadening have been implemented by some countries by levying special taxes on either individuals or businesses to help pay for the ever increasing health care expenses. Imposing new taxes or raising the rate of existing taxes is always difficult.

Compulsory health insurance systems, either as a part of a mandatory social insurance or a standalone government health insurance programme, generally require all working adults to participate. A certain percentage of a person's income is deducted to go into a central insurance fund. In the event of illness, health care expenses will be covered in part or in full by the mandatory insurance fund. Similar to taxation, mandatory health insurance will experience decline in revenue for countries with a growing elderly population as retirees are normally not required to contribute.

Voluntary private health insurance has the problem of adverse selection – persons with high probability of using the service will tend enroll and persons who are young and healthy will tend not to enroll. It normally adopts "experience-rating" – premium will vary depending on the age and health status of the subscriber. The premium that a healthy elderly person has to pay will be many more times that of a young person. Many elderly persons will have conditions, which will render them to be classified as high-risk individuals, who will then be subjected to even higher premium. Many also have preexisting conditions, which will not be covered. Persons over the age of 65 are often retired individuals with no regular income and will find such premium level unaffordable. Private health insurance is, therefore, not likely to be attractive or affordable enough to attract large number of elderly subscribers and hence not an effective financing mechanism for territories with a growing elderly populations (Yuen 2012).

Out-of-pocket payment, or sometimes refer to as co-payment, refers to user fees, charged to patients either on a partial or full cost recovery basis. Patients'/families' income and savings, included current and fixed assets, are the sources for such payment. High levels of out-of-pocket payments often create hardship for the elderly, as many of them only have fixed pensions or no income at all.

Donations refer to funds raised by charities locally as well as those provided by international aid agencies. Donations are often unstable and unreliable especially during economic downturns.

Medical savings account is the only form of health care financing that is sustainable even with population ageing. Under this system, working adults are required to contribute a percentage of income to a medical savings account. Upon reaching a certain age, 65 for example, the balance can be used to pay for health care expenses. Every person will have accumulated a sizeable fund upon retirement. Part of the accumulated fund can be used to purchase major illness insurance. Older persons under such a system will not be a burden to government or the younger generation, as each one of them has saved up while they were young and have used part of the savings to purchase additional insurance in the event of major illnesses during old age. Singapore is the only country in this world to have implemented such a system in a major way.
Inefficiencies in Health Care Systems
Given the nature of the major components of health care financing, it is clear, from the above analyses, that health care financing systems in most countries are not design in a manner that could maintain quality and/or quantity of care in face of population ageing.
Inefficiencies inherent in most health care systems further aggravate the situation.
Efficiency is commonly referred to as how effectively resources are used to achieve an objective (Canadian Institute for Health Information 2014; Joumard et al. 2010; Australian Government Productivity Commission 2015).
In economics, there are two concepts of efficiency: allocative efficiency and technical efficiency. Allocative efficiency concerns allocating resources in such a way as to produce the maximum benefits to society; technical efficiency (sometimes refer to as X-efficiency) is about using the least amount of resources to produce the desirable outcome given the allocated resources.
In terms of allocative efficiency, despite clear evidence that stronger primary health care results in better health of the population at lower cost and greater user satisfaction (Atun 2004), expenditure on primary care service is often much less than what most government spends on hospital care. This funding pattern creates incentives for the public, especially the elderly, to over-rely on public hospitals for care, as the care provided by public hospitals are heavily subsidized, while preventive care, early detection services and other primary care provided by private practitioners in the community are not (Yuen 2014).
As for technical efficiency, private health care services are commonly paid for on a fee-for-service and episodic basis, which creates incentives for providers to over provide and to deliver the most expensive rather than the most cost-effective care. Public providers are often paid on fixed salary basis, and their agency receiving a block grant from government, which also does not provide incentives for them to provide care in a most efficient manner, often lead to under-provision and long waiting time for nonurgent conditions.
Funding Shortfall
Stenberg et al. (2017) examines issues related to adequacy of health care financing in meeting the SDG targets. The report suggests that an increment of $274–371 billion funding for allocation into health care would be required per year by 2030 so as to make satisfactory progress towards the SDGs. A large portion of such financial resources, approximately 75%, should be allocated to enhance the health systems, largely comprising health workforce, infrastructures and medical equipment; however, it is expected there will be a financing discrepancy of $20–54 billion per year despite increased expenditures by the governments According to the study, additional funding, if available, could save 97 million lives as well as significantly augment life expectancy by 3–8 years among various countries (Stenberg et al. 2017).
Measures Required
In order to achieve the SDG 3 target, the following measures are recommended for governments to consider:
Savings
As indicated earlier, medical savings accounts are reliable sources of health care financing for jurisdictions with a growing elderly population and a shrinking working population. However, this system is politically difficult to implement as it requires additional contribution from residents on the top of their tax and/or health insurance contributions. It is, therefore, not surprising that Singapore is the only country that has implemented such a system. In lieu of having individual medical savings accounts, a simpler way would be for governments to set up its own savings accounts through the establishment of "Futures Funds." This is a form of prefunding or a collective savings account whereby government set aside some funds to pay for future obligations. Some futures funds are general in nature and are intended to increase government's future revenue in general to offset government's unfunded superannuation liability in the future. Some are even used to fund infrastructural projects, in hopes that these projects will contribute to more government revenue in the future, enabling government to spend more on social welfare services then. They can also be earmarked for specific purposes, for example, for health and long-term care. These earmarked funds can provide more reliable funding to the intended services, as these services do not need to compete with other forms of public service. The competition from all forms of public service is expected to be acute as the population ages.
Removing Funding Silos
It is common to find that the financing of different types of health care services – preventive care, general outpatient services, specialist and hospital services, long-term care – is highly fragmented, with budget for each type of service coming from different government bureaus, departments and agencies. The result is a highly "acute care-centric" system, dominated by tertiary care clinicians, and with hospital services sucking up the bulk of the resources for health care provision. The lack of a well-developed primary care system, with emphasis on prevention, early detection, and early intervention by primary care providers, is common in many countries. In Hong Kong, for example, the development of elderly services is led by hospital-based geriatricians (Woo 2007). While everyone agrees that early intervention via a well-developed primary care system is more effective and better for the patient than treating them at an advanced stage in hospital settings, hospitals and specialist care always take up the lion share of a country's health care budget. The absence of a single government body to oversee the entire spectrum of care contributes to this allocative inefficiency. With the funding of health care services under one bureau and the funding for long-term care services under another, it is difficult to divert resources from the relatively well funded acute health care sector to the long-term care sector to help with the early discharge of elderly patients who stay at acute hospitals inappropriately. This compartmentalized arrangement is a serious barrier to a more cost-effective resource allocation in health care. If the funding of the entire range of health and long-term care can be put under one single government bureau, that would facilitate the shifting of resources to from the less cost-effective sector (such as hospitals) to the more cost-effective ones (such as primary care and long-term care), which could mitigate, in a no small way, the increase in health care expenses as the result of population ageing.
Reform Payment Systems for Providers
Dominant payment systems for health care providers in most countries do not promote efficiency. They either encourage over provision or under provision. Common payment systems for providers include fee-for-service payment, case mix payment, and government block grants. Less common systems are capitation payment, per diem rates, pay for performance/outcome, and bundled payment.
Episodic fee-for-service is the dominant payment system for providers for many countries (especially for insurance-based systems), even though it is widely recognized as problematic. It rewards quantity and often leads to over provision and the provision of the most expensive care without little regard to quality or efficiency.
Increasingly, many countries have been moving from fee-for-service to case mix payment systems, in which a single payment is paid to providers based on the patient's diagnostic grouping. It removes the incentive to provide unnecessary service as payment is not linked to the actual services delivered but on a predetermined rate based on the average cost of treatment of a particular diagnostic grouping. However, such system does not provide incentives for achieving good outcomes.
Government block grants are common in many tax-based countries, whereby hospitals receive a fixed budget from government every year regardless of the actual services provided. This system has serious perverse incentives and is generally not patient oriented. Good performance attracts more patients with no additional resources. It does not reward hospitals that do more or those doing a better job for the patient. It always leads to long waits for nonemergency care.
For capitation payment, the provider organization receives a fixed payment every year based on the number of subscribers and must meet the needs of the subscribed population. This system has the potential to encourage providers to keep the patient healthy and to keep the overall cost of treating the population low. This system, however, often leads to limiting the use of expensive treatment, discharging patients too early, and not providing the state of the art equipment. Some of the problems are similar to those of government block grants.
For per diem payment, providers are paid based on the average cost of a patient day for a particular type of facility. This is not common, except for some long-term care institutions where the cost of care is quite homogeneous among its residents.
More promising systems include pay for performance/outcome and bundled payment. These systems try to reward providers if good patient outcomes are achieved, sometimes refer to as patients' value based systems. Payments are linked to achieving outcomes that matter to patients and those which will have a significant impact of the health of the population. This is often coupled with a capitation system. Outcome can include lowering of blood pressure, lowering of cholesterol level, lowering of BMI, lowering of blood sugar level, returning to normal function, percentage of the enrolled population being immunized, percentage quit smoking. These forms of payment are beginning to emerge in primary care, preventive care, elective surgical care, and well-defined acute conditions, in USA and some European countries, and results have been encouraging in terms of reduction of costs and improvements in outcomes (Porter and Kaplan 2016).
The above paragraphs suggest that the dominant payment systems to providers are not conducive to achieving cost-effectiveness. Transforming them to more patients' value based systems will not be easy.
Managing Technologies Effectively
Countries need to consider better exploitation of information technologies for enhancement of the health of the population and their health care systems. This include the greater use of the social media to promote healthy behavior among their citizens; improving the effectiveness of health care operations through robotics, artificial intelligence, internet of things, big data analytics, and telemedicine. Such improvements in health care will be facilitated through more investment in public research and R&D pertinent to health care. According to the study by West et al. (2017) on potential spillover benefits from these types of investments, it is noted that a 1% increase in public research would induce increase in private R&D spending from 1.05% to 2.5%.
A major driver of health care cost escalation apart from population ageing is the proliferation of medical technology. Unlike most other industries, technology in health care does not necessarily result in lowering of costs. Many new technologies and drugs result in very higher costs with only marginal improvement in outcome. A rigorous medical technology assessment regime needs to be in place to review and approve medical technology adoption in both the public and private sector in every country in order to prevent the unnecessary escalation of health care costs.
Responsible Investment in Health Care
Investing in health care projects at a more macro level should also be guided (UNTT 2013). According to the United Nations-supported Principles for Responsible Investment Initiatives (UNPRI 2018a), responsible investment is considered as critical for allocating financial resources into projects that would complement with the Environmental, Social, and Governance (ESG) initiatives. UNPPRI is widely known as one of the most noticeable global responsible investment initiative nowadays that gains support by the institutional investors (Sandberg 2013; Woods and Urwin 2010; Majoch et al. 2016). Häßler and Jung (2015) point out that the application of the UNPRI as synergistic to the ESG criteria are well integrated for effective risk management of investment opportunities. Various institutional funds, including pension funds, advocate similar principles for sustainable financing and investing (Sandberg 2013; Woods and Urwin 2010). It is observed by UNPRI (2018b) that there are vast investment opportunities in global health care for private entities, including public-private partnership (PPP) models (UNPRI 2018b).
Environmental and Socioeconomic Factors Affecting Human Health
There are various sustainability challenges that could worsen the conditions of human health and thereby increase the costs of health (Dora et al.
2015
). Such a correlation has been increasingly identified as critical by recent research studies – e.g., pollution and health. It has been pointed out that issues such as climate change and pollution have major impact on the overall healthcare costs (Landrigan et al.
2017
). The significance of the physical environment and socioeconomic factors to human health is explored in the following sections.
Environmental sustainability: Environmental sustainability provides an ecosphere with conditions to support and protect life (Hopwood et al. 2010). The physical environment typically includes elements that are essential to the living, such as quality of air, water sanitization, energy and food supply. Governments need to consider the "health co-benefits" of policies that enhance sustainable development. Relevant environmental policies having positive impact on health include restricting the continuing use of high-emission vehicles, investments in public transport systems, cycling systems, infrastructures for clean drinking water, proper housing, mudslide and storm prevention regimes, etc. (Dora et al. 2015).

Pollution has been demonstrated to be the most significant environmental cause of disease and premature death in recent years. It is estimated that diseases instigated by pollution accounted for about nine million premature deaths in 2015, which are approximately three times more deaths than the combination of those related to AIDS, tuberculosis, and malaria. Such pollution-related diseases would result in the loss of productivity and lowering of GDP, especially among low-income to middle-income countries and would increase health expenditures in both developing and developed economies (Landrigan et al. 2017).

Socioeconomic factors: It has been clearly demonstrated that the social gradient, stress, early life, social exclusion, workplace stress, unemployment, social support, addiction, food, and means of transport all have significant impact on the health of individuals (World Health Organization 2003; Marmot 2005; UN SDG 2018b). Many have also include health and safety of the population as an integral part of social sustainability (Hopwood et al. 2010; Dempsey et al. 2009). Tackling social care/aged care using a range of measures, including long-term care financing, promoting healthy ageing, public-private partnership in care delivery, integrative care, contribution of volunteers, ageing and dying in place, the use of alternative medicine, etc., are suggested as ways to tackle some of the social issues associated with population ageing and could significantly alleviate the pressure on the health care system (Fong et al. 2018). While health care systems can treat illnesses, prolong live, improve prognosis of serious diseases, it is much more cost-effective to if government can shape the social environment in ways which minimize the need to provide the care. Lifting people out of poverty, job creation, reducing stress in schools and workplace, support proper parenting, have an adequate social security programme, combating substance abuse, and education on nutrition and importance of physical activities are as important, if not more so, than training more health care professionals and building more hospitals when it comes to improving the health of the population.
Conclusions
The above analyses show that achieving SDG 3 will not be easy. Given the magnitude and speed of population ageing, the health care financing system of most countries are simply not going to be sustainable. The inherent inefficiencies of most health care delivery systems, such as the acute-centric nature and the perverse incentive payment systems, will lead to the early onset of financial unviability of these systems. Further deterioration of the environment and the lack of progress of many countries in making significant improvements on many relevant social issues will further aggravate the situation.
Incremental changes to the existing systems, such as raising out-of-pocket payments, increasing health insurance premium, are not going to be enough to tackle the increasing health care expenditures as a result of population ageing. Diverting resources from the acute sector to prevention, community-based primary care, and long-term care services will be very difficult, as it impinges on the vested interests of some powerful professional groups and bureaucrats. Implementing savings, either at the individual level or by government will not be popular or likely to happen. Vote-maximizing politicians will not want to support mandatory contributions to individual savings account. Most governments have trouble balancing their budget and do not have the luxury to create future funds. For the few who are in the position to have a surplus budget balance, the pressure for tax cut would not permit them to set up such funds.
In short, most countries are poorly prepared to deal with the financing of health care for the coming decades. The transformation of the existing financing and delivery health care systems of the magnitude that could mitigate the impact of ageing is not likely to evolve naturally on its own. Government stewardship is absolutely necessary and a strong political will on the part of government is crucial. More research and education on the area of health and sustainability will be needed (Leal et al. 2017; Ng et al. 2018).
Copyright information
© Springer Nature Switzerland AG 2019
Section editors and affiliations