Plant Domestication for Enhanced Food Security
Living reference work entry
DOI:
https://doi.org/
10.1007/978-3-319-69626-3_96-1
Definition
Domestication is defined as a genetic selection process exerted – consciously or unconsciously – by humans to adapt wild plants and animals to cultivation and herding, respectively (Gepts and Papa 2002). In simple terms, plant domestication is the bringing into cultivation of a wild plant. It is a gradual transition that takes time and involves a number of steps, commonly viewed as a continuum from gathering, tendering, and cultivation to domestication (Gepts et al. 2012; Possingham 1990; Clement 1999; Dempewolf et al. 2008; Hammer and Khoshbakht 2015).
Introduction
Goal #2 of the United Nations' Sustainable Development Goals (SDGs) aims to end hunger, achieve food security and improved nutrition, and promote sustainable agriculture by 2030. This calls for innovative agricultural solutions worldwide, in order to feed the projected 8.5 billion people for the referred year. Different agricultural development models have been tested and used globally, including the green revolution. However, the current trends tend to encourage farming models that use low chemical inputs, relying on biodiversity and natural products.
Throughout history, humankind has largely relied on plants for foods, medicines, and other services. Many of these plants have undergone domestication, while an even larger proportion remained in the wild state and were never cultivated. Humans started to domesticate plants and animals nearly 12,000 years ago (Gepts and Papa 2002). Trends also indicated that 50% of today's domesticated land plants and animals were so since 4,000–5,000 years before present (Duarte et al. 2007). Overall, greater domestication efforts were made by first humans, most plausibly as a result of the changing environment (Zeder 2015).
Besides, it is estimated that out of the 391,000 plant species that have been identified, so far 30,000 of them are edible, and about 5,538 have been cultivated or collected to meet food needs by humans throughout history (FAO 1998; Kew 2016). However, only four plant species (rice, wheat, maize, and potato) provide 60% of the world's food energy supply today. This is a consequence of modern agriculture characterized by uniformity of production, resulting in extensive land conversion and concomitant agricultural biodiversity loss (Sunderland 2011). In fact, the ever-increasing demands for foods and other services, combined with new global challenges (e.g. climate change), have led contemporary civilizations to put more emphasis on developing high-yielding and pest- and disease-resistant varieties, for a very narrow set of selected crops. This option has proven effective in achieving food security in many parts of the world, while its efficiency in reaching adequate nutrition, healthy lives, and sustainable agricultural and food systems is disputed (Khoury et al. 2014). In fact, high-yielding varieties, often hybrids, are high inputs demanding (chemical fertilizers and pesticides) that the smallholder farmers in developing countries can hardly afford. In addition, there are arguments that biodiverse and multifunctional farms and landscapes, especially by including and managing landraces and wild edible plants, enhance resilience of the agroecosystems to extreme weather and reduce risks of crop failure (Antofie and Sava Sand 2018; Jarvis et al. 2012; Sunderland 2011). Indeed, the presence of these crop landraces and wild relatives in the agroecosystems for centuries increased their adaptive capacity, as they have evolved with the changing environment. In this respect, wild food and medicinal species are continuously introduced, evaluated, and maintained in agroecosystems by smallholder farmers. However, national and global agricultural policies promoting new bred varieties and regulating international trade may negatively affect efforts of the smallholders to maintain and increase agricultural biodiversity for sustainable food and nutrition security.
The current paper reviews the contributions of plant domestication for improved food security.
Methodological Approach
Scholarly literature on plant domestication, its objectives, principles, and benefits to humans in terms of climate change adaptation and mitigation and strengthened food and nutrition security was reviewed. Data were retrieved with CABI and Google Scholar search engines. Data search terms were domestication, climate change, resilience, and food security.
Plant Domestication and Enhanced Food Security
Challenges Associated with Domestication to Enhance Food Security
National and International Agricultural and Trade Policies and Their Impacts on Domestication of New Crops
Although domestication holds the potential to improve food security worldwide and to increase resilience of the farming systems, its realization is challenged by several issues, including among others the national and international agricultural policies. The general tendency of world's agricultural policies is the homogenization of production systems, with increased subsidies for hybrid crops and monoculture. This undertaking jeopardizes domestication efforts in general and the displacement of local cultivars by improved, high-yielding crop species. By doing so, the different policies of modern agriculture have promoted intensification at the expense of systems diversification.
Several initiatives have been led by indigenous farmers to cultivate a range of wild food plants. However, very few of these have led to full domestication because of the pull by national policies toward monoculture. For instance, several farmer-developed crops – also termed local cultivars or landraces – have been neglected by scientific research which should take them to the stage of modern crops. As shown by Duarte et al. (
2007
), 90% of today's crops were domesticated more than 2,000 years ago. In the same line, global data indicated that while our knowledge of the world's plant diversity continues to improve, the diversity of food plants is drastically shrinking (Fig.
1
) (FAO
1998
; Kew
2016
). The data released by the Food and Agriculture Organization of the United Nations about 10 years ago indicated about 30,000 edible plant species, of which 7,000 have been used for food in human's history (FAO
1998
). Recent updates indicate only 5,538 food plants (Kew
2016
). This decline is the consequence of genetic erosion of the diversity of food plants, as a result of our agricultural models. Despite the increased awareness on the importance of these neglected and underutilized species for food and nutrition security, they have not yet received the deserved attention. There is lack of characterization, breeding, and evaluation information on the species for their improvement (Padulosi et al.
2013
).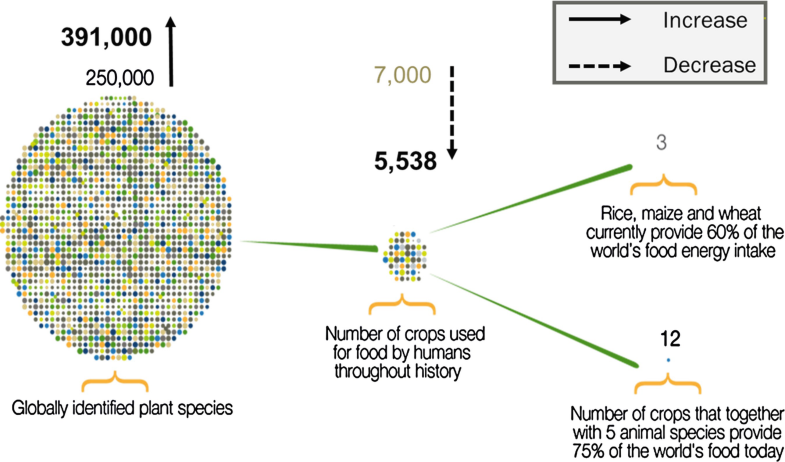 Urbanization and Lack of Economic Attraction for New Domesticates
Economic reward is one of the most important incentives for a successful domestication. While very few species have attracted niche markets, several others have low commercial values. Therefore, they are not competitive with other crops, and thus farmers lacked incentives to continue to maintain and breed for new domesticates (Padulosi et al. 2013). This has led to changes in land use with the replacement of species ongoing domestication by commercial crops. Urbanization, migration, and the lack of adequate awareness on the nutritional values of the species also have a bearing into the slow domestication pace. These contribute to the loss of indigenous knowledge on the species and changes in local diets, as there is increase in the perception of low status of some of these species not widely cultivated.
Nonetheless, there are cases where adequate institutional support and promotion have led to increased interest by the populace and great contribution to local economies and to food and nutrition security. This is the case for African eggplants (Solanum spp.), fonio (Digitaria exilis), and Moringa (Moringa oleifera Lam.), though there is still the need to organize the seed supply systems and improve agronomic practices. Other species such as Ceratotheca sesamoides Endl., Cleome gynandra, and Vitellaria paradoxa still require important investments and support.
Interventions for Addressing Domestication Challenges
Accelerating plant domestication is not an option but a priority for ensuring a sustainable food and nutrition security. To achieve this, the following actions identified by Padulosi et al. (
2013
) for NUS also apply to indigenous species under domestication.
(a)

Change Perceptions

There is need to change the imbalance between agricultural policies and practices, currently skewed toward selected few commodity crops. In this line, it is important to support indigenous farmers to conserve and use local agricultural biodiversity. Scientists and decision-makers need to be aware of the economic, nutritional, and cultural values of these species and for the resilience of present and future agricultural systems.

 

(b)

Develop Capacities and Enhance Research

Scientists especially the young generation need to develop their skills and capacities to support the work by custodian farmers. Policy and decision-makers need to understand the role and benefits of plant domestication. This will ease the institutional support and investments into research and development plans and programs to promote the development of new crops. Several underutilized species such as fonio need breeders and other specialists to improve the crops and agronomic practices. Capacity development also calls for enhanced skills and capacities across the value chains and investing in infrastructure and institutions (research, education, development, markets, farming communities, etc.).

 

(c)

Set Up a Global Network on New Crop Development

Strengthening global collaboration is vital to advance the agenda on new crop development and agricultural diversification. Through scientific and technological collaboration, skills will be developed on advanced molecular techniques (e.g., genomics) to speed up the discovery of traits associated with domestication, also known as "domestication syndrome" (Jarvis et al. 2016). For example, molecular characterization, particularly the quantitative trait loci (QTLs), is being used as a major technique for understanding the genetic basis of plant domestication. QTLs are multiple genes that affect a particular phenotypic feature. The genome editing technology was also reported to complement and enhance breeding and selection strategy (Francis et al. 2017). This was used on wild tomato (Solanum pimpinellifolium L.) to develop progenies resistant to salt and to the bacterial spot disease (Li et al. 2018). However, very few research institutions are so far involved in sequencing the genome of the neglected and underutilized species, and this needs to change.

 
Conclusion
Feeding a forecasted nine billion people in a context of changing climate will require innovative solutions in the agricultural sector, especially in smallholder farming communities. It is discussed in this entry the importance of domestication as a farmer-led innovation to increase agricultural biodiversity and resilience of agroecosystems in general. In addition, development and introduction of new crops from existing local biodiversity increase food availability and help maintain local food cultures. Many indigenous species have been developed into new crops in the tropics and have tangible contribution to meet food and nutritional requirements in smallholders' households. An important number of these new crops have attracted niche markets and have a substantial impact on household revenue. It is also demonstrated that domestication enhances biodiversity conservation, especially for threatened species. Overall, domestication could be the innovative solution of the millennium to increase and sustain ecosystem services and promote sustainable agriculture. However, access to these benefits will require important interventions in order to address the key challenges that were identified, importantly the need to develop research capacities and global collaboration on new crop development suitable to the changing environment.
Lastly, it is worth mentioning some limits of this paper, and an important one is that the examples given in the current review are limited to plant domestication. Although the development of new animal breeds can increase productivity and food security, one can hardly find examples where animal domestication is used as a strategy to increase resilience of agroecosystems and nutrition security.
Copyright information
© Springer Nature Switzerland AG 2019
Section editors and affiliations