HPK1
Reference work entry
DOI:
https://doi.org/
10.1007/978-3-319-67199-4_602
Historical Background
Since 1996, when hematopoietic progenitor kinase 1 (HPK1) was first described as an activator of the stress-activated protein kinase/c-Jun N-terminal kinase (SAPK/JNK) pathway (Kiefer et al. 1996), a range of information concerning activation, subcellular localization, putative interaction partners, and the regulatory function of HPK1 in immune cells was gathered. The initial studies showed that while HPK1 mRNA is ubiquitously detectable in embryonic tissues, expression in the adult is restricted to hematopoietic organs like thymus, bone marrow, and spleen. Protein database sequence comparison classified HPK1 as a member of the Ste20-related protein kinase family and is most closely related to the germinal center kinase (GCK), a MAP 4 kinase. The structure of HPK1 comprises an N-terminal kinase domain, a central region containing proline-rich (SH3-binding) motifs and at least one tyrosine residue that serves as phosphorylation target, and a C-terminal citron homology domain of yet undefined function (Ling et al. 1999). In addition, a central caspase cleavage site alters effector properties during apoptosis induction (Arnold et al. 2001) as will be discussed in more detail in the following sections.
HPK1 Activation and Molecular Interactions
HPK1 was shown to be activated following genotoxic stress (Ito et al.
2001
); growth factor stimulation via TGFβ (Zhou et al.
1999
), EGF, PDGF (Ling et al.
1999
), and erythropoietin (Nagata et al.
1999
); prostaglanding E
2
stimulation (Sawasdikosol et al.
2003
,
2007
); and antigen receptor triggering (Liou et al.
2000
; Liu et al.
2000
; Sauer et al.
2001
; Tsuji et al.
2001
). In the case of BCR/TCR stimulation, HPK1 phosphorylation at Tyr
379
in mice and Tyr
381
in humans seems the prerequisite for further activational steps (Sauer et al.
2001
; Tsuji et al.
2001
). The upstream factors involved are Lck,
Zap-70
,
LAT
, and
SLP-76
in T cells and Lyn, Syk, and SLP-65 in B cells (Liou et al.
2000
). In addition, a detailed study by Arnold et al. revealed that Thr
165
, Ser
171
, and Thr
175
located in the activation loop of the kinase are of critical importance for the optimal activation of HPK1 upon TCR stimulation (Fig.
1b
). Accordingly, Lck and SLP-76 relocate HPK1 from the cytoplasm to the plasma membrane, where it follows transphosphorylation by protein kinase D1 and subsequent autophosphorylation reaches full activity. Interestingly, this study also demonstrated the recruitment of HPK1 to the interface of T-/B-cell conjugates, indicating a function at the level of immune synapse associated signaling.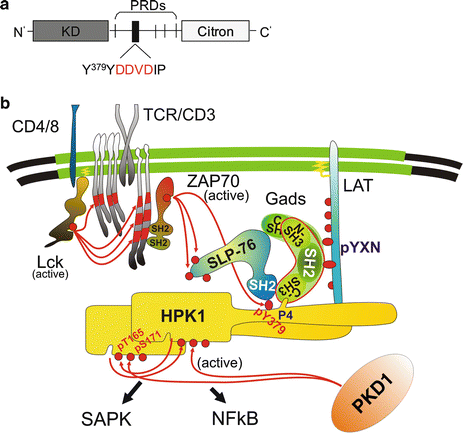 To ensure proper activation, subcellular localization, and functionality, HPK1 constitutively or inducibly interacts with a range of adaptors and signaling molecules. Table
1
provides a list of reported interaction partners, the cell types in which the interaction was observed and, if determined, the HPK1-binding region responsible for the interaction. Grb2 and Grap together with Gads belong to the Grb2 family of adaptor proteins containing a SH2 domain flanked by two SH3 domains. The constitutive association of HPK1 with Gads (Grap2) was shown to be required for the synergistic activation of c-Jun and IL-2 transcription in COS-7/Jurkat T cells, whereas the binding to Grb2 in Cos1 cells was reported to link HPK1 to the EGF receptor. The finding that Grb2 family members locate HPK1 to the transmembrane adaptor LAT, led early on to the speculation that HPK1 might antagonize the recruitment of SLAP-130/
ADAP
/Fyb, a positive regulator of IL-2 and NFAT activity. The constitutive association of HPK1 with the upstream adaptors Crk/CrkL in Jurkat T cells mediated by the proline-rich (PR) domain 2,4 – SH3 interaction was suggested to ensure synergistic activation of JNK and optimal IL-2 transcription (Ling et al.
1999
; Oehrl et al.
1998
). Crk family adaptor proteins are involved in a range of cell signaling pathways, including antigen receptor stimulation, integrin signaling, cell migration, and focal adhesion signal transduction, thus suggesting that HPK1 could be involved in the spatial bridging of antigen receptor signaling and integrin regulation. As already stated above, Tyr
379/381
phosphorylation of HPK1 is prerequisite for the binding to the central B- and T-cell adaptors SLP-76/65. Upon phosphorylation by Syk family protein tyrosine kinases (Syk/Zap-70), SLP76 family adaptors act as membrane proximal scaffolds enabling the coordinated activation of downstream pathways. As abrogated binding of HPK1 to mutated SLP-adaptors does not completely abolish its negative regulatory role on Erk, AP-1, and NFAT (Sauer et al.
2001
), the synchronous recruitment to other adaptor molecules like Crk, Grb2, and also Nck family members might generate a complex pattern of regulation that still awaits complete resolution. As a matter of fact, HPK1 binds to the SLP-76 family adaptor Clnk with significantly higher affinity as compared to SLP-76 itself (Yu et al.
2001
). Clnk can substitute for SLP-76 in immunoreceptor signaling and together with HPK1 acts synergistically on IL-2 promoter activity (Yu et al.
2001
).
HPK1, Table 1
List of adaptors and signaling molecules reported to interact with HPK1
Adaptor proteins binding HPK1 (reviewed in Boomer and Tan 2005)

Adaptor

Binding

Cell type

HPK1 domain

 

Grb2

Constitutive

Jurkat, Cos-1

PR1,2,4

 

Grap

Constitutive

Jurkat

n.d.

 

Gads

Inducible

Jurkat, Cos-7

PR2,4

 

Nckα

Inducible

Jurkat

All PR motifs

 

CrkI

Inducible

Jurkat, Cos-1

PR2,4

 

CrkII

Inducible

Jurkat, Cos-1

PR2,4

 

CrkL

Constitutive

Jurkat, Cos-1 Cos-7, HEK293

PR2,4

 

SLP-76

Inducible

Jurkat, J14

pY379(m)/381(h)

 

SLP-65

Inducible

Wehi231.5

pY379(m)/381(h)

 

Clnk

Inducible

Cos-1, B6SutA1

n.d.

 

Bam32

Constitutive

BJAB

n.d.

 

Hip-55

Constitutive

HEK293

PR2

 

LAT

Inducible

Jurkat

Indirect

 

Additional binding partners of HPK1

Protein

Binding

Cell type

HPK1 domain

References

c-Abl

Inducible

Jurkat, HEK293

PR?

Ito et al. (2001)

HS1

Constitutive

FD-EPO, SKT6

n.d.

Nagata et al. (1999)

IKKß

Constitutive

Cos1, BJAB, Jurkat, primary T cells

N′-terminal fr.

Brenner et al. (2005)

CARMA1

Constitutive

Jurkat, primary T cells

C′-terminal region

Brenner et al. (2009)

SKAP-HOM

Constitutive

Wehi 231 cells

n.d., indirect?

Königsberger et al. (2010)
Abp1 (SH3P7, HIP55), a broadly expressed adaptor protein in human and mouse tissues binds HPK1 at the PR2 motif (Ensenat et al. 1999). As a member of the drebrin/Abp1 family of actin-binding proteins, Abp1 was shown to be recruited to the IS in activated T cells, where it promotes TCR downmodulation and negatively affects NFAT activation (Le Bras et al. 2004). Bam32 (DAPP1, PHISH) is an additional adaptor molecule binding to HPK1 in B cells, possibly via its N-terminal SH2 domain. It was found to be required for Rac1 activation, proper Ca2+ mobilization, and optimal PLCγ2 activation. Accordingly, Bam32–/– B cells exhibit defects in ERK, JNK, and HPK1 activity. Bam32 was also shown to colocalize with the BCR complex and clathrin to regulate BCR uptake and actin dynamics. Despite being a target for Bam32-mediated JNK activation, the relevance of HPK1 in the regulation of antigen receptor internalization and actin dynamics was not investigated so far. An interesting observation in this context was the finding by Nagata et al. that HPK1 constitutively binds to HS1, a well-established actin-regulatory protein (Uruno et al. 2003), in FD-EPO and SKT6 cells, although the functional significance of this interaction in vivo awaits further investigation. In addition to the binding of the above-mentioned adaptor molecules, HPK1 activates IKKβ (Hu et al. 1999; Arnold et al. 2001) and, as recognized recently, phosphorylates CARMA1 (Brenner et al. 2009), which further establishes the function of the protein in NFκB regulation and apoptosis induction.
Functions in Cellular Activation and Apoptosis Induction
Already in early studies, HPK1 was shown to selectively activate the SAPK/JNK cascade via MEKK1 (Hu et al. 1996)/MLK-3 (Kiefer et al. 1996) phosphorylation, a process independent of Rac1 or Cdc42 GTPase function, which were known to feed into the SAPK/JNK pathway via PAK activation (Coso et al. 1995). Epistasis analysis established that HPK1 acts on MAP 3 kinases (MEKK1, MLK-3) which in turn signal through MAP2 kinases (e.g., MKK4/7, MKK3/6) to the c-Jun N-terminal kinase (Tibbles et al. 1996; Ensenat et al. 1999; Liou et al. 2000). Besides this well-accepted function in triggering the SAPK/JNK pathway upon environmental stress, a growing list of publications shows that HPK1 is fundamentally involved in antigen receptor signaling processes.
An elegant study from di Bartolo et al. in 2007 focusing on negative regulatory components of proximal TCR signaling revealed a novel function of HPK1 in limiting/fine-tuning antigen receptor–mediated cellular activation. By phosphorylating SLP-76 at Ser376, HPK1 enables the recruitment of 14-3-3 ε and ζ proteins, which limits PLCγ1 phosphorylation and IL-2 promoter activity. HPK1 was also shown to control proximal TCR signaling by limiting Vav, Lat, and PLCγ1 activation and promoting the interaction of SLP-76 with the 14-3-3 protein family member 14-3-3τ. The finding that HPK1–/– BMDCs show higher levels of activation markers and proinflammatory cytokines upon LPS stimulation makes them more potent in eliciting cytotoxic T-cell-mediated antitumor responses (Alzabin et al. 2010) and adds to the general view of HPK1 as a negative regulator of immunity and inflammation.
NFκB is a pleiotropic transcription factor regulating a range of genes relevant in immune and inflammatory responses. NFκB transcription factors are kept inactive in the cytoplasm by interaction with inhibitory IκB proteins. Antigen receptor stimulation triggers the activation of an IκB kinase (IKK) complex comprised of IKKα, β, and γ. Phosphorylation of IκB results in the cytoplasmic sequestration of IκB proteins and targeting for proteasomal degradation, while NFkB transcription factors are liberated to enter the nucleus and activate transcription. Full-length HPK1 facilitates NFκB activation in hematopoietic cell lines and primary murine CD4+ T cells, while caspase-mediated cleavage at Asp385 within the DDVD cleavage site converts the C-terminal fragment of HPK1 into an NFκB inhibitor (Arnold et al. 2001; Schulze-Luehrmann et al. 2002). The N-terminal HPK-1 fragment, which is largely comprised of the kinase domain retains the ability to activate JNK, but is unable to bind adaptor proteins, which altogether enhances peripheral T-cell sensitivity to activation-induced cell death (AICD) (Brenner et al. 2005). This was further corroborated by a study of Brenner et al. in 2007 addressing AICD sensitivity in HPK1-C transgenic mice. In this model system, primary T- and B cells, constitutively expressing HPK1-C, were prone to CD95L-independent AICD, intimately caused by caspase-3/9 activity. In addition, HPK1 interacts with and phosphorylates the IKK-activating adaptor protein CARMA1 (caspase-recruitment domain [CARD]-containing signaling adaptor protein) at Ser551 upon TCR stimulation, which is a prerequisite for HPK1-dependent NFκB activation and IL-2 production (Brenner et al. 2009). Of note, HPK1 is also a target of caspase-3 during monocytic differentiation. In this context, the HPK1-N fragment confers IL-3 independent survival of mouse myeloid FDC-P1 progenitor cells and induces differentiation toward the monocytic lineage (Arnold et al. 2007). This, in contrast to the situation in lymphocytes, results in constitutive cytokine-independent signaling and prolonged cellular survival.
HPK1 as a Negative Regulator of Inside-Out Integrin Regulation
Integrins are heterodimeric cell-surface receptors mediating cell-cell and cell-extracellular matrix interactions (ECMs). Being composed of one α- and one β-subunit, integrins build up a family of at least 24 members in mammals, within which LFA-1 (lymphocyte function-associated antigen 1; αLβ2), VLA-4 (very late antigen 4; α4β1), and α4s7-integrins are particularly important for leukocyte function by binding cellular adhesion molecules such as ICAM-1/2, VCAM-1, MADCAM1, and the ECM component fibronectin. In the resting, low-affinity conformation, integrins are bent at the stalk region which sterically masks the ligand-binding headpiece. Upon inside-out activation through chemokines/antigen receptors and enhanced by outside-in triggering, integrins undergo a process of avidity regulation, including intracellular and extracellular conformational changes toward an open structure as well as valency changes facilitated by oligomerization.
Two recent studies by (Patzak et al.
2010
) and Königsberger et al. indicated that HPK1 has a negative regulatory role in inside-out integrin activation. In addition to the hyperproliferative nature of HPK1
–/–
lymphocytes upon antigen receptor–mediated stimulation, these studies show that B and T cells lacking HPK1 exhibit a stronger basal adhesion to ICAM-1, most likely explained by an increase in the amount of the signaling active GTP-bound small GTPase Rap1 (Ras-related protein 1). Upon recruitment to SLP-76, a trimolecular complex containing ADAP (adhesion- and degranulation-promoting adaptor protein)/SKAP55 (Src kinase-associated phosphoprotein of 55 kDa)/RIAM (Rap1-GTP interacting adaptor molecule) binds the small GTPase Rap1 and thus facilitates integrin activation in T cells (Kliche et al.
2006
; Menasche et al.
2007
). Interestingly, HPK1 competes with ADAP for SLP-76 binding as HPK1
–/–
T cells show more SLP-76 pre-associated ADAP (Fig.
2
) and this lack of ADAP localization leads to an increase in T-cell adhesion and spreading on ICAM-1. This finding adds another interesting feature to the portfolio of HPK1 functions in immune cells and opens a new field of investigation on the proteins' relevance in pathological settings of altered leukocyte adhesiveness like, for example, the involvement in the development of atherosclerosis.

Summary
Hematopoietic progenitor kinase 1 (HPK1) is a mammalian Ste20 homologue predominantly expressed in hematopoietic tissues of the adult. The protein is a specific activator of the SAPK/JNK pathway acting at the level of a MAP 4 kinase and is therefore also referred to as MAP 4K1. In leukocytes, HPK1 is activated by the canonical immunoreceptor signaling complexes. HPK1 interacts constitutively with SH3-containing adaptor proteins and is recruited to activated immunoreceptors upon tyrosine phosphorylation and interaction with SH2-containing adaptor proteins. In addition to the activation of the SAPK/JNK pathway, full-length HPK1 mediates T-cell receptor-proximal NF-κB activation by phosphorylating the adaptor protein CARMA1. Upon lymphocyte activation and during differentiation of monocytes, HPK1 is proteolytically processed toward a catalytic N-terminal fragment and an inhibitory C-terminal fragment (HPK1-C). This processing changes effector functions and converts HPK1 into a suppressor of NF-κB activation, which leads to sensitization of lymphocytes toward cell death. More recent insights suggest a negative regulatory function of HPK1 in lymphocyte integrin activation and hence make the kinase an interesting candidate to study in leukocyte adhesive processes.
Copyright information
© Springer International Publishing AG 2018