RGS Protein Family
Reference work entry
DOI:
https://doi.org/
10.1007/978-3-319-67199-4_527
Historical Background
Signal transduction by G protein–coupled receptors (GPCRs) was considered for many years (Gilman
1987
) to be a three-component system: the cell-surface receptor to receive external input from hormones and neurotransmitters, the heterotrimeric G protein to transduce this input to the intracellular compartment by its structural changes upon the exchange of guanosine triphosphate (GTP) for guanosine diphosphate (GDP), and effector proteins (such as
adenylyl cyclase
, phospholipase C, and ion channels) to propagate the signal forward as changes in cell membrane potential and/or intracellular second messenger levels. However, for many physiological responses mediated by GPCRs, including the visual response controlled by the photoreceptor, rhodopsin (Arshavsky and Pugh
1998
), intracellular signaling was known to be far shorter in duration than the time observed for the isolated components to revert to ground state in vitro (i.e., the time required for the heterotrimeric G-protein α subunit to hydrolyze GTP and return to its GDP-bound, inactive state). A critical fourth component to this system was discovered to be a large family of "regulators of G-protein signaling" proteins, also known as RGS proteins (Willard et al.
2008
), that dramatically accelerate GTP hydrolysis by Gα subunits and thereby hasten signal termination (Fig.
1
).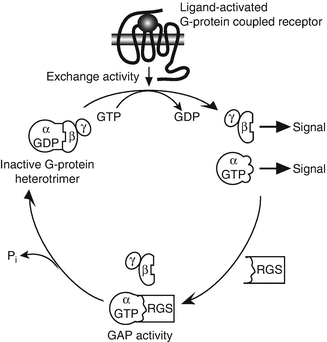 One of the earliest reports of cloning a human RGS protein-encoding gene was that of G0S8 (now known as RGS2) in 1990. Trapped as one of a number of putative "G0/G1-switch genes" from mitogen-treated, primary human T-lymphocytes (Siderovski et al. 1990), G0S8/RGS2 was subsequently observed to encode a protein with sequence similarity to kinases specific for activated GPCRs (e.g., β-adrenergic receptor kinase,  rhodopsin kinase) and to the yeast "supersensitivity-to-phermone" protein SST2 (Siderovski et al. 1994). Functional complementation of yeast deficient in SST2 by overexpression of the human G0S8/RGS2 gene (Siderovski et al. 1996) provided one of the first clues that this emergent gene family encoded negative regulators of signal transduction acting downstream of GPCR activation; other groups working in disparate systems came to the same conclusion contemporaneously (Druey et al. 1996; Koelle and Horvitz 1996). These reports were quickly followed by a definitive demonstration of the biochemical activity underlying the negative regulatory function of RGS proteins: namely, acceleration of the intrinsic GTPase activity of Gα subunits using purified proteins and radiolabeled GTP (Berman et al. 1996a).
RGS Protein Activities
The signature enzymatic activity of RGS proteins is the acceleration of GTP hydrolysis by activated, GTP-bound Gα subunits. This acceleration can be made on certain GTPase-deficient Gα mutants as well (e.g., point mutation to the arginine, such as Arg-178 of Gα
i1
, that helps stabilize the γ-phosphate leaving group) but not on classical, GTPase-dead, Gln-to-Leu Gα mutants (e.g., Gα
i1
Q204L) (Berman et al.
1996a
). Following discovery of this signature biochemical activity of RGS proteins, a crystal structure of RGS4 bound to Gα
i1
in a transition state-mimetic form was reported (Tesmer et al.
1997
). The ability to observe the interaction between a RGS protein and its Gα target to high-resolution solidified early speculation that RGS proteins employ solely their highly conserved, ∼120 amino-acid "RGS domain" to stabilize Gα in its transition state along the path to GTP hydrolysis (Berman et al.
1996b
); this "GTPase-accelerating protein" or "GAP" mechanism is distinctly different from that exhibited by the GAPs of Ras-superfamily GTPases. The GAP activity of certain RGS proteins, including RGS4, is thought to be modulated in a cellular context by the binding of phosphatidylinositol head-groups or calmodulin to a "B-site," within the RGS domain but distinct from the Gα-binding interface (or "A-site") (Fig.
2
); engagement of the B-site with phosphatidylinositol-3,4,5-trisphosphate (PIP
3
) is considered to inhibit A-site GAP function in an allosteric fashion, whereas the binding of calmodulin (in a calcium-dependent manner) to the B-site removes the inhibitory influence of PIP
3
(Tu and Wilkie
2004
).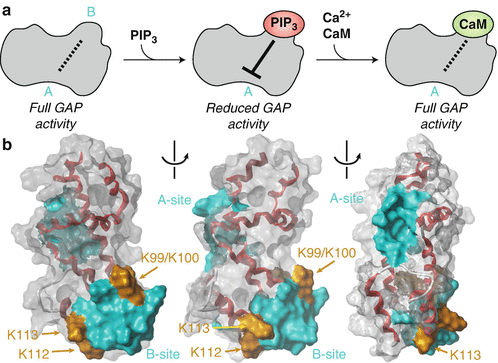 Observations of RGS protein overexpression leading to accelerated on-rates of GPCR signal transduction without affecting response sensitivity or amplitude have been presented in the literature (e.g., Doupnik et al. 1997) as paradoxical findings that run counter to expectations that RGS protein GAP activity should only serve to accelerate the off-rate of GPCR signaling and, thereby, blunt signaling. It is possible that RGS proteins contribute more than just GAP activity to the functioning of the GPCR/G–protein/effector axis, especially since many RGS proteins contain multiple protein/protein-interaction domains in addition to the signature RGS domain (see below). More recently, by combining Gα mutations that accelerate intrinsic GTPase activity and that eliminate sensitivity to RGS domain GAP activity (while preserving all other Gα functions), it has been definitively demonstrated that accelerated GTP hydrolysis alone is sufficient to elicit observations of increased signaling onset and recovery times (Lambert et al. 2010). This finding, however, does not exclude the possibility that conventional ("GAP-active") RGS proteins and/or other RGS domain-containing proteins exhibit additional functional effects on GPCR-initiated signal transduction in a cellular context.
The Conventional RGS Protein Subfamilies
The "conventional" members of the RGS protein family (Table
1
) exhibit Gα-directed GAP activity and have been numbered from RGS1 to RGS21 (excluding RGS15, which turned out to be RGS3). The majority of these proteins target Gα subunits of the Gα
i
and Gα
q
subfamilies (Soundararajan et al.
2008
), albeit with notable exceptions as described below. These proteins have been divided into subfamilies based on overall protein architecture and RGS domain sequence similarity (Willard et al.
2008
). The R4-subfamily is the largest by membership, consisting of RGS1, -2, -3, -4, -5, -8, -13, -16, -18, and -21, yet the smallest by individual protein size; most members merely consist of the ∼120 amino-acid RGS domain with short N- and C-terminal polypeptide extensions (e.g., RGS21 is only 152 amino acids in length). An exception to this small size is the R4-subfamily member RGS3, given that alternative isoforms of this protein are expressed that include N-terminal PDZ and C2 domains. Within the R4-subfamily, RGS2 is unique in acting as a potent GAP solely on Gα
q
subfamily members (and not Gα
i
subunits) in vitro (Kimple et al.
2009
), although inhibition of Gi-coupled GPCR signaling can be observed in a cellular context upon RGS2 overexpression (Ingi et al.
1998
). RZ-subfamily members (RGS17, -19, and -20) are also small polypeptides but are distinct from the R4-subfamily in containing cysteine-rich N-termini thought to be reversibly palmitoylated for differential subcellular trafficking. As the name suggests, RZ-subfamily members have particular selectivity for Gα
z
subunits, although this is not exclusive, and binding of (and GAP activity on) Gα
i
subunits is also manifested (e.g., Soundararajan et al.
2008
).
RGS Protein Family, Table 1
The conventional RGS proteins
| Family | Name | GenBank locus | UniProt id | Entrez gene id | Distinguishing characteristic(s) |
| --- | --- | --- | --- | --- | --- |
| R4 | RGS1 | NM_002922 | Q08116 | 5996 | Implicated in multiple sclerosis |
| R4 | RGS2 | NM_002923 | P41220 | 5997 | Selective for Gαq; modulator of anxiety and vasoconstrictor signaling |
| R4 | RGS3 | NM_144489 | P49796 | 5998 | Isoforms can contain PDZ and C2 domains |
| R4 | RGS4 | NM_005613 | P49798 | 5999 | Associated with susceptibility to schizophrenia |
| R4 | RGS5 | NM_003617 | O15539 | 8490 | Expressed in pericytes; associated with neovascularization |
| R7 | RGS6 | NM_004296 | P49758 | 9628 | Potential modulator of parasympathetic activation in heart |
| R7 | RGS7 | NM_002924 | P49802 | 6000 | Implicated in CNS opioid and muscarinic acetylcholine signaling |
| R4 | RGS8 | NM_033345 | P57771 | 85397 | Directly binds GPCR loops (or indirectly via spinophilin); may control stable cell-surface GPCR expression |
| R7 | RGS9 | NM_003835 | O75916 | 8787 | Key deactivator of retinal phototransduction cascade |
| R12 | RGS10 | NM_002925 | O43665 | 6001 | Phosphorylation and palmitoylation control nuclear localization and Gα substrate selectivity |
| R7 | RGS11 | NM_183337 | O94810 | 8786 | Modulator of retinal ON-bipolar cell light response |
| R12 | RGS12 | NM_198229 | O14924 | 6002 | Contains PDZ, PTB, RBD, and GoLoco domains; scaffold for Ras/Raf/MAPK cascade |
| R4 | RGS13 | NM_002927 | O14921 | 6003 | Modulator of GPCR signaling in mast cells / allergic responses |
| R12 | RGS14 | NM_006480 | O43566 | 10636 | Contains RBD and GoLoco domains; scaffold for Ras/Raf/MAPK cascade |
| R4 | RGS16 | NM_002928 | O15492 | 6004 | Feeding and fasting controls expression in periportal hepatocytes |
| RZ | RGS17 | NM_012419 | Q9UGC6 | 26575 | Implicated in lung tumorigenesis |
| R4 | RGS18 | NM_130782 | Q9NS28 | 64407 | Expressed in leukocytes, megakaryocytes, and platelets |
| RZ | RGS19 | NM_005873 | P49795 | 10287 | Implicated in Wnt/β-catenin signaling |
| RZ | RGS20 | NM_170587 | O76081 | 8601 | Modulator of mu-opioid receptor signaling |
| R4 | RGS21 | NM_001039152 | Q2M5E4 | 431704 | Expressed in lingual taste buds |
R7-subfamily members (RGS6, -7, -9, and -11) are known to play key roles in the regulation of various neuronal processes such as nociception, motor control, reward behavior, and vision. These four proteins share an expression pattern biased to neuronal tissues, as well as a unique multi-domain protein architecture composed of DEP (Dishevelled/EGL-10/Pleckstrin) and GGL (G-gamma-like) domains present N-terminal to a central RGS domain. The DEP domain mediates interaction with unique membrane anchor proteins R7BP and R9AP, whereas the GGL domain (as its name implies) binds a neuronal-specific Gβ subunit, Gβ5, to form an obligate dimeric configuration akin to conventional Gβ/Gγ subunits (Snow et al. 1998). While the R12-subfamily member RGS10 consists of little more than an RGS domain, the other two members of this subfamily (RGS12 and RGS14) share elaborate multi-domain architectures. C-terminal to their RGS domains, both RGS12 and RGS14, possess a tandem repeat of Ras-binding domains (RBDs) and a single GoLoco motif; the first of the two RBDs binds selectively to activated H-Ras (Willard et al. 2007), whereas the GoLoco motif is known to bind Gαi subunits in their GDP-bound inactive state (Kimple et al. 2002). Unlike RGS14, RGS12 also possesses N-terminal PDZ and PTB domains which play important roles in the functional organization of an H-Ras-Raf-MAPK signaling cascade required for nerve growth factor (NGF)-mediated axonogenesis by dorsal root ganglion neurons (Willard et al. 2007).
Other RGS Domain-Containing Proteins
There are an equivalent number of "nonconventional" RGS proteins (Table
2
) that, while possessing the highly conserved nine alpha-helical structure of the RGS domain (Tesmer et al.
1997
; Soundararajan et al.
2008
), either have already been identified in other functional contexts or have yet to be identified as bona fide Gα-directed GAPs. With respect to the latter situation, AKAP-10 (also known as D-AKAP2) and RGS22 possess more than one RGS domain, but to date neither have been convincingly shown to bind to (nor accelerate the GTPase activity of) Gα subunits; this is also true of three sorting nexins (SNX13, -14, and -25) and the RA-subfamily members (Axin, Axin2) that each possess a single, central RGS domain of poorly characterized or controversial Gα-modulatory function.
RGS Protein Family, Table 2
Other proteins containing RGS domain(s)
| Family | Name | GenBank locus | UniProt id | Entrez gene id | Distinguishing characteristic(s) |
| --- | --- | --- | --- | --- | --- |
|   | AKAP10 | NM_007202 | O43572 | 11216 | Contains 2 RGS domains which interact with Rab4 and Rab11 GTPases |
|   | RGS22 | NM_015668 | Q9BYZ4 | 26166 | Contains 3 RGS domains; specifically expressed in testes |
| SNX | SNX13 | NM_015132 | Q9Y5W8 | 23161 | Also known as RGS-PX1; controversial report of Gαs-directed GAP activity |
| SNX | SNX14 | NM_153816 | Q9Y5W7 | 57231 | Also known as RGS-PX2 |
| SNX | SNX25 | NM_031953 | Q9H3E2 | 83891 | Sorting nexin-25; speculated to bind phosphatidylinositols with its PX domain |
| RA | Axin | NM_003502 | O15169 | 8312 | Involved in Wnt signaling; component of β-catenin destruction complex |
| RA | Axin2 | NM_004655 | Q9Y2T1 | 8313 | Also known as conductin; regulator of centrosome cohesion |
| GRK | GRK1 | NM_002929 | Q15835 | 6011 | Also known as rhodopsin kinase |
| GRK | GRK2 | NM_001619 | P25098 | 156 | Also known as β-adrenergic receptor kinase-1 (βARK1); RGS domain binds activated Gαq/11 |
| GRK | GRK3 | NM_005160 | P35626 | 157 | Also known as β-adrenergic receptor kinase-2 (βARK2) |
| GRK | GRK4 | NM_182982 | P32298 | 2868 | Linked to genetic and acquired hypertension |
| GRK | GRK5 | NM_005308 | P34947 | 2869 | Modulator of NFκB signaling via IκBα interaction |
| GRK | GRK6 | NM_002082 | P43250 | 2870 | Involved in phosphorylation and desensitization of CXCR4 |
| GRK | GRK7 | NM_139209 | Q8WTQ7 | 131890 | Involved in cone phototransduction |
| GEF | ARHGEF1 | NM_004706 | Q92888 | 9138 | Also known as p115 RhoGEF; Gα12/13-dependent exchange factor for RhoA GTPase |
| GEF | ARHGEF11 | NM_014784 | O15085 | 9826 | Also known as PDZ-RhoGEF |
| GEF | ARHGEF12 | NM_015313 | Q9NZN5 | 23365 | Also known as LARG or "leukemia-associated RhoGEF" |
As previously mentioned, early reports of the discovery of the RGS protein family highlighted the presence of an N-terminal RGS domain within the known family of serine/threonine kinases (GRK1 to 7; Table 2) that are specific for activated GPCRs (Siderovski et al. 1994; Siderovski et al. 1996); subsequent examination of this N-terminal RGS domain within GRK2 revealed in vitro Gαq binding selectivity and a cellular function in inhibiting Gq-coupled GPCR signaling, albeit with little (if any) Gαq-directed GAP activity. N-terminal RGS domains were also identified in guanine nucleotide exchange factors for the small GTPase RhoA (i.e., the GEF-subfamily of RGS proteins; namely, p115-RhoGEF/ARHGEF1, PDZ-RhoGEF/ARHGEF11, and LARG/ARHGEF12). This identification helped to explain the ability of G12/13-coupled GPCRs to activate RhoA in a cellular context; therefore, the GEF-subfamily of RGS proteins are emblematic of RGS domain-containing proteins that serve as effectors (i.e., propagating the signal forward) even while they also serve as GAPs for their upstream activators (i.e., activated Gα12·GTP and Gα13·GTP subunits).
Summary
Originally discovered as negative regulators of GPCR signal transduction owing to their Gα-directed GAP activity, the RGS proteins are now appreciated to possess multifaceted functions in cellular signaling networks. These multiple functions can arise from elaborate, multiple protein-domain architectures, unique binding partners, and their individual abilities to coordinate and/or modulate other signal transduction components, such as small Ras-superfamily GTPases. Unique expression patterns and Gα-binding selectivities of the RGS proteins underlie their individual involvement in distinct physiological and pathophysiological phenomena. What remains to be determined is whether RGS proteins can be selectively inhibited by small molecules and, even more speculatively, whether their activity could be enhanced by small molecules that usurp normal allosteric control over the Gα-binding A-site.
Copyright information
© Springer International Publishing AG 2018