Phosphatidylinositol 5-Phosphate 4-Kinase
Reference work entry
DOI:
https://doi.org/
10.1007/978-3-319-67199-4_418
Historical Background
Phosphatidylinositol 5-phosphate 4-kinase (PI5P4K) is an enzyme activity capable of converting a monophosphorylated lipid substrate into a bisphosphorylated product, a reaction that is fundamental in the maintenance of the cellular phosphoinositide (PI) cycle. PI5P4K catalyzes the addition of a phosphate group to position D-4 of the inositol head-group of PtdIns5
P
(Figs.
1
and
2
). Downstream effects of signaling molecules generated by the PI cycle are diverse and include vesicle trafficking, ion channel activity, cytoskeletal dynamics, cell differentiation, proliferation, and apoptosis (Di Paolo and De Camilli
2006
; Balla
2016
; Viaud et al.
2016
).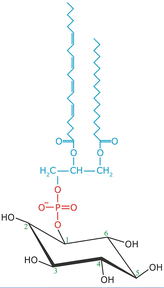 Copyright information
© Springer International Publishing AG 2018