Formyl Peptide Receptor
Reference work entry
DOI:
https://doi.org/
10.1007/978-3-319-67199-4_403
Historical Background
Formyl peptide receptor 1 (FPR1) was first discovered on human neutrophils through its ability to bind N-formylated peptides with high affinity (Schiffmann et al. 1975). Rabbit neutrophils exhibit similar binding properties. The 350-amino acid human FPR1 receptor was the first cloned leukocyte chemoattractant receptor (Boulay et al. 1990). Genes with homologous sequence (FPR2 and FPR3) were identified through low-stringency hybridization using the FPR1 cDNA. The FPR2 cDNA encodes a 351-residue protein and shares approximately 69% sequence identity with FPR1. FPR2 is a low-affinity receptor for the prototypic formyl peptide, N-formyl-Met-Leu-Phe (fMLF). It binds lipoxin A4 and therefore is termed FPR2/ALX (Ye et al. 2009). FPR3 encodes a 7TM receptor of 352 amino acids that shares 56% sequence identity with FPR1 but does not bind fMLF. Although these three human members of the formyl peptide receptor family are relatively similar in terms of sequence identity and receptor structure, they are quite divergent with respect to agonist selectivity and cellular and tissue distribution, indicating a variety of biological functions (Migeotte et al. 2006; Ye et al. 2009).
Activation of FPR1 was first described through ligation with N-formylmethionyl peptides (Schiffmann et al.
1975
). The identification of the formyl peptide, fMLF, derived from
E. coli
, suggests that a major function of FPR1 is to detect bacterially derived formyl peptides (Marasco et al.
1984
). Further discovery of numerous formyl peptides derived from various bacterial sources, such as
L. monocytogenes
,
S. aureus
, and even human mitochondria indicates that the agonists of this family are potent activators of FPR1 signaling (Rabiet et al.
2005
). Although formyl peptides appear to be the dominant agonist for FPR1, this is not the case for other members of the FPR family such as FPR2. Even FPR1 has been shown to be activated by a variety of non-formylated microbe-derived peptides and synthetic peptides such as HIV-1 envelope proteins and WKYMVm, respectively (Le et al.
2002
). Although a diverse group of agonists activate the FPR family as a whole, N-formyl peptides induce responses that are best characterized in neutrophils. This essay describes FPR1 for its signaling properties in neutrophils. A schematic representation of the major pathways downstream of an activated FPR1 is shown in Fig.
1
.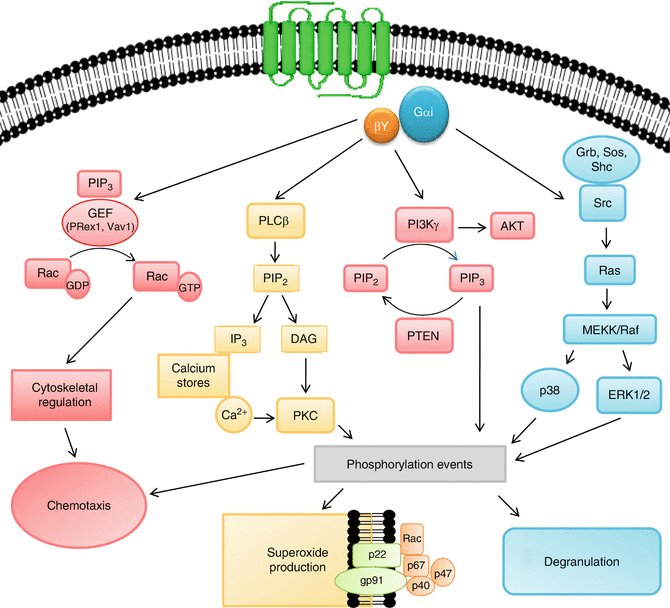 Summary
FPR1 is a "classic" chemoattractant receptor characterized with its ability to mediate strong neutrophil activation of a full set of bactericidal functions, and functionally couple to the Gαi family of G proteins. FPR1 is one of the first cloned and well-characterized leukocyte chemoattractant receptors, and is often used as a model for studies of G protein–mediated signaling pathways in leukocytes. Although a tremendous amount of work has been completed on the formyl peptide receptor family, many questions still remain. These include the diverse ligand-binding properties of the FPR family receptors, the ability to mediate both pro-inflammatory and anti-inflammatory activities, and the physiological functions of these receptors when bound to bacterial formyl peptides compared to endogenous ligands. Studies have begun in recent years for the characterization of mouse FPR family receptors, which may result in genetic models for a better understanding of the signaling properties of this family of G protein–coupled chemoattractant receptors.
Copyright information
© Springer International Publishing AG 2018