PTEN
Reference work entry
DOI:
https://doi.org/
10.1007/978-3-319-67199-4_349
Historical Background
Widespread interest was generated in 1997 when PTEN was identified almost simultaneously by three research groups as a candidate tumor suppressor in cancers of the brain, prostate, and breast (Li and Sun
1997
; Li et al.
1997
; Steck et al.
1997
). As a member of the large and diverse protein tyrosine phosphatase superfamily, it was expected that PTEN would act to oppose oncogenic tyrosine kinase signaling pathways by dephosphorylating specific tyrosine phosphorylated substrates. However, it soon emerged that PTEN is primarily a lipid phosphatase and that by dephosphorylating the lipid second messenger PtdIns(3,4,5)P
3
, it acts to suppress signaling through the PI3K signaling pathway (Maehama and Dixon
1998
) (Fig.
1
). Here the substantial insight that has been provided in the last 13 years by the intensive study of this important tumor suppressor will be discussed.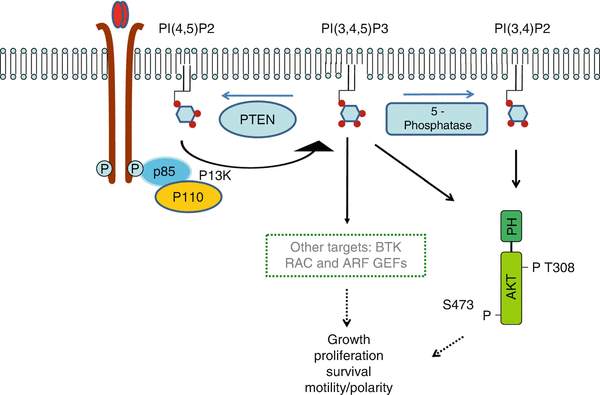 Copyright information
© Springer International Publishing AG 2018