Sonic Hedgehog (Shh)
Reference work entry
DOI:
https://doi.org/
10.1007/978-3-319-67199-4_102
Historical Background
The Hedgehog (Hh) family of secreted proteins plays an essential role in metazoan development, and defects in the Hh pathway lead to congenital abnormalities such as holoprosencephaly and certain forms of cancer. The importance of Hh during embryogenesis was first discovered in a genetic screen for mutations disrupting larval patterning in Drosophila melanogaster by Nusslein-Volhard and Wieschaus in 1980 (Varjosalo and Taipale 2008). Unlike Drosophila, which harbors a single Hh gene, the mammalian genome encodes three Hh ligands: Dessert Hedgehog (Dhh), Indian Hedgehog (Ihh), and Sonic Hedgehog (Shh), all of which activate the vertebrate Hh pathway in a similar manner. Shh is the most widely expressed of these ligands, and much of what is known about vertebrate Hh signaling stems from studies on Shh. Though similar in many ways to the Drosophila Hh pathway, several features of vertebrate Hh signaling make it unique. Perhaps the most striking divergence is in the role that the primary cilium, a vestigial organelle that is largely absent in flies, plays in vertebrate Hh signaling. Over the past two decades considerable process has been made in understanding vertebrate Hh signaling and Shh in particular. Nonetheless, why the primary cilium plays such a central role in the vertebrate pathway is one of several unanswered questions requiring further inquiry and exploration. Thus, in addition to summarizing the current understanding of Shh signaling, this entry will also introduce unanswered questions and remaining areas of ambiguity.
Sonic Hedgehog Processing and Release
Hedgehog proteins undergo a unique series of posttranslational processing steps that result in the covalent attachment of two lipid moieties: cholesterol at the C-terminus and palmitate at the N-terminus. Shown in Fig.
1
, Shh is synthesized as a 45 kD precursor molecule in the endoplasmic reticulum. Following removal of its signal sequence, Shh undergoes a cholesterol-dependent autocatalytic cleavage, generating two peptides roughly equal in size (Varjosalo and Taipale
2008
). The C-terminal fragment has no known signaling function and undergoes ER-associated degradation (ERAD), a process that requires the ubiquitin ligase Hrd1 and its partner Sel1 as well as the ATPase p97 (Chen et al.
2011
). The N-terminal fragment ultimately gives rise to the dually lipidated mature signaling molecule. A cholesterol moiety is added to its C-terminus during the aforementioned cleavage event, and Hh acyltransferase (Hhat) catalyzes the attachment of a palmitate moiety at the N-terminus (Varjosalo and Taipale
2008
). Dually lipidated Shh is targeted to the cell surface through the secretory pathway.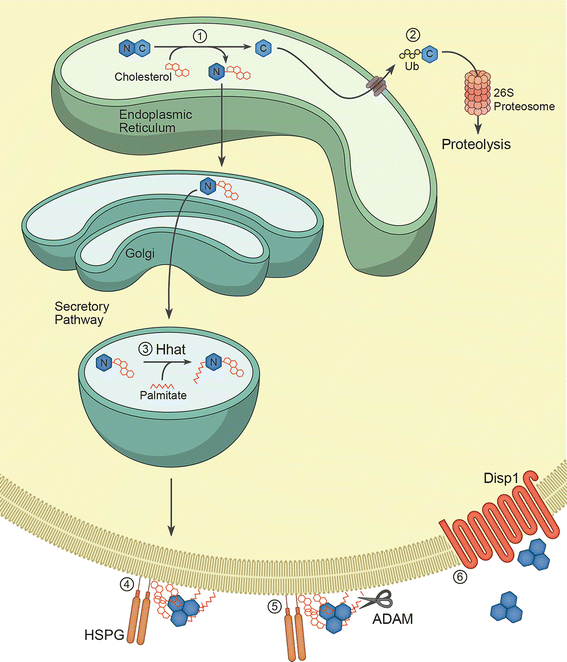 While the process of cholesterol and palmitate attachment to Shh is relatively well-defined, the functional significance of these modifications is more complex. One of the key features of Shh is its ability to signal over long distances, and cholesterol was originally thought to promote such long-range signaling (Lewis et al. 2001). However, initial studies relied upon a mouse model in which Shh expression was severely impaired, and additional studies showed that cholesterol restricts, rather than promotes, the spread of Shh (Li et al. 2006). By contrast, palmitoylation appears to primarily affect the potency of Shh, as mouse mutants producing a non-palmitoylated form of Shh have significantly reduced levels of Shh pathway activity (Chen et al. 2004). Recent studies in vitro indicate that the palmitate moiety promotes the formation of active Shh oligomers by facilitating the cleavage of N-terminal peptides that otherwise obstruct important receptor binding sites in multimeric Shh (Ohlig et al. 2011). This cleavage is mediated by A disintegrase and metalloproteases (ADAMs), which remove the palmitate moiety and adjacent amino acids before Shh is released (Ohlig et al. 2011). In the absence of palmitoylation, either due to loss of Hhat or to mutations in the N-terminal cysteine residue where palmitate attaches, this cleavage cannot occur and the resulting multimer is far less potent. Cholesterol also plays an essential role in multimer formation, as Shh lacking cholesterol (ShhN) is secreted solely as monomers (Guerrero and Chiang 2007). Cholesterol may promote multimer formation by tethering Shh to the plasma membrane, allowing negatively charged heparan sulfate proteoglycans (HSPG) to bind positively charged residues in the Cardin Wientraub (CW) motif and cluster Shh on the membrane (Dierker et al. 2009). Taken together, these data provide insight into why Shh receives such unusual posttranslational modifications in order to properly function.
The covalent attachment of cholesterol and palmitate render Shh membrane-tethered, and the release of lipid-modified Shh into the extracellular environment requires the activity of the 12-pass transmembrane protein Dispatched1. Mouse Disp1 mutants die around embryonic day 9.5 with severe defects in the Shh pathway, indicating that Disp1 plays an essential role in vertebrate Hh signaling (Caspary et al. 2002; Kawakami et al. 2002; Ma et al. 2002). Cells lacking Disp1 synthesize and process Shh normally, but are unable to secrete the mature ligand. Instead, Shh accumulates on the plasma membrane of Disp1 -/- cells, able to signal to neighboring cells but unable to signal distally (Ingham et al. 2011). In addition to Disp1, recent in vitro work suggests that ADAMs may also facilitate Shh secretion by cleaving both lipid moieties, rendering the secreted form of Shh unlipidated (Dierker et al. 2009; Ohlig et al. 2011). Nonetheless, the importance of ADAM-mediated cleavage in vivo has not been shown, nor has whether ADAMs interact and cooperate with Disp1 to facilitate Shh secretion. Addressing these two questions will help complete the story of how Shh is released from producing cells.
Cytosolic Sonic Hedgehog Signaling
Shh Signaling in Development and Disease
Shh functions as a morphogen, mitogen, and survival factor to regulate the development and patterning of many tissues in the vertebrate embryo. In the embryonic neural tube, for instance, floor plate-derived Shh promotes the proliferation, survival, and specification of neural progenitors. Similarly, Shh arising from the zone of proliferation (ZPA), a Shh-producing center in the posterior region of the limb bud, regulates digit specification in the embryonic limb (Jiang and Hui 2008). In the developing foregut, endoderm-derived Shh provides instructional cues to the surrounding mesoderm, resulting in proper development of both the gastrointestinal tract and lung (McMahon et al. 2003). In some tissues, the importance of Shh persists even after birth. For example, during the late embryonic and early postnatal stages, Purkinje cell-derived Shh is essential for granule cell precursor proliferation in the developing cerebellum (Jiang and Hui 2008). In the adult, Shh is required for the maintenance of stem cell populations both in the brain and the epithelium (Jiang and Hui 2008). Defects in Shh signaling have been linked to numerous congenital abnormalities, including holoprosencephaly, polydactyl, and tracheal-esophageal fistula, underscoring the importance of the pathway for normal development (McMahon et al. 2003).
Whereas loss of Shh signaling leads to congenital abnormalities, increased pathway activity has been linked to certain forms of cancer. Somatic mutations in Ptch1, the Shh receptor and a potent inhibitor of the pathway, are observed in nearly all cases of basal cell carcinoma (BCC), a common but rarely metastatic form of skin cancer (Barakat et al. 2010). Similarly, inactivating mutations in Ptch1 or activating mutations in Smo are observed in a subset of medulloblastomas (MB), a malignant tumor of the cerebellum and the most common pediatric brain tumor (Jiang and Hui 2008). Additionally, aberrant Shh pathway activity may contribute to rhabdomyosarcoma (RMS), a pediatric cancer thought to arise from skeletal muscle progenitors (Barakat et al. 2010). While aberrant pathway activation underlies BCC, MB, and RMS, other cancers such as pancreatic ductal adenocarcinoma exhibit paracrine Shh signaling, whereby tumor cells secrete Shh into the surrounding stroma and influence the tumor microenvironment (Yauch et al. 2008). Given the role of Shh signaling in oncogenesis, it is unsurprisingly that efforts have been made to target the pathway pharmacologically. Many of these agents have recently entered phase II and III clinical trials, and the efficacy of Shh inhibitors will become apparent in years to come (Ng and Curran 2011).
Summary
The most widely expressed of the three Hh ligands in mammals, Sonic Hedgehog is essential for proper embryonic development and patterning. Over the past 20 years, significant progress has been made in understanding the production, release, and downstream signaling of Shh ligands. Nonetheless, several fundamental questions regarding the pathway remain unanswered. First, a detailed understanding of how Disp1 and ADAMs mediate the secretion of multimeric Shh remains elusive. Second, the process by which Ptch1 inhibits and regulates the subcellular localization of Smo is not yet known, nor is the process by which Sufu-Gli complexes are dissociated by activated Smo. Finally, and perhaps most perplexing, is the question of how, and why, the primary cilium plays such an essential role in vertebrate Hh signal transduction. Answering these questions will not only provide insight into vertebrate development, but may inform the treatment of Hedgehog-driven tumors.
Copyright information
© Springer International Publishing AG 2018