IKK (IκB Kinase) Complex
Reference work entry
DOI:
https://doi.org/
10.1007/978-3-319-67199-4_101969
Historical Background
IKK (
Iκ
B
k
inase) is the central regulator of the NF-κB signaling pathway, which plays a key role in immunity, inflammation, and cell survival (Karin and Ben-Neriah
2000
; Hayden and Ghosh
2012
). NF-κB is the generic name of a family of inducible dimeric transcription factors that are sequestered in the cytoplasm of resting cells by interaction with inhibitory protein IκBs. Upon cell stimulation ΙκBs are phosphorylated, and this modification triggers their ubiquitination and destruction by the proteasome. This allows free NF-κB proteins to translocate in the nucleus and to activate their target genes (Fig.
1
).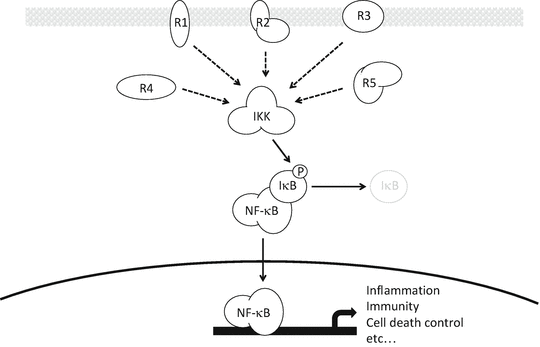 Notes
Acknowledgment
I thank Dr. Jérémie Gautheron for preparing Fig. 5.
Copyright information
© Springer International Publishing AG 2018