Interleukin 2
Reference work entry
DOI:
https://doi.org/
10.1007/978-3-319-67199-4_101968
Historical Background
Interleukin-2 (IL-2) was originally described as a T cell growth factor produced by lymphocytes (Morgan et al. 1976). IL-2 was the first interleukin to be cloned in 1983 and rapidly produced by genetic engineering. Much work has been done on elucidating its structure, identifying its receptors, and studying its biology reviewed in Smith (1988). In the 1980s, IL-2 was established as an essential mediator of T cell-dependent effector immune responses. Remarkably, a radical shift in our understanding of IL-2 biology and use has recently occurred. From a cytokine that activates effector T cells and is used at high dose as a cancer immunotherapy, IL-2 is now recognized as a cytokine that activates Tregs to control autoimmunity and inflammation when used at low dose reviewed in Klatzmann and Abbas (2015). Here we describe mechanistic aspects of IL-2/IL-2R biology and the role of IL-2 in health, disease, and therapy.
The Biology of Interleukin 2
Structure of IL-2 and Its Receptor
IL-2 is a 15 kDa α-helical protein. It is transiently produced primarily by T cells after initial encounter with antigen (Malek 2008). IL-2 stimulates its activity by binding to a high affinity (Kd ~ 10−11 M) IL-2R that consists of α (CD25), β (CD122), and γc (CD132) subunits, where IL-2 is first captured by IL-2Rα, which in turn presents IL-2 in cis for binding by IL-2Rβ and γc. In the mouse the high affinity IL-2R is primarily found constitutively expressed by most CD4+ Foxp3+ regulatory T cells (Tregs) and induced by antigen on CD4+ and CD8+ T effector cells (Teffs). In man, besides expression by Tregs and Teffs, the high affinity IL-2R is also found at relatively low levels on most CD4+ CD45RO+ T memory cells and at even lower levels on some naïve CD4+ CD45RA+ T cells. The high affinity IL-2R is also found on a subset of regulatory natural killer (NK), NK-T, and innate lymphocyte cells. An intermediate affinity IL-2R (Kd ~ 10−9 M), consisting of IL-2R β and γc, is found primarily on most NK and CD8+ T memory cells. IL-2R β and γc are also shared by the IL-15R. Thus, any cells co-expressing these subunits have the potential to respond to IL-15, when they are in an environment that is rich in this cytokine.
The Biology of IL-2/IL-2R Signaling
Three main signal transduction pathways are associated with the IL-2R (Fig. 1a) due to the recruitment of kinases and adaptors to the cytoplasmic tails of IL-2R β and γc (Nelson and Willerford 1998). The recruitment of Jak-3 to γc and Jak-1 to IL-2Rβ leads to tyrosine phosphorylation of these IL-2R subunits and recruitment of STAT5 and the adaptor Shc to IL-2Rβ. STAT5 also undergoes tyrosine phosphorylation that leads to its dimerization and translocation into the nucleus to activate hundreds of STAT5-dependent genes, which importantly shape the function of Treg and Teff cells. The recruitment of Shc facilitates the activation of the MAP kinase and the PI3K/mTOR pathways. These latter two pathways are less active in Tregs, in part due to their high expression of PTENS, which mutes the PI3K/mTOR pathways (Fig. 1a). A consequence of the distinctive IL-2R signaling in Treg and Teff cells is that this contributes to divergent metabolic activities of these cells whereby Tregs primarily depend on oxidative phosphorylation, but Teff cells require glycolysis for optimal function (Michalek et al. 2011). Another important distinction about IL-2R signaling in Treg and Teff cells is that Tregs respond to much lower levels of IL-2 than Teff cells (Yu et al. 2009), which in part is a result of much higher levels of IL-2Rα on Tregs (Fig. 1b).
IL-2 in Health and Disease
Role of IL-2 in Shaping Immune Responses
In vitro studies placed IL-2 as the main driver of an immune response by first promoting T cell clonal expansion and then the contraction of this response. In vivo studies, however, showed that antigen-reactive T cells can undergo substantial expansion and contraction in the absence of IL-2 (Malek 2008), most likely as a consequence of T cell receptor and co-stimulatory signaling. Indeed, IL-2-independent immune responses have been generated against some infectious agents. Nevertheless, IL-2 importantly contributes to the development of an optimal immune response (Fig. 2).
Through autocrine and paracrine IL-2 that is transiently produced by antigen-activated T cells, IL-2 maximizes the clonal expansion associated with those T cells responding to antigen during an immune response. IL-2 mediates T cell growth by integrating signals through the STAT5, PI3K/mTOR, and MAP kinase pathways (Fig. 2). This leads to direct activation of genes that promote cell cycle progression, such as cyclin D3, and cell survival, such as Bcl-2. IL-2-dependent signaling in T cells also promotes the differentiation of several types of Teff cells. IL-2 is a positive regulator of IFNγ-producing Th1 cells in part by induction of IL-12Rβ2 that leads to induction of T-bet, the signature transcriptional regulator of Th1 cells (Liao et al. 2011). IL-2 also promotes IL-4-producing Th2 cells by promoting IL-4R expression that provides a mechanism whereby IL-4 positively enforces Th2 development (Cote-Sierra et al. 2004). The development of CD8+ CTL is also dependent upon IL-2. Induction of perforin-1 and granzyme B transcription requires IL-2-dependent STAT5 gene transactivation (Pipkin et al. 2010). IL-2 also upregulates expression of IL-2Rα, which provides a positive feedback mechanism that contributes to amplify T cell expansion and Teff development.
IL-2 also provides signals that limit aspects of T cell immune responses. Extensive growth in response to IL-2 leads to terminal differentiation of highly active Teff cells, which are short-lived, to promote the contraction of an immune response (Joshi et al. 2007). CD8+ Klrg1+ T cells characterize such cells. IL-2 binding to the IL-2R leads to repression of subsequent IL-2 transcription though Blimp-1 and T-bet-dependent processes. This represents a direct negative-feedback mechanism to limit IL-2-driven responses.
The development of Th17 and Tfh cells are opposed by IL-2 (Ballesteros-Tato et al. 2012; Laurence et al. 2007). The production of IL-17 depends in part on IL-6-dependent STAT3 gene activation. The induction of STAT5 by IL-2 competes for these STAT3-binding sites to repress IL-17 transcription. IL-2 also directly inhibits expression of the IL-6R and upregulated T-bet, which does not favor Th17 development. Tfh development is inhibited through IL-2-dependent activation of Blimp-1 (Fig. 2).
IL-2 has also been implicated in the development of T memory responses. For CD4+ T cells, IL-2 induces the IL-7R, where IL-7 promotes the survival of memory cells (Dooms et al. 2007). For CD8+ T cells, IL-2 during the primary response programs subsequent memory responses. Here IL-2 signaling appears to be important for the optimal development and function of CD8+ T effector/memory cells (Williams et al. 2006). Whether IL-2 supports Teff or T memory development depends on the strength of IL-2R signaling, where extensive IL-2R signaling supports terminal differentiated short-lived Teff cells while moderate IL-2R signaling favors T effector/memory production (Kalia et al. 2010). Thus, IL-2 influences the magnitude and type of Teff responses while promoting the development of highly efficient persistent memory cells.
Role of IL-2 in Peripheral Immune Tolerance
When IL-2 was knockout in mice in 1991, a much unexpected finding at that time was that IL-2-deficient mice died of severe lympho-proliferative-driven autoimmunity (Schorle et al.
1991
). This result did not fit with the role of IL-2 as an important T cell growth factor and pointed to a critical role for IL-2 in regulation of immune tolerance. Initially, this finding was interpreted as a failure in IL-2-dependent activation-induced cell death, a process where T cells that have just expanded to the IL-2 undergo apoptosis upon a subsequent encounter with antigen or autoantigen. Although this process contributes to regulation of immune responses, we now know that this autoimmunity is accounted for by a failure in Tregs (Malek et al.
2002
). Thus, IL-2 is the major controller of immune tolerance.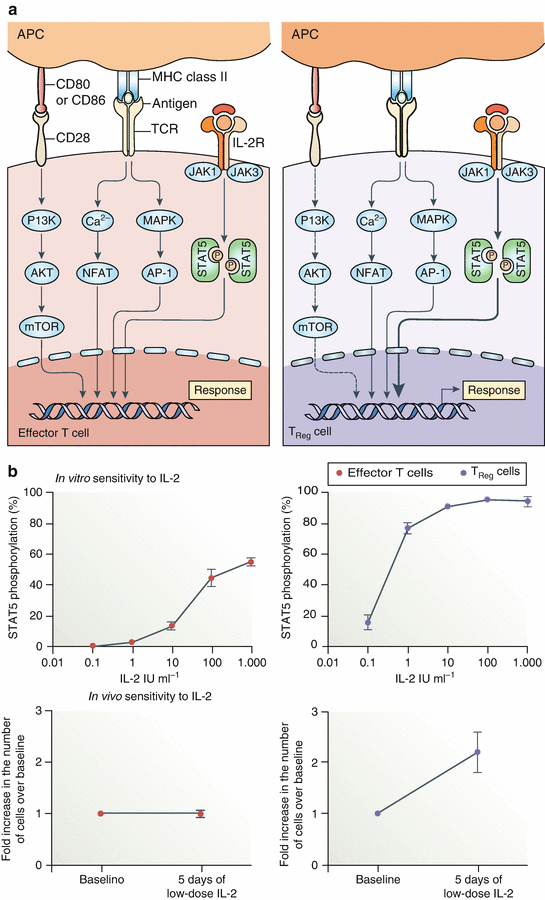 IL-2 and Development of Thymic Tregs
IL-2 provides a number of key functions that regulate the development, homeostasis, and function of Tregs (Malek and Castro 2010). IL-2 plays an essential nonredundant role for development of thymic-derived Tregs (tTregs). During Treg development in the thymus, a population of CD4+ thymocytes with a relatively high affinity for self-antigens are selected by TCR signaling that leads to Treg precursor cells that express CD25 (IL-2Rα) (Burchill et al. 2008; Lio and Hsieh 2008). Paracrine IL-2 from for self-antigen-stimulated T cells and perhaps medullary DCs bind to the high affinity IL-2R expressed by these Treg precursors to direct their maturation into a functional tTreg cell. Tregs without this IL-2 signal are arrested in their thymic development and are characterized by low expression of Foxp3 and several critical Treg suppressive molecules such as CTLA4, CD39, and CD73 (Cheng et al. 2013). However, the proliferation and survival of developing Tregs appears mostly normal in the absence of IL-2. IL-2-dependent STAT5 directly acts to promote the transcription of Foxp3 by direct binding to the promoter and CNS2 of Foxp3 (Zheng et al. 2010).
IL-2 and Peripheral tTregs Homeostasis
IL-2 is also an important cytokine for the homeostasis of peripheral tTregs. Initially, IL-2 was thought to be used by all Tregs for their survival (Fontenot et al.
2005
). However, the emerging picture is more complex, with a distinctive role for IL-2 for various peripheral Treg subsets. Lymph node-residing resting or central Tregs (cTregs) depend on IL-2 for their survival through paracrine IL-2 from Teff or T autoreactive cells (Smigiel et al.
2014
). Generation of more highly activated tissue-residing or effector Tregs (eTregs) are highly dependent upon TCR signaling for their activation and expansion. However, IL-2R signaling also shapes the eTreg compartment. This is most strikingly shown by the large reduction of terminally differentiated Klrg1
+
eTregs in mice with impaired IL-2R signaling. These end-stage Klrg1
+
Tregs do not arise until Tregs have undergone 8–10 cell divisions (Cheng et al.
2012
). Thus, by normally supporting the production of Klrg1
+
eTregs, which have a short survival time (3–4 days), IL-2 limits the life span of eTregs. IL-2 acts either indirectly by programming cTregs for this expansion or directly drives proliferation of eTregs that are activated through TCR signals.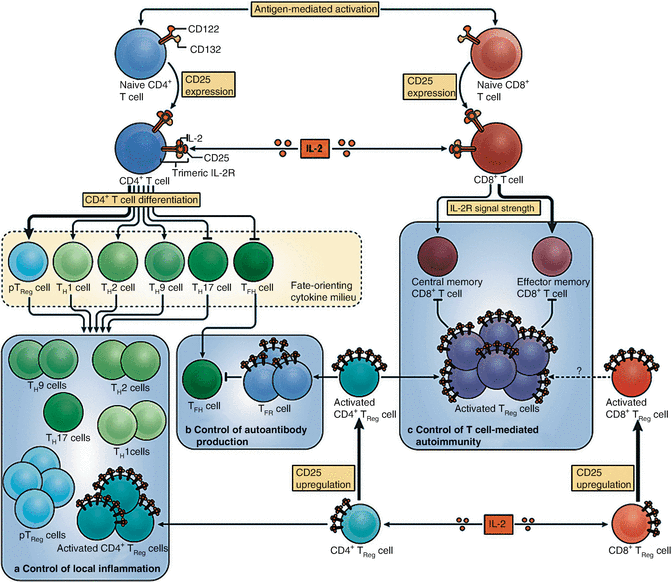 IL-2 and Induced and Peripheral Tregs
Some peripheral conventional CD4+ Foxp3− T cells have the capacity under the appropriate conditions to also become Tregs (Davidson et al. 2007). This process has been termed as induced Tregs (iTregs) when it occurs in vitro and peripherally converted Tregs (pTregs) when it occurs in vivo. The stimulation of CD4+ Foxp3− T cells through the TCR with TGFβ and IL-2 leads to the development of iTregs. In vivo, an environment rich in TGFβ, retinoic acid, and/or IL-2 also support the production of pTregs. The gut mucosa is one prominent site of pTreg development. Also many tumors produce TGFβ, and pTregs are often found in the tumor microenvironment that inhibits antitumor immunity. Unlike tTregs, which are a stable lineage of T cells, pTregs show substantial plasticity and may convert to IFNγ- and IL-17-producing Teff cells. IL-2 appears to be important to maintain the stability of pTregs (Littman and Rudensky 2010).
IL-2 in Disease and Therapy
IL-2 in Disease
Mice that lack IL-2 or functional IL-2R develop inflammatory diseases and multiorgan autoimmune diseases, largely due to a Treg defect (Malek et al. 2002; Sadlack et al. 1993; Suzuki et al. 1995; Willerford et al. 1995). These pathologies are not as severe as those caused by mutations in FOXP3 highlighting a relative Treg IL-2 dependency. In this line IL-15 could substitute for IL-2 to support and expand Treg populations (Raynor et al. 2013).
Decreased IL-2 production or IL-2R expression is not considered a hallmark of most human autoimmune diseases. However, in some autoimmune diseases, such as type 1 diabetes (Zier et al. 1984), rheumatoid arthritis (Kitas et al. 1988), and systemic lupus erythematosus (SLE) (Lieberman and Tsokos 2010), patients' IL-2 production is low compared with healthy individuals, and a recent meta-analysis of shared genetic architecture across ten pediatric autoimmune diseases highlighted a central role of the IL-2 pathway (Li et al. 2015).
High-Dose IL-2 in Cancer Immunotherapy
The first clinical trial reporting efficacy of IL-2 in human cancer used escalating doses, up to approximately 120 million IU (MIU), in three bolus infusions every 8 hours. Few complete clinical responses were observed in patients with renal cell carcinoma or melanoma, at the expense of severe side effects for many patients (Rosenberg 2014). A recent meta-analysis of 30 years of IL-2 use in cancer found an overall complete response rate around 4% (Bright et al. 2017). As mechanisms of such successful responses are not understood and there are no biomarkers identifying them, the severe side effects have severely restrained the use of high-dose IL-2 in cancer.
Low to Ultralow Dose IL-2 in Immunotherapy of Autoimmune and Inflammatory Diseases
As Tregs control inflammation and autoimmune responses, any inflammatory or autoimmune disease signals a Treg insufficiency, but not necessarily a Treg deficiency. Thus, stimulating Tregs with IL-2 to compensate for this insufficiency may help to correct disease by selectively promoting Treg numbers and function, even in the absence of a preexisting Treg defect (Fig. 1b). This concept has been validated by the often remarkable therapeutic efficacy of IL-2 observed in numerous mouse models of autoimmune or of inflammatory diseases (Klatzmann and Abbas 2015).
The first trial of low-dose IL-2 in patients with an autoimmune disease showed that the treatment (i) was well tolerated, (ii) markedly expanded and activated Tregs without detectable activation of Teffs, and (iii) led to significant clinical improvement in 8/10 patients (Saadoun et al. 2011). Low-dose IL-2 was concomitantly shown to have beneficial effects in chronic graft versus host disease (cGVHD), an allo-immune/inflammatory disease complicating allogeneic hematopoietic stem cell transplantation (HSCT) (Koreth et al. 2011). These results provided strong support for the concept that low-dose IL-2 could control autoimmunity and inflammation, and since then many clinical trials have explored this concept (Klatzmann and Abbas 2015).
Safety of Low-Dose IL-2
Sustained stimulation and expansion of Tregs by IL-2 for up to a year in mice showed control of autoimmunity without impairment of immune responses to infection, vaccination, and cancer or effects on pregnancy or offsprings (Churlaud et al. 2014). Trials of low-dose IL-2 in more than 500 patients with one of 15 autoimmune or inflammatory diseases have now established that low-doses of IL-2 are well tolerated (Klatzmann and Abbas 2015).
Main Biological Findings from Clinical Trials
These trials established a dose-dependent effect of IL-2 on Tregs (Hartemann et al. 2013). The expansion of Tregs is accompanied by a marked, also dose-dependent, increase in their expression of activation markers, such as CD25, GITR, and CTLA4, and suppressive activity (Rosenzwajg et al. 2015).
NK cells, and particularly CD56bright NK cells, as well as eosinophils also respond to low-dose IL-2, although less than Tregs. At a dose ≤1MIU per day, the IL-2 effects on NK cells and eosinophils appears minimal (Rosenzwajg et al. 2015).
Efficacy in Human Autoimmune and Inflammatory Diseases
Efficacy of IL-2 in autoimmune diseases such as vasculitis, alopecia areata, and SLE has already been published. Efficacy in other diseases such as ankylosing spondylitis, psoriasis, and ulcerative colitis has been reported at meetings. Reports of efficacy have also been published for acute and chronic GVHD (Klatzmann and Abbas 2015).
However, all these reports come from open label studies and must be confirmed in state-of- the-art double-blind placebo-controlled randomized trials, which are now ongoing.
Summary
IL-2 is a key cytokine with pleiotropic effects controlling homeostasis in the immune system, by controlling the development of Tregs to limit inflammation and autoimmunity and Teff and memory cells to elicit efficient protective immunity. Further mechanistic studies should now detail pathways involved in these diverse functions. This would allow better clinical development of low-dose IL-2 therapy, which has already provided indications of significant biological and clinical efficacy. Low-dose IL-2 offers the promises of a revolution in immunotherapy, providing immunoregulation without immunosuppression.
Copyright information
© Springer International Publishing AG 2018