ATF2
Reference work entry
DOI:
https://doi.org/
10.1007/978-3-319-67199-4_101938
Historical Background
Activating transcription factor 2 (ATF2) is a member of the leucine zipper family of DNA-binding proteins located on human chromosome 2q32 and was discovered by Maekawa et al. in 1989 (Maekawa et al.
1989
). The ATF2 protein consists of 505 amino acids, with phosphorylation sites near the C-terminus at serine residues 472 and 480 in the mouse protein and serine residues 490 and 498 in the human protein. In response to double-stranded DNA breaks, the ataxia telangiectasia-mutant (Yosaatmadja et al.
2015
) protein kinase activates ATF2 (Bhoumik et al.
2005
). The ATF family of proteins includes seven subtypes based on sequence similarity: ATF1, ATF2, ATF3, ATF4, ATF5, ATF6, and ATF7 (Hummler et al.
1994
). A schematic of the ATF2 protein is shown in Fig.
1
.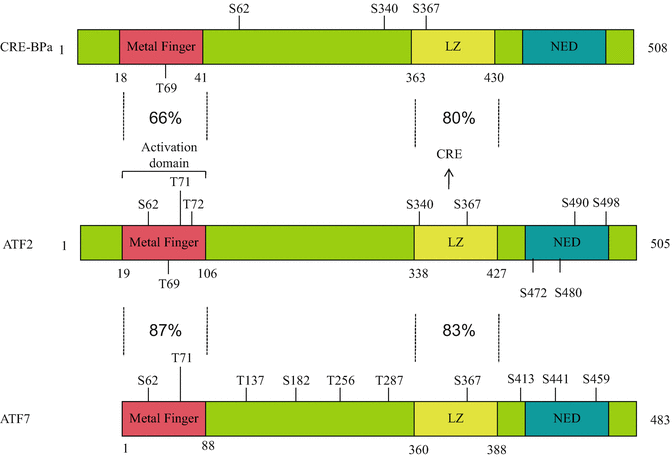 ATF2 is one of the most abundant cAMP response element (CRE)-binding proteins and is expressed in most cells and tissues. ATF2 mRNA is ubiquitously distributed in a variety of organs, such as the brain, liver, heart, lung, pancreas, and in several cell types, such as T cells, macrophages, blood mononuclear cells, and cancer cells, suggesting that ATF2 is important for signal transduction and cellular function in these organs. ATF2 can bind with high affinity to CRE (TGACGTCA) as a homodimer or as a heterodimer with c-Jun and can activate transcription from promoters containing CRE (Matsuda et al. 1991; Nomura et al. 1993). ATF2 acts as a stronger transactivator as a heterodimer with c-Jun than as a homodimer. It can also bind to activator protein 1 (AP-1) consensus sequences (5′-TGACTCA-3′). Numerous reports have shown that the DNA-binding domain containing a "B-ZIP" structure and the amino-terminal transcriptional activation domain containing a metal finger structure are both critically necessary for the transactivation activity of ATF2 (Matsuda et al. 1991).
ATF2 is mainly located in nucleus, cytoplasm, and mitochondrial outer membrane, where it plays different roles. In the nucleus, ATF2 contributes to global transcription and the DNA damage response, both of which are related to cell development, proliferation, and death. In the cytoplasm, ATF2 can interact with HK1- and VDAC1-containing complexes in the mitochondrial outer membrane, which can cause damage to the membrane, inducing mitochondrial leakage and promoting cell death.
The ATF2 subfamily contains two other members: CRE-BPa (also known as CREB5) and ATF7 (also known as ATF-a) (Matsuda et al. 1991; Nomura et al. 1993). All three proteins share the same transactivation domain, which consists of a metal finger element, stress-activated protein kinase (SAPK) phosphorylation sites, and a B-ZIP DNA-binding domain; this transactivation domain is widely expressed in various tissues and cells (Takeda et al. 1991). Interestingly, ATF2 can be phosphorylated by both p38 and JNK, while ATF7 is only phosphorylated by p38 (De Graeve et al. 1999). Moreover, both ATF2 and CRE-BPa can activate transcription from CRE promoters through interactions with co-activator CBP (Sano et al. 1998), but ATF7 represses transcription.
ATF2 Activates Signaling Pathways
As a transcriptional regulator, ATF2 plays a number of diverse functions in controlling cell proliferation and apoptosis through various signaling pathways (Fig.
2
). In response to environmental stresses, such as heat stress, osmotic stress, and hypoxia, as well as reactive oxygen species (ROS), ATF2 is commonly phosphorylated by p38 and JNK, enhancing its transactivating capacity (Brinkman et al.
1999
; Livingstone et al.
1995
). Moreover, upon cellular exposure to ionizing radiation, ATF2 is also phosphorylated by the protein kinase ATM at Ser490 and Ser498 (Bhoumik et al.
2005
). The phosphorylation of ATF2 by ATM results in its rapid localization to ionizing radiation-induced foci, where it increases the recruitment of double-strand break repair gene products, such as Mre11. These data indicate the crucial role of ATF2 in the DNA damage response. In growth factor-triggered ATF2 signaling pathways, such as in response to certain hormones, ATF2 can be activated by two different Ras-coupled pathways, enhancing its transactivating capacity (Bhoumik et al.
2005
; Ouwens et al.
2002
). Through the Raf-MEK-ERK pathway, Thr71 of ATF2 is phosphorylated. Through the Ral-RalGDS-Src-p38 pathway, Thr69 is phosphorylated. In growth factor-activated cells, p38 and JNK regulation of phosphorylation at Thr71 and Thr69 cannot account for the level of ATF2 activation, nor can ERK-mediated phosphorylation of Thr71 alone activate ATF2 efficiently.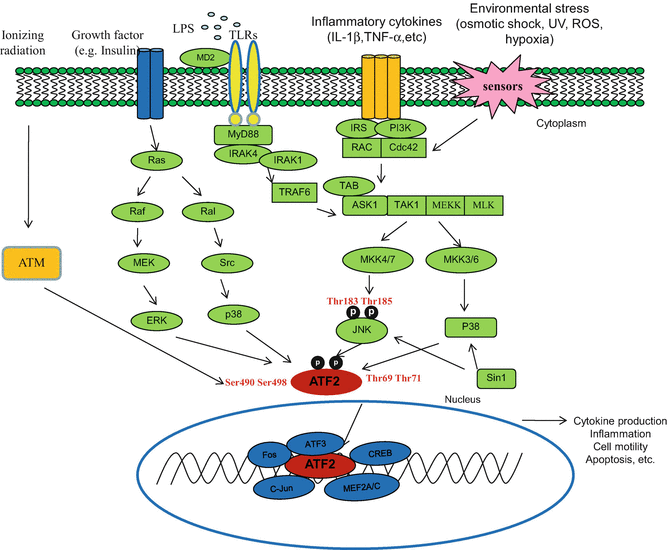 In response to pathogen infection and psychological stress, toll-like receptors (TLRs), which play an important role in the innate immune response by recognizing surface patterns on microbial invaders, are stimulated. TLR signaling is initiated at intracellular Toll/interleukin-1 receptor (TIR) domains, such as MyD88, TIRAP, and TRIF (Yu et al. 2014). The induction of inflammatory cytokines requires MyD88, which recruits IL-1 receptor-associated kinase-4 (IRAK4) to the TLRs through interaction with the death domains of both molecules. IRAK1 is activated via phosphorylation and then associates with TRAF6, ultimately resulting in the activation of the mitogen-activated protein kinases (MAPKs) JNK, p38, and ERK (Blasius and Beutler 2010; Kawai and Akira 2010). ATF2 is then phosphorylated by these activated upstream signaling factors, p38 and JNK, at amino acids Thr69 and Thr71. The phosphorylated ATF2 may then form homodimers or heterodimers with other members of the ATF/CREB family and Fos/Jun family (De Cesare et al. 1995; Vlahopoulos et al. 2008) (Fig. 2).
Biological Functions of ATF2
A large number of reports indicate that ATF2 is critically involved in various biological activities. ATF2 complexes stimulate the transcription of a variety of genes implicated in inflammation, such as cell adhesion molecules (CAMs), proinflammatory cytokines, and chemokines. CAM proteins include integrins, cadherins, and selectins (E-selectin, P-selectin, and L-selectin). Selectins participate in the initial recruitment of leukocytes to the site of injury during inflammation. VCAM-1 may influence the development of atherosclerosis and rheumatoid arthritis. As reported in ATF2-deficient mice, E-selectin, P-selectin, and VCAM-1 expression in the lungs and kidneys following lipopolysaccharide stimulation was clearly reduced compared with control mice (Dinarello 2000). The proinflammatory cytokine tumor necrosis factor alpha (TNF-α), produced mainly by macrophages, lymphoid cells, mast cells, and adipose tissue, causes a variety of clinical inflammatory disorders, such as rheumatoid arthritis, psoriasis, refractory asthma, and inflammatory bowel disease. In ATF2-knockout mice, TNF-α expression was dramatically suppressed. Moreover, expression of interleukin (IL-)-1𝛽 and IL-6 was also significantly inhibited in ATF2-deficient mice (Reimold et al. 2001). Further, the soluble factor keratinocyte chemoattractants are the most highly inducible chemokines produced as a result of IL-1 and TNF-α expression. They are involved in chemotaxis, cell-mediated activation of neutrophils, and the neutrophil inflammatory response. Importantly, in ATF2-deficient mice, the expression of these keratinocyte chemoattractants was obviously suppressed (Reimold et al. 2001).
Potential Roles of ATF2 in the Pathogenesis of Diseases
Numerous studies have demonstrated that the ATF2 protein plays a critical role in cell proliferation, apoptosis, inflammation, and cancer. Particularly, in vitro and in vivo studies in human and mouse cell lines, as well as in knockout mice, have revealed that the overactivation of ATF2 is associated with several inflammatory diseases, including obesity, hepatitis, inflammatory pain, and allergic asthma.
Summary
The ATF2 subfamily is a family of transcription factors that share a bZIP domain. Increasing evidence has demonstrated that ATF2 is critically involved in the regulation of a variety of signaling pathways, induced by factors such as growth factors, inflammatory factors, environmental stress, and radiation. This involvement indicates its significant role in mediating cellular functioning, including cell proliferation, apoptosis, and invasion. This rapidly expanding body of data on ATF2 as a proinflammatory, regulatory protein and cancer mediator calls for the investigation of ATF2 as a molecular target for treating these kinds of diseases. This review highlights the evidence that ATF2 most likely plays an essential role in the pathogenesis of inflammation. A critical question is whether this evidence, derived from cell culture and mouse models, can be transformed to benefit human health; its clinical utility and therapeutic index in humans have yet to be determined. Upon this determination, the identification of specific and effective inhibitors that target ATF2 could be designed and synthesized based on structural and functional domains of ATF2 to augment treatments for human inflammatory and cancer diseases.
Copyright information
© Springer International Publishing AG 2018