BATF
Reference work entry
DOI:
https://doi.org/
10.1007/978-3-319-67199-4_101936
Historical Background
The basic leucine-zipper transcription factor, ATF-like (BATF) was first identified from a cDNA library of Epstein-Barr virus (EBV)-stimulated B cells, as a nuclear protein containing a basic leucine-zipper motif. A strong hybridization band for BATF was detected in poly-adenylated mRNA from cell lines and several human tissues such as the lung and Raji Burkitt's lymphoma by Northern Blot analysis (Dorsey et al. 1995). Only a few months later, another study described a new bZIP transcription factor, which they called SF-HT-activated gene 2 (SFA-2), which was found highly expressed in T and B cells, especially when these cells were transformed by human T cell leukemia virus type I (HTLV-I) (Hasegawa et al. 1996).
Both studies showed that BATF does not form homodimers but builds heterodimers preferentially with Jun-family proteins. These dimers can then bind to AP-1-binding sites on the DNA, thereby regulating gene expression (Dorsey et al. 1995; Hasegawa et al. 1996).
Localization and Structure of BATF
In humans, the gene encoding for BATF (125 amino acids) is located on chromosome 14q24 whereas the murine Batf maps to chromosome 12q. Human and murine BATF have 96% homology, with only five different amino acids. Highest homology was observed in the bZIP region, as well as on serine and threonine residues in the basic region and the N-terminus, which are important for posttranslational modification of BATF via phosphorylation. In both species, the BATF gene is in close proximity to the genes encoding the bZIP transcription factor JDP2 (Jun dimerization protein 2) and fos (Williams et al. 2001; Murphy et al. 2013).
By comparing the sequences of cDNA and genomic DNA of BATF, three exons were identified. In the first exon (exon I, 304 nt), the initiator codon for translation is encoded, as well as 20 amino acids. In exon II (105 nt), 35 amino acids are encoded, which comprise the basic DNA-binding domain and the first leucine residue of the bZIP domain. The remaining part of this domain is encoded in exon III (530 nt), in addition to 44 carboxyterminal residues. A polyadenylation site is located about 20 nt away from the end of exon III (Meyer et al. 1998). The BATF mRNA is about 0.9 kb, and the translated protein has a molecular weight of ca. 13.7 kDa (Hasegawa et al. 1996).
In contrast to other bZIP proteins, BATF, as well as the related proteins BATF2 (also known as SARI) and BATF3 (JDP-1 or p21
SNFT
), only contains a DNA-binding domain and the leucine-zipper motif but no transactivation domain (Fig.
1
).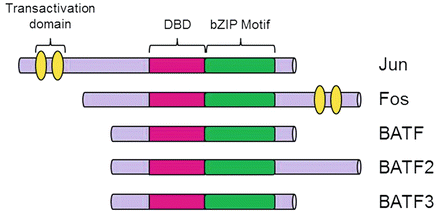 Expression and Regulation of BATF
Further studies showed that BATF mRNA is expressed mainly in hematopoietic tissues and cells, with low expression in thymus and bone marrow and moderate expression in the spleen, lymph nodes, appendix, and peripheral blood mononuclear cells (PBMC). As there was no detectable expression of BATF mRNA in fetal liver, it was assumed that BATF is expressed at later time points in the development of myeloid and lymphoid lineages (Echlin et al. 2000).
This was confirmed later when it was shown that there was no Batf expression in embryonic tissue, but an upregulation occurred shortly after birth. Furthermore, differential expression of Batf was observed during T cell development in the thymus. Here, analysis of thymocytes revealed Batf mRNA expression in CD4−CD8− double negative (DN) and CD4+ or CD8+ single positive (SP) cells, while CD4+CD8+ double positive (DP) cells showed no detectable expression. Besides thymic expression, Batf was also expressed in B cells and CD4+ and CD8+ cells isolated from the spleen (Williams et al. 2001).
In naïve T cells, Batf mRNA expression was induced by stimulation with anti-CD3 (αCD3) antibodies in vitro (Williams et al. 2001). In mouse M1 myeloid leukemia cells, it was shown that leukemia inhibitory factor (LIF) and interleukin 6 (IL-6) were able to upregulate BATF expression in a signal transducer and activator of transcription 3 (STAT3)-dependent manner (Senga et al. 2002).
In the absence of IL-6, also IL-1 could induce Batf mRNA expression in in vitro differentiated Th17 cells (Ikeda et al. 2014) and under Th9-favoring conditions (IL-4 and transforming growth factor beta, TGFβ), a STAT6-dependent upregulation of Batf-mRNA expression was observed (Jabeen et al. 2013). CD8+ T cells that were stimulated with IL-12 in the presence of αCD3/αCD28 as well as B cells stimulated with IL-4 and lipopolysaccharide (LPS) also show increased expression of Batf (Betz et al. 2010; Kuroda et al. 2011).
BATF Expression in Different Cell Types
Analyzing models overexpressing or lacking BATF (reviewed in (Sopel et al.
2016
)) have contributed to elucidating the role of this transcription factor in different cell types. While BATF expression has been shown to be induced in hematopoietic stem cells (HSC) by granulocyte-colony stimulating factor (GM-CSF) via STAT3 (Wang et al.
2012
), the best characterized cell types expressing BATF are lymphoid cells, especially B and T cells. Figure
2
depicts key targets of BATF in B cells and T cell subsets.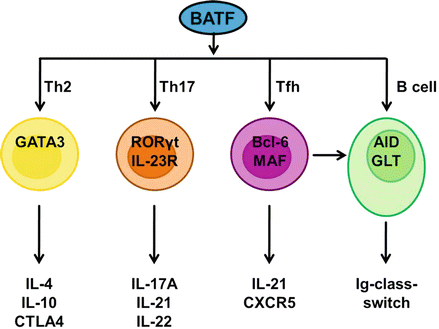 In B cells, BATF has been shown to be important for the class-switching of immunoglobulins (Ig). Here, BATF directly influenced the expression of the gene Aicda (encodes for activation induced deaminase, AID) via interaction with a regulatory region behind the transcriptional start sequence and additionally facilitated germline transcripts (GLT) of I-region promoters upstream of the switch-regions. Therefore, mice lacking BATF presented a deficiency in antibodies of switched isotypes, while IgM levels in the serum were comparable to wild-type mice. Furthermore, in the absence of BATF, no germinal centers were observed in the spleen (Betz et al. 2010; Ise et al. 2011).
Overexpression of BATF using different cell-specific approaches revealed a defect in natural killer T (NKT) cell development, while the global deletion of BATF did not impair NKT cell development (reviewed in (Sopel et al. 2016)). Beside NKT cells, also CD4+ and CD8+ T cell development in spleen, lymph nodes, and thymus was not observed to be altered in the absence of BATF (Schraml et al. 2009; Betz et al. 2010).
Regarding CD4+ T cells, first studies using in vitro differentiation approaches in BATF-deficient mice revealed normal differentiation of T helper cells type 1 (Th1) and regulatory T cells (Treg), while the development of Th17 cells was profoundly impaired. Here, e.g., Rora, Rorc, Il17, and Il21 were identified as target genes of BATF. In addition, CXCR5+ follicular T helper (Tfh) cells were also found diminished in the absence of BATF, with Bcl6 and cmaf being directly regulated by BATF (Schraml et al. 2009; Betz et al. 2010; Ise et al. 2011). Differentiation of Th2 cells in vitro provided contradictory results, which might be attributed to different genetic backgrounds; however, later studies using BATF-deficient mice in models of experimental asthma showed decreased Th2-associated cytokine secretion, e.g., IL-4, IL-5, IL-13, indicating a role for BATF in Th2 cells. This has been supported by a recent study where BATF binding to the promoter region of Gata3, the main transcription factor of Th2 cells, has been confirmed. Furthermore, in Th9 cell differentiation, BATF has also been revealed as a key factor, as naïve CD4+ T cells in vitro hardly develop into Th9 cells under Th9-favoring conditions, when BATF is lacking (Jabeen et al. 2013; Ubel et al. 2014; Sahoo et al. 2015).
Together, the lack of antibodies with switched isotypes, Tfh and Th17 cells, as well as reduced Th2 and Th9 differentiation made BATF an interesting target to study in allergic diseases such as asthma where it has been shown that mice lacking BATF are protected from developing experimental allergic asthma in different models (Jabeen et al. 2013; Ubel et al. 2014; Sahoo et al. 2015).
BATF in CD8+ T cells has been associated mainly with chronic viral infections. It has been shown that BATF was rapidly induced in a chronic infection with murine lymphocytic choriomeningitis virus (LCMV) and expression was maintained over a long period of time (Quigley et al. 2010). In accordance with this, mice lacking BATF expression and infected with LCMV display an increased viral load in spleen, lung, and liver in concomitance with reduced numbers of virus-specific CD8+ T cells. Furthermore, in the absence of BATF, CD8+ T cells were impaired in their activation, proliferation, and effector maturation under LCMV conditions. These results suggested that BATF, especially in CD8+ T cells, is necessary to control LCMV infections (Grusdat et al. 2014; Kurachi et al. 2014).
Cooperation of BATF-Jun with Interferon-Regulatory Factors
BATF is an AP-1 family protein and as described above dimerizes with Jun proteins. It has been shown previously that these heterodimers preferentially bind to TRE (12-O-tetradecanoylphorbol-13-acetate (TPA)-response element) sequences but can also bind to CRE (cyclic AMP response element) sequences on the DNA (Echlin et al. 2000). Recently, it has been proposed that the BATF-Jun dimer can interact with interferon regulatory factor 4 (IRF4) and that this complex binds to AP-1-IRF composite elements (AICE) in Th17 cells and in CD4+ T cells preactivated and stimulated with IL-21 (Li et al. 2012).
Summary
The AP-1 transcription factor BATF is predominantly expressed in hematopoietic tissues, especially in T and B cells. It is able to form dimers with Jun-family proteins and bind to AP-1 consensus sequences.
Studies using BATF-deficient mice have revealed a crucial role of BATF in the development of follicular helper cells (Tfh) and Th17 cells, as well as in B cells, where BATF facilitates class-switch recombination of immunoglobulins. Recently, it has been shown that BATF also influences Th2 and Th9 responses, especially in allergic diseases, such as experimental asthma. Furthermore, in CD8+ T cells, BATF was associated with antiviral immune responses.
As BATF has been shown to be important for the differentiation of several T helper cell subsets and their cytokine expression, as well as Ig class-switch in B cells, it emerges as an interesting molecule for novel therapeutic approaches for diseases such as asthma, colitis, or other T cell-derived cytokine-driven diseases. Targeting BATF, e.g., by using a small molecule inhibitor, might reduce several effector molecules at the same time, which would be advantageous to blocking single molecules by antibodies. However, as the antiviral immune response mediated by CD8+ T cells is strongly impaired in the absence of BATF, it will be challenging to inhibit BATF expression, e.g., in CD4+ T cells only, as to keep side effects at a minimum.
Copyright information
© Springer International Publishing AG 2018