Serine/Threonine-Protein Phosphatase 2A
Reference work entry
DOI:
https://doi.org/
10.1007/978-3-319-67199-4_101865
Historical Background
Since Krebs and Fischer (1956) discovered that the activity of an enzyme (glycogen phosphorylase) can be regulated by a reversible phosphorylation, much attention has been paid to the enzymes catalyzing these covalent modifications: the protein kinases and protein phosphatases. As opposed to protein kinases, it has taken much more time to understand the action of protein phosphatases, mainly because of their complex molecular structure and broad substrate specificities. Nevertheless, protein phosphatases are equally important in controlling biochemical pathways, adding reversibility and sensitivity to these processes.
While the first kinase (phosphorylase kinase) was isolated soon after the discovery of the concept of reversible protein phosphorylation, the biochemical isolation of the first phosphatase needed about 20 more years: ethanol denaturation (accidently applied!) yielded a "pure" and active 35-kDa phosphorylase phosphatase that exhibited broad catalytic specificity (Brandt et al. 1975). Later, this phosphatase turned out to be a mixture of the catalytic subunits of the most abundant serine/threonine phosphatases in most cells and tissues: protein phosphatase type 1 (PP1) and protein phosphatase type 2A (PP2A). For a long time, the classification of serine/threonine phosphatases into type 1 and type 2, and further into type 2A, 2B, and 2C, was based on biochemical purification schemes and in vitro enzymatic properties (Ingebritsen and Cohen 1983). Like that, type 2A phosphatases were characterized as preferentially dephosphorylating the α-subunit of phosphorylase kinase, being insensitive to the heat-stable proteins inhibitor-1 and inhibitor-2 (also called "modulator") and being stimulated by polycations such as protamine or polylysine (hence their alternative name: polycation-stimulated phosphatases or PCS phosphatases). Extensive efforts to purify PP2A from animal tissues based on these properties soon revealed the existence of distinct enzyme complexes, founding the concept that PP2A phosphatases are actually holoenzymes, consisting of two or three subunits (Waelkens et al. 1987). With the coming of age of molecular biology and genetics techniques, several new phosphatases and related molecules were identified, and a better classification, based on evolutionary relationships and primary structure homologies, rather than biochemical properties, came into place. Thus, PP2A became part of the PPP (phosphoprotein phosphatase) family, together with its closest relatives PP4, PP6, PP1, PP2B (calcineurin), PP5, and PP7 (Shi 2009). The PP2A catalytic subunit is one of the most evolutionary conserved proteins, with orthologues in all eukaryotes (yeast, plants, animals), and its levels are under strict auto-regulatory control, in as much that it cannot be overexpressed in tissue cultured cells. Several pharmacologic inhibitors, including okadaic acid, fostriecin, cytostatin and norcantharadin, directly target the catalytic subunit and can be used to selectively inhibit PP2A in cells, but unfortunately, do not distinguish between different holoenzymes (Lambrecht et al. 2013).
Structure of PP2A
Canonical PP2A Holoenzymes
"PP2A" refers to a large, highly conserved family of ubiquitously expressed phosphatases with specificity for phosphoserine and phosphothreonine (Janssens and Goris
2001
). The prototypic PP2A holoenzyme is a heterotrimeric complex of
a catalytic C subunit
,
a scaffolding A subunit
,
and a regulatory B-type subunit
(Fig.
1
). In human tissues, B-type subunits are encoded by 15 genes, which give rise to at least 23 different isoforms through use of alternative gene promoters, alternative splicing, or alternative translation. Based on sequence homology, they are divided into four distinct families, called B (or B55, or PR55, or by gene name:
PPP2R2
), B′ (or B56, or PR61, or by gene name:
PPP2R5
), B″ (or PR72, or by gene name:
PPP2R3
), and B‴ (or striatins, or by gene name:
STRN
) (Fig.
1
). The B-type subunits are true "regulatory" subunits, in the sense that they dictate substrate specificity of the associated C subunit and can directly modulate PP2A catalytic activity. They are often expressed in a cell- or tissue-specific way and are found at distinct subcellular locations (cytoplasm, nucleus, plasma membrane, mitochondria, endoplasmic reticulum, Golgi apparatus, and cytoskeleton), thus restricting PP2A activity to cell- or tissue-specific substrates at specific subcellular sites (Lambrecht et al.
2013
). Also, the C and A subunits are encoded by two different genes each, giving rise to two nearly identical Cα and Cβ isoforms (encoded by
PPP2CA
and
PPP2CB
) and two highly related Aα and Aβ isoforms (encoded by
PPP2R1A
and
PPP2R1B
). Despite a near identity in primary sequence, these isoforms do not serve redundant functions (Janssens and Goris
2001
).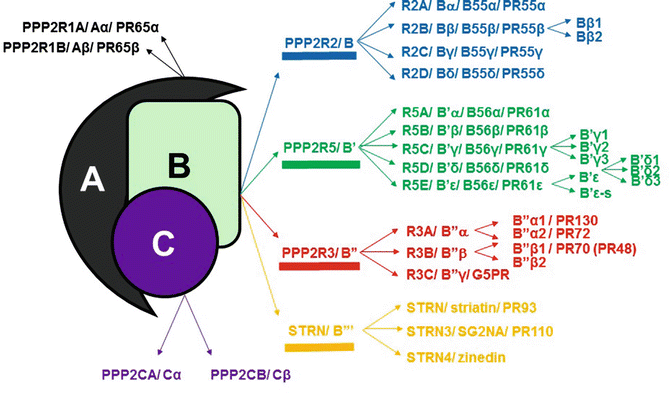 Besides their assembly into trimeric PP2A complexes, A and C subunits can form active A–C heterodimers, which represent about one-third of PP2A in a given cell. The combinatorial assembly of one C and one A or one C, one A, and one B-type subunit theoretically gives rise to four different heterodimers and at least 92 heterotrimers (Fig. 1), all exhibiting potentially different physiologic functions. Thus, the diversity in PP2A composition creates specificity and constitutes the basis for the multiple cellular and physiologic functions of these phosphatases. In addition, PP2A composition largely defines regulation by upstream factors, which is again determined by the nature of the specific B-type subunit in the complex.
Atypical PP2A Complexes
Besides the prototypical PP2A holoenzymes described above, several "atypical" PP2A complexes have been identified that occur within cells largely as catalytically inactive PP2A forms. For example, the interaction between the C subunit and the α4 protein (encoded by IGBP1) stabilizes the C subunit as a latent, inactive form, although there is also some evidence that this complex might be active in specific contexts (Sents et al. 2013). Another example is the catalytically inactive complex between the C subunit, the A subunit, and PME-1 (PP2A methyl esterase-1, encoded by PPME1) that has been estimated to represent up to 25% of the cellular PP2A pool (Sents et al. 2013). PME-1 also represents the enzyme catalyzing the carboxy-demethylation of the C subunit. It is postulated that these atypical PP2A complexes constitute stable, intermediate complexes during the process of PP2A holoenzyme biogenesis or holoenzyme disassembly.
PP2A Holoenzyme Biogenesis
The precise assembly mechanism of active PP2A holoenzymes is still incompletely understood (Sents et al. 2013). Intriguingly, the C subunit is translated as an inactive protein that is subsequently activated in a way that is strictly coupled to its incorporation into the complete holoenzyme. Like that, promiscuous and unregulated phosphatase activity of the free C subunit can be avoided (Hombauer et al. 2007). Several cellular PP2A regulators are involved in stabilizing the free C subunit during this process, in its subsequent catalytic activation, or its interaction with the A- and B-type subunits. These regulators include α4, PME-1, PTPA (protein phosphatase two A phosphatase activator, encoded by PPP2R4), and LCMT1 (leucine carboxyl methyl transferase 1, encoded by LCMT1) (Sents et al. 2013). PTPA is an ATP/Mg2+-dependent activation chaperone that modulates incorporation of catalytic metal ions into the PP2A-C active site and affects PP2A-C conformation through its ATP/Mg2+-dependent prolyl-peptidyl cis/trans isomerase activity. LCMT1 is an S-adenosylmethionine-dependent methyltransferase catalyzing the carboxy-methylation of the C subunit. PP2A-C carboxy-methylation requires an active PP2A-C conformation, is facilitated by the presence of the A subunit, and enhances the affinity of the PP2A-AC dimer for specific regulatory B-type subunits (Janssens et al. 2008). All regulators of PP2A holoenzyme biogenesis (α4, PME-1, PTPA, and LCMT1) are indispensable for mammalian survival, indicative for their physiologic importance (Sents et al. 2013).
Regulation of PP2A
No different from protein kinases, protein phosphatases serve as signaling enzymes in their own right and are responsive to extracellular stimuli or stresses. Not illogically, PP2A regulation is largely determined by its subunit composition.
Signaling Functions and Substrate Specificity of PP2A
Given the ubiquitous expression, high abundance, and structural variety of PP2A holoenzymes, there is hardly not any phosphorylation-regulated cellular or physiologic process in which PP2A does not play a role. "PP2A" – i.e., the large family of distinct PP2A holoenzymes – may exert collaborating as well as opposing functions within a given signaling pathway by acting at different levels in the cascade. This is, for instance, the case in growth factor-induced ERK signaling, PI3K/Akt signaling, mTOR signaling, TGFβ signaling, or Wnt signaling (Eichhorn et al. 2009; Janssens and Rebollo 2012; Wlodarchak and Xing 2016). In addition, different PP2A complexes may dephosphorylate the same substrate, even on the same site, depending on the regulatory stimulus involved, the cell type, or the broader physiologic context (Ahn et al. 2007a, b; Janssens and Rebollo 2012). Recently, major insights were obtained in potential determinants governing PP2A substrate selection for both PP2A-B55 and PP2A-B56 trimers: apparently, these B subunits recognize specific "short linear interaction motifs" residing in intrinsically disordered protein domains that serve as direct or indirect substrate determinants (Hertz et al. 2016; Cundell et al. 2016). Many protein kinases are direct PP2A substrates (Millward et al. 1999), further underscoring PP2A's pleiotropic functions in regulating cell growth and proliferation (Janssens and Goris 2001; Eichhorn et al. 2009), cell death and apoptosis (Janssens and Rebollo 2012), cell cycle progression and mitosis (Kolupaeva and Janssens 2013; Hunt 2013; Wlodarchak and Xing 2016), cell adhesion and migration (Basu 2011), transcription, and translation (Janssens and Goris 2001; Wlodarchak and Xing 2016). Nonetheless, the specific PP2A regulatory subunits controlling dephosphorylation of a given substrate in a given mammalian cell or tissue often remain poorly defined, particularly in the physiologic context of a whole organism. To further clarify this, in vivo mammalian studies through systematic characterization of PP2A knockout mice are eagerly being awaited.
PP2A Dysfunction in Human Disease
PP2A dysregulation substantially contributes to disease, although the full clinical potential of these insights for improved treatment, diagnostic, or prognostic purposes has so far not been properly exploited.
Summary
The cellular and physiologic importance of PP2A phosphatases can hardly be underestimated, given they act as Ser/Thr kinase counterparts in a large variety of signaling cascades. Despite increasing evidence that pharmacologic PP2A modulation in human disease may be feasible, PP2A remains a challenging therapeutic target, not the least because of its complex structure and regulation, and our incomplete understanding of PP2A holoenzyme functions in different cells and tissues in vivo. This knowledge should enable us in the near future to modulate activity of just a selective group of PP2A holoenzymes, a specific PP2A-regulator interaction or a specific PP2A-substrate interaction.
Copyright information
© Springer International Publishing AG 2018