NEDD4–2
Reference work entry
DOI:
https://doi.org/
10.1007/978-3-319-67199-4_101704
Historical Background
NEDD4–2 (neural precursor cell expressed, developmentally downregulated 4-like) encoded by the Nedd4L gene, belongs to the NEDD4 family of ubiquitin protein ligases. NEDD4 family members are HECT-type ubiquitin ligases (E3) that act at the final step of the ubiquitin cascade to accept ubiquitin from a ubiquitin-conjugating enzyme (E2) and transfer it to their cognate substrates. Ubiquitination of a protein often targets it for degradation; however it may also affect protein localization, trafficking, and recognition by signaling or regulatory complexes. The other members of the NEDD4 family include NEDD4, ITCH, SMURF1, SMURF2, WWP1, WWP2, NEDL1, and NEDL2 (Rotin and Kumar 2009).
NEDD4–2 (originally submitted in the database as mouse KIAA0439 or human NEDD4L gene) is most closely related to the founding member, NEDD4, which was originally identified in the early embryonic central nervous system as a developmentally downregulated gene (Kumar et al. 1992). NEDD4 and NEDD4–2 share approximately 78% similarity, and while homologs of NEDD4 are found in all eukaryotes demonstrating high evolutionary conservation, NEDD4–2 likely arose much later by gene duplication as its homologs are only found in vertebrates (Harvey and Kumar 1999; Yang and Kumar 2010).
NEDD4–2 Structure and Expression
NEDD4–2 has distinctive modular domain architecture similar to other NEDD4 family members, comprising an amino terminal Ca2+ phospholipid binding (C2) domain, four WW (protein–protein interaction) domains, and a HECT domain at the carboxyl terminus (Fig. 1) (Harvey and Kumar 1999). The WW domains generally bind PY (PPxY) or similar motifs in substrates and regulatory proteins. The number and position of WW domains vary among NEDD4 family members (generally 2–4), which are thought to contribute to substrate specificity and involvement in distinct biological processes.
NEDD4–2
transcripts are present in many tissues, with particularly high expression in the liver, brain, heart, and lung (Araki et al.
2008
; Harvey et al.
2001
). The canonical isoform of
NEDD4–2
contains a C2 domain, all four WW domains, and a HECT domain; however, many alternatively spliced isoforms of
NEDD4–2
are predicted (Fig.
1
). According to the Ensembl database, 18 protein-coding transcripts exist for human NEDD4–2/NEDD4L, including seven CCDS transcripts. Variability in the transcripts lie within the NH
2
-terminal region (as some transcripts have, or lack the C2 domain), and also internally, varying the number of WW domains and sgk1 phosphorylation sites (Itani et al.
2003
,
2005
). In most tissues, NEDD4–2 (both mouse and human) appears as two protein bands of ∼110–115 kDa, one of which may vary slightly in a tissue-specific manner (Fotia et al.
2003
; Harvey et al.
2001
; Itani et al.
2003
,
2005
; Ronzaud et al.
2013
).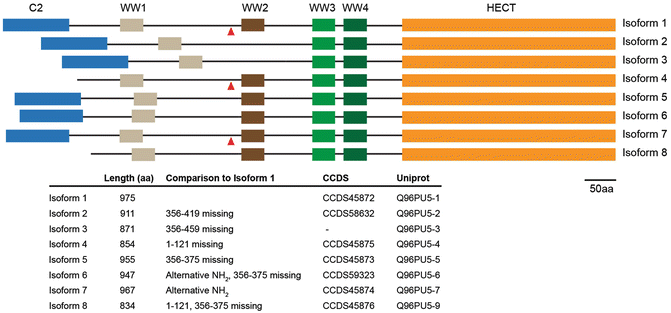 NEDD4–2 Functions
A number of proteins have been shown to be targets of NEDD4–2 (reviewed by Goel et al. (2015)); however, interactions with many of the putative targets have only been demonstrated in vitro and have not been validated using physiologically relevant animal models, such as in gene knockout mice. Here we focus on some key validated NEDD4–2 substrates.
Regulation of NEDD4–2
Autoregulation
The WW domains within NEDD4–2 can weakly bind to the LPxY motif in its HECT domain. This interaction is thought to stabilize NEDD4–2 and prevent its autoubiquitination, resulting in more NEDD4–2 available to bind to its substrates, including ENaC (Bruce et al. 2008). In addition, deubiquitination of NEDD4–2 by USP2–45 is also known to maintain NEDD4–2 protein stability (Krzystanek et al. 2012; Oberfeld et al. 2011; Pouly et al. 2013).
Ndfip Adaptors
Proteins that don't have a PY motif require adaptor proteins to bind to the WW domains of NEDD4 E3s, including NEDD4–2. One such family of adaptor proteins is NDFIPs (NDFIP1 and NDFIP2). Both proteins have PY motifs to bind to the WW domains of NEDD4 family E3s (Harvey et al. 2002; Mund and Pelham 2009; Shearwin-Whyatt et al. 2006), and through NDFIP1, NEDD4–2 has been shown to regulate divalent metal ion transporter, DMT1 (Foot et al. 2008; Howitt et al. 2009); the water channel, aquaporin 2 (AQP2) (de Groot et al. 2014); and may also modulate NEDD4–2s regulation of ENaC (Konstas et al. 2002).
14–3-3 Proteins
In response to insulin and aldosterone signaling, NEDD4–2 is phosphorylated by kinases, SGK1 and AKT, which triggers its interaction with 14-3-3 proteins (Snyder et al. 2004; Bhalla et al. 2005; Lee et al. 2007). The binding of 14-3-3 to NEDD4–2 inhibits its function by preventing it from interacting with its substrates, such as the ENaC (Nagaki et al. 2006) (Fig. 2).
Clinical Significance
NEDD4–2/NEDD4L variants have been linked to salt-sensitive and essential hypertension in human subjects (Knight et al. 2006). In addition, mutations in β and γENaC, which disrupt or delete the PY motif in Liddle syndrome, abrogate the ability of NEDD4–2 to bind to and ubiquitinate ENaC. This results in accumulation of the functional ENaC on the cell membrane, triggering increased sodium reabsorption, which leads to increased reabsorption of water and consequentially hypertension (Foot et al. 2016). Based on mouse studies stated above, NEDD4–2 may also be important in IgE-dependent allergic disorders and controlling neuropathic pain.
Summary
NEDD4–2 is a member of the NEDD4 ubiquitin ligase family that comprises nine members of HECT type E3s. It is a close relative of NEDD4, which is highly conserved during evolution. Most of the known substrates of NEDD4–2 are membrane proteins, including ion channels and transporters. In particular, NEDD4–2 plays an essential role in sodium homeostasis in the lung and kidney through the regulation of ENaC, and the variants of NEDD4–2 gene are linked to human hypertension.
Copyright information
© Springer International Publishing AG 2018