Lysophosphatidic Acid Receptor
Reference work entry
DOI:
https://doi.org/
10.1007/978-3-319-67199-4_101681
Historical Background
Lysophosphatidic acid (LPA) is a simple phospholipid consisting of a fatty acid linked to sn-1 or sn-2 and a phosphate at 2n-3 position of the glycerol backbone (Fig.
1
). Historically, LPA was considered to be a metabolite of membrane phospholipids until 1989, when it was suggested to act as an intercellular signaling molecule that stimulates cell proliferation through heterotrimeric G protein activation (van Corven et al.
1989
). In 1996, the first LPA receptor gene (
Lpar1
) was isolated as a G protein-coupled receptor (GPCR) gene predominantly expressed in the ventricular zone of the developing cerebral cortex of mice (Hecht et al.
1996
). The mouse
Lpar1
gene was originally termed
ventricular zone gene-1
(
vzg-1
), and the most related gene showing the highest percentage amino acid identity was
endothelial differentiation gene-1
(
edg-1
), which had been isolated as an orphan GPCR gene expressed in differentiating endothelial cells. Shortly after identification of
vzg-1
as a LPA receptor gene,
edg-1
was demonstrated to encode a cognate receptor for sphingosine-1-phosphate, another signaling lysophospholipid structurally related to LPA (Fig.
1
) (Lee et al.
1998
). Following the identification of
Lpar1
, a homology-based investigation identified two additional LPA receptor genes,
Lpar2
and
Lpar3
, in rodents as well as humans (Ishii et al.
2004
).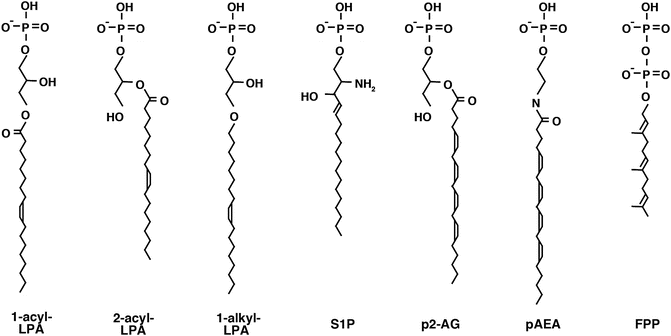 In 2003, a ligand screening assay for the purinergic GPCR, P2Y9, revealed that its agonist is LPA, not nucleotides, such as ATP (Noguchi et al. 2003). This result led investigators to pursue the identification of a ligand for the related receptor, GPR92, leading to the finding that its agonist is also LPA (Lee et al. 2006). Distinct human genetic studies and other in vitro studies further confirmed that P2Y5 is also the sixth LPA receptor (Pasternack et al. 2008; Yanagida et al. 2009). P2Y9, GPR92, and P2Y5 are structurally related to one another and form a large cluster in the phylogenetic tree, which is far distant from the cluster of LPAR1, LPAR2, and LPAR3 (Fukushima et al. 2015). According to these successive studies, P2Y9, GPR92, and P2Y5 were termed LPAR4, LPAR5, and LPAR6, respectively (Kihara et al. 2014).
The identification of six types of LPA receptors, together with discoveries of enzymes responsible for LPA production and degradation, has established LPA as an important lipid mediator that has essential roles in body development and also influences the pathophysiology of many diseases (Tsujiuchi et al. 2014; Yung et al. 2014). Thus, current studies are now expanding to translational and clinical trials aiming to develop treatments for several diseases.
LPA Receptors
The International Union of Basic and Clinical Pharmacology (IUPHAR) has updated the nomenclature for the six types of LPA receptors as LPA1–LPA6, which are encoded by the corresponding genes, Lpar1–Lpar6 in nonhumans and LPAR1–LPAR6 in humans (Kihara et al. 2014). Although some GPCRs are proposed to be LPA receptors, including GPR35 and GPR87, we will mention only Lpar1–Lpar6.
Summary
As we discussed above, there is growing evidence that LPA signaling plays important and diverse roles not only in body development but also in the onset or progression of many diseases. Thus, LPA receptors could be a suitable target for the treatment of diseases. Indeed, many pharmaceutical companies are now developing various synthetic agonists and antagonists specific to LPA receptor subtypes, some of which are entering clinical trials for the treatment of diseases. The recent crystal structure study of human LPA1 and future structural analyses of other LPA receptors will accelerate structure-based drug design.
In addition to therapeutic-based studies, another interesting issue in LPA research is how LPA signaling has evolved and acquired biological significance. Genes for LPA receptors, S1P receptors, LPA-producing enzymes, and S1P-producing enzymes (sphingosine kinase) are found in the genomes of vertebrates, from human to lamprey (Petromyzon marinus). In genomes of chordatas, ancestral animals of vertebrates, only two GPCR genes, deposited as s1pr3 orthologs, and sphingosine kinase genes seem to be present. In fly and worm genomes, no lysophospholipid receptor genes are reported. Therefore, unveiling LPA or S1P signaling in lower vertebrates and chordatas may lead to better understanding of the fundamental roles of lysophospholipid signaling in vertebrate evolution.
Notes
Acknowledgments
This work was supported by KINDAI research funding KD02 (N.F. and T.T.) and KINDAI School of Science and Engineering funding RK-052 and RK-062 (N.F.). We apologize to all authors whose primary research papers could not be cited directly due to space limitations.
Copyright information
© Springer International Publishing AG 2018