Business Unsustainability and Early Warning Systems
Living reference work entry
DOI:
https://doi.org/
10.1007/978-3-319-63951-2_263-1
Introduction
The world is becoming increasingly interconnected and complex. It is now common to speak of events influenced by the "butterfly effect," in which organizations and institutions suffer the effects of apparently distant and unrelated actions of others. This represents a very serious problem for the survival of organizations and business sustainability, since it is possible that there are threats to their integrity that are unknown or that, while known, are not considered. The task of managing a modern organization is very complex with drastic potential effects, which probably requires a change in how organizations are being managed.
This chapter outlines the elements and concepts that create business unsustainability. First, a discussion is presented to define business sustainability. Business sustainability is an ambiguous, yet widely discussed, concept in recent decades intended to embed sustainability into business management. In the second section, the concept of business fragility takes place; this is a new approach to avoid threats and collapse scenarios for business sustainability. The third section discusses ignorance management, an approach that considers the complex role that ignorance and uncertainty may play in business sustainability. Finally, the fourth section presents a discussion on early warning systems. This is an instrument to reduce ignorance and fragilities and enhance preparation to deal with unexpected events that can threaten business sustainability.
Business Sustainability
Business companies are important stakeholders in the transition toward sustainable development, as they have huge potential to increase the already existing positive impacts on economic progress and quality of life and to reduce negative impacts (Crane and Matten 2016; Econsense 2017). Hawken (1993) argues that business is the only institution large and powerful enough to solve our sustainability problems; however, current understanding and strategies for business sustainability seem to be limited and insufficient to address these complex, global, and interconnected issues. Although extensive literature on the topic exists, it is missing a comprehensive view of how firms should approach embedding sustainability in their business models (Stubbs and Cocklin 2008; Bocken et al. 2014).
Perhaps the first challenge is to clarify what business sustainability really means. There is some ambiguity when discussing business sustainability, and a specific definition is hard to find. However, different authors agree that business sustainability requires an approach toward the triple bottom line (social, environmental, and financial aspects) with the intention to respond to the business's short-term financial needs without compromising its (or others') ability to meet its future needs (Elkington 1994; Sharma 2002; Labuschagne et al. 2005). In practice, this is difficult to achieve, as many owners and managers may want their business to be at least as profitable as in the past and, ideally, more profitable in the future (Bansal and DesJardine 2014).
The current models to achieve business sustainability have shortcomings in the area of positively impacting the triple bottom line (Haugh and Talwar 2010), since trade-offs exist, while in practice one aspect may receive more attention than others. These models of business sustainability try to find out how firms can benefit from addressing societal and environmental concerns (Margolis and Walsh 2003; Ferraro et al. 2005). This approach may artificially polarize business and society, reinforcing the tension between business demands and social expectations, which can create feedback loops further polarizing business and society (Smith and Lewis 2011). Managers seek immediate financial gains from their social and environmental investments, rather than embracing the tension among the economic, social, and environmental elements of the system and creatively integrating solutions into firm activities (Kleine and Von Hauff 2009).
Sustainable development is often perceived as an aspirational goal, and early ideas on implementing business sustainability focused on concepts such as achieving stability and efficiency improvements (Ahern 2011). However, in the current complex, interconnected, and globalized systems, these aims may produce side effects and unexpected events that can lead to collapse scenarios (Taleb 2007). In this context, we need to be skeptical about the innovation-efficiency measurements that organizations are applying and be able to identify whether we are creating resilient or fragile systems and organizations.
Business Fragility
Business, like all other natural and human systems, is constantly under threat of all kinds of events. In order to ensure its survival, business should care about its resilience (Winnard et al. 2014). The idea of resilience is closely linked to the idea of sustainability since, in the end, it is not always a question of aspiring to more and more profits, e.g., the fallacy of endless growth (Strauss 2010). Rather, it is about being able to continue generating profits and, through that, generate benefits for the community (Boudreau et al. 2008; Derissen et al. 2011). Focus on increasing profits can lead to fragilities, reducing business resilience (Taleb 2012).
The concept of fragility has been widely used in different areas such as construction (Ellingwood et al. 2004), health (Seeman and Delmas 2006), finance (Eichengreen and Hausmann 1999), and ecology (Montoya et al. 2006). Fragility can be defined as the ability of an object or system to be easily damaged or broken; these damages are generally irreversible, which can be interpreted as a loss of functionality (Ansar et al. 2017). For this reason, identifying fragilities in a system should be a priority, as they threaten business sustainability (Platje 2015).
Usually, a system is the least fragile when it is robust and resilient (Passos et al. 2018). However, resilience may not be enough when complexity and interconnection are added to a system (Ries 2016). This interconnectivity is a source of fragility for businesses because, despite having numerous connections and a large size, the system itself is just as fragile as the most fragile component of the system (Ansar et al. 2017).
Perhaps the solution to achieve business sustainability is not to generate a robust and resilient business to reduce the fragility but instead to look for business anti-fragility. Being anti-fragile goes beyond resilience and robustness, since these only seek to reduce the negative effects on business that come from stressors, volatility, randomness, and uncertainty (Bin Shawiah 2016). Anti-fragile systems benefit from volatility and randomness (Taleb 2012). However, creating such a system is extremely difficult due to intrinsic issues in our current business management paradigms (Hamel 2007). Furthermore, randomness and uncertainty come from elements out of our control, and it is difficult for businesses to analyze or prepare for unexpected, unpredictable, and uncertain events (Posner 2010).
Ignorance Management
Are some companies too big to disappear? The answer is no. Can a company go from dominating the world to falling into oblivion? The answer is yes. Examples of this are many: Blockbuster, Kodak, Pan Am Airlines, Enron, and Lehman Brothers (Lucas and Goh 2009; McDonald and Robinson 2010; Davis and Higgins 2013). The reasons why these companies failed become obvious after the collapse has taken place: technological advances, terrorist attacks, unethical practices, lax financial regulations, etc. The truth is that for businesses to predict these events is practically impossible, which leads us to question whether we really have all the information necessary to ensure the survival of business (Posner 2010). The question here is to know whether we can learn from these cases and see beyond the things that we think are obvious (Paltrinieri et al. 2014).
In recent decades, the application of knowledge management techniques has become widespread among firms and is currently considered a paradigm for business management (Gonzalez and Martins 2017). However, this focus on knowledge may result in the neglect or ignorance of other equally important factors influencing the performance of businesses, including the unknown (Carrillo 2007). It is necessary to consider the complex role that ignorance and uncertainty may play in the business sustainability; therefore, the management of ignorance appears as an attractive approach to deal with those unexpected events that may compromise the survival of business (Wynne 1992).
In order to understand this focus on ignorance, a distinction can be made between key elements of knowledge – knowns and unknowns – as well as between awareness and unawareness (Fig.
1
) (Israilides et al.
2013
). In other words, "There are known knowns; there are things we know we know. We also know there are known unknowns; that is to say we know there are some things we do not know. But there are also unknown unknowns – the ones we don't know we don't know" (Rumsfeld
2002
). In Fig.
2
, a taxonomy of ignorance is presented. An early warning system (EWS), as discussed below, is an instrument to reduce ignorance and fragilities that also helps a business prepare to deal with unexpected events that can threaten business sustainability.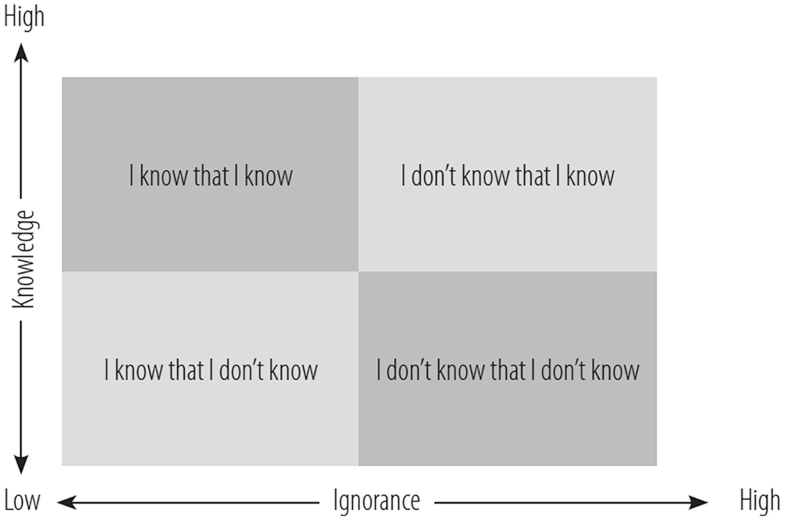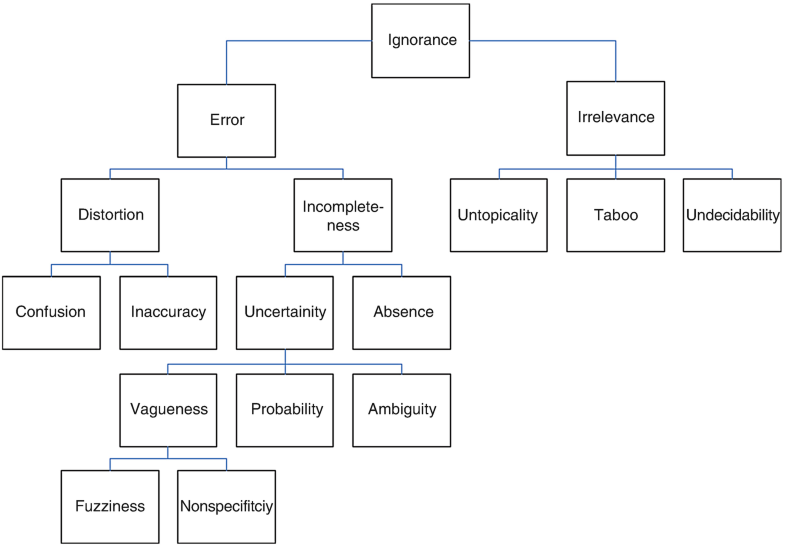 Early Warning Systems
Nowadays, the world is increasingly impacted by unexpected events that create enormous challenges for the survival of companies. Not many people predicted the fall of the Berlin Wall, the Internet revolution, the financial crisis of 2007, the euro crisis, Brexit, etc. Such events can create threats but can also become a business opportunity (Posner 2010; Taleb 2012). Within this context, an important issue is whether a company has the capacity to create an early warning system for threats to the sustainability of the business. Studies on EWS have been carried out, especially in areas such as prevention of natural disasters, finances, risks in the market, IT, medicine, and others (Mackenzie 1999; Erdik et al. 2003; Yu and Madoff 2004; Wu and Kanamori 2005; Bussiere and Fratzscher 2006). However, little has been discussed about these systems' use as a management tool, and even less has been discussed about their relationships to business sustainability.
Here are several different definitions of an EWS:
Warning system is any system of biological or technical nature deployed by an individual or group to inform of a future danger. Its purpose is to enable the deployer of the warning system to prepare for the danger and act accordingly to mitigate against or avoid it. (Dwivedi 2010)
An early warning system (EWS) is technology and associated policies and procedures designed to predict and mitigate the harm of natural and human-initiated disasters and other undesirable events. (Rouse 2016)
It prevents loss of life and reduces the economic and material impact of disasters. To be effective, early warning systems need to actively involve the communities at risk, facilitate public education and awareness of risks, effectively disseminate messages and warnings and ensure there is constant state of preparedness. (Wiltshire 2006)
[An EWS is] a system that identifies disturbances within itself that are likely to have a significant impact – and disseminates information relevant to the needs of a timely response scheme. This enables appropriate decision making such as resource allocation, facilitates appropriate adoption actions and identifies further response requirements. (Murphy et al. 2007.
[An EWS] is a chain of information communication systems comprising sensor, detection, decision, and broker subsystems, in the given order, working in conjunction, forecasting and signalling disturbances adversely affecting the stability of the physical world; and giving sufficient time for the response system to prepare resources and response actions to minimise the impact on the stability of the physical world. (Waidyanatha 2010)
An EWS should include a cognitive-behavioral managerial element, as formal models may miss weak signals (Bertoncel et al. 2018b). "Early warning systems serve as a key management tool for anticipating potential disasters or other negative events (Trzeciak and Rivers 2003)." (quote from Bertoncel et al. 2018a, p 407). They help to identify, screen, and appraise warning signs and respond to them (Bertoncel et al. 2018a, p 412). An EWS is needed as people tend to be unable "to acknowledge black swans [because they] tend to focus on things already known to us, and therefore fail to consider those for which we lack knowledge (Amyotte et al. 2014)."
Determinants and elements of an EWS are, first of all, a lack of awareness of vulnerability and fragility issues (Mandelbrot and Hudson 2010; Taleb and Martin 2012), functional stupidity (Alvesson and Spicer 2010), lack of general trust (Raiser et al. 2008), and adherence to technocentric paradigm (Gladwin et al. 1995), reducing the capacity to create an EWS. Functional stupidity can be defined as "an absence of reflexivity, a refusal to use intellectual capacities in other than myopic ways, and avoidance of justifications" (Alvesson and Spicer 2012). It consists of reflexivity, i.e. the ability and willingness to discuss and question existing knowledge, rules, norms of behavior, etc. (Alvesson and Skoldberg 2009), justification, i.e. provide reasons and explanations for decisions (Boltanski and Thévenot 2006), and substantive reasoning (this lacks when focus is on narrow or short-term aims, and broad perspectives are not considered).
The worldview considered to be relevant for ignoring threats to business sustainability is the technocentric paradigm. This concerns the belief that technology and economic growth can solve all different types of problems (Gladwin et al. 1995). When believing all problems can be solved by engineering and using more resources, this is likely to lead to neglect of events that can cause significant, irreversible damage to the company or region.
A high level of general trust (trust in people in general) facilitates cooperation among people with new ideas. It makes the organization more adaptively efficient (Raiser 1997, 1999). Trust between stakeholders within the company is important, as it may reduce barriers to flow of information crucial from the point of view of EWS. General trust may support the openness to weak signals from outside the company. Furthermore, when there is a lack of general trust as well as a lack of trust in suppliers, customers, and people working in the company, this may create difficulties in finding cooperative solutions requiring a quick reaction in case of unexpected events.
Other issues important for the development and functioning of an EWS are the creation of scenarios (Posner 2010; Taleb and Martin 2012; Bertoncel et al. 2018a), involvement of outsiders (Posner 2010), whistleblowers (Harford 2011), the use of different theoretical models (Feyerabend 2010), the ability to learn as quickly as possible in situations of extreme volatility (Posner 2010, pp. 22–23), awareness of volatility and inclusion in risk management (Mandelbrot and Hudson 2010), procedures for accountability (Posner 2010), use of system analysis (Sterman 2000; Posner 2010), awareness of strength and limitations of the human mind (Beck 2017), teamwork, intuition (Patton 2003; Bertoncel et al. 2018b), learn from "near mistakes, misses or failures" (CCPS 2012; Amyotte et al. 2014), and the creation of testable hypotheses (Posner 2010).
As our world has become increasingly complex, observing and identifying thresholds and signs of drastic changes that require changes in organizations and systems become even more complex. In this sense, the development of early warning systems emerges as a theoretical approach with certain appeal to help solve these complex problems.
Copyright information
© Springer Nature Switzerland AG 2019
Section editors and affiliations