Theories of Development
Living reference work entry
DOI:
https://doi.org/
10.1007/978-3-319-31816-5_939-1
Definition
Development is a process of disproportionate growth of systems. In economics, development is a multidimensional process that generates economic, technological, social and institutional change to support wealth of nations and a comprehensive wellbeing of people in society.
Introduction
Economic development is a process that generates economic, social and technical progress of nations. The fundamental elements of development in society are: the improvement of health, the growth of wealth, the creation of new knowledge and technology, etc. Economic development is fostered in appropriate social systems with high democracy and culture, good economic governance, efficient higher education system, and high innovative outputs (Coccia
2010
,
2014
,
2014b
,
2018a
). Economic development can be explained with different theories that are discussed in next sections (Fig.
1
).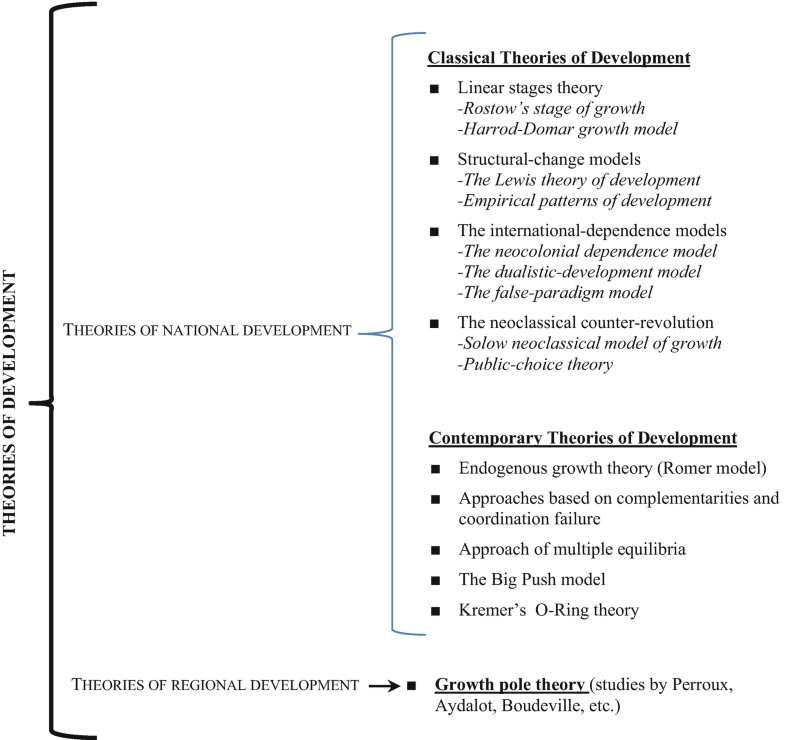 Theories of Development in Economics
The study of economic development is one of the most important research fields in economics, political economy, and other social sciences (Nafziger
2005
). The schools of classical and neoclassical economics analyze the development in terms of the efficient allocation of scarce productive resources to support optimal growth, produce and expand the range of goods and services. Instead, new economic approaches explain the development with socioeconomic, political, and institutional factors that accelerate economic growth, improve the levels of living, and reduce poverty of population, income inequality between people, and violent crime in society (cf., Todaro and Smith
2003
; Coccia
2017
). A traditional economic measure of development is given by gross domestic product (GDP): the sum of gross value added by all resident producers in the economy plus any product taxes and minus any subsidies not included in the value of the products. Contemporary studies and theories have added noneconomic indicators for measuring development in society, such as Human Development Index (HDI):
a summary measure of average achievement in key dimensions of human development: a long and healthy life, being knowledgeable and have a decent standard of living… The health dimension is assessed by life expectancy at birth, the education dimension is measured by mean of years of schooling for adults aged 25 years and more and expected years of schooling for children of school entering age. The standard of living dimension is measured by gross national income per capita (Human Development Reports 2018).
In this context, theories of development can be divided in two macro categories (cf., Fig.
1
):
Theories of development of national systems

Theories of regional development
Theories of Development of National Systems
Classical Theories of Economic Development
Theories of Regional Development
Geoeconomic space with regional disparities can generate poverty, unemployment, social issues, income inequality, violent crime, etc. (Coccia 2009, 2017). The goal of the theory of regional development is to reduce regional disparities within a country to support a general development of nation as a whole system. In this context, development was defined by Perroux (1955, p. 308) as "a selective, cumulative process which does not appear everywhere at the same time but becomes manifest at certain points in space with variable intensity." Perroux (1955, p. 309) also argues that the growth does not appear everywhere at the same time and with the same intensity; it appears at specific spatial points or poles of growth with varying intensity of socioeconomic interaction; after that, it these poles spread economic activities along various channels, generating different effects on growth of regional and national economic systems. Growth pole theory was proposed for solving inequalities in economic growth of regions within nation. A critical factor of this approach is the concept of growth pole: a large cluster of firms and/or industries strongly related through input-output linkages to a leading industry (or propulsive) firm and/or industry. Propulsive industry and interrelated industries innovate and grow faster than other industries external to the pole, generating economic development in specific areas by their capacity to stimulate different forces within socioeconomic system.
The concept of growth pole was subsequently developed by Jacques Raoul Boudeville considering a set of expanding industries located in an urban area that induces the development of economic activitis throughout zones of influence. The essence of growth pole analysis is that spatial concentration of economic activities and agglomeration of population are the most efficient factors to support economic growth of regional systems.
Although agglomeration of industries is a key element in spatial organizational efficiency, of course, it is not the sole force supporting regional growth (Coccia 2009). Other factors, supporting economic growth associated with propulsive industry, are an efficient higher education system, low corruption and criminality, good economic governance, high innovative outputs and new technology in democratic contexts, etc. (cf., Coccia 2010, 2014, 2015a, 2015b, 2018a, 2018c, 2018d, 2019). Moreover, the growth pole has to be created in spatial areas with at least 250,000 people before the above mechanisms work within geoeconomic space for supporting regional growth. From the viewpoint of policymakers, the major advantage of these approaches is the opportunity for integrating industrial policy, physical planning, and inter-regional and intra-regional economic planning.
Sustainable Development and Conclusions
The global and industrial society, driven by new technology, is generating economic growth rather than a sustainable development of nations (Coccia 2015). Scholars assert that one of the main effects of development on environment is pollution, which started with the Industrial Revolution in Europe and North America, driven by technical and economic change of steam engine, internal combustion engine, and other new technology (Coccia 2015). In general, economic development of the last decades is causing demographic, environmental, and climate change. In particular, European, North American, and Chinese development is generating socioeconomic progress and well-being of people but also the diffusion of some mutagens and genotoxic carcinogens from industrialization processes (e.g., pollutants, pesticides in agriculture, several chemicals, asbestos, processed or chemically preserved food, etc.; Coccia 2015). Hence, development of nations generates economic growth but also a general pollution that has negative consequences on environment, health (e.g., cancers), and food safety in society (cf., Coccia 2015, p. 62; Coccia 2013, 2014a, 2016).
Overall, then, the concept of development is driven by the expanding content of human life interests, using new technology and science advances (Coccia 2019, Coccia and Wang, 2016). Human society should focus on patterns of sustainable development, rather than economic growth, for improving long-run environmental and social factors, and health of people. However, development is also affected by economic, social, psychological, anthropological, and perhaps biological factors that can generate uncertain and unknown long-term effects in environment and society.
Copyright information
© Springer Nature Switzerland AG 2019