Political Influence over Bureaucracy
Living reference work entry
DOI:
https://doi.org/
10.1007/978-3-319-31816-5_665-1
Definition
Agency theory has no doubt been extensively debated. In this study, this theory is extended to investigate the under-researched topic of project participant relationships in the construction sector.
Introduction
Existing studies imply that there are no agreed or exhaustive list of factors that can fully explain the handling of construction projects, project participant relationship, and accountability issues of the public sector. Different researchers have emphasized on different sets of risk factors. For instance, Aritua et al. (2011) mention that public sector projects are exposed to risks associated with changes in government policy, diverse stakeholder aspirations, and challenges of multiple project procurement. Al-Sedairy (1994) found that project conflicts stem from timing, project concepts, specification issues, as well as costs, claiming that conflicts not only occur at later stages but remain even in the postconstruction period. Poor communication can be another most common project risk (Ceric 2003). In addition, political interference can affect project outcomes where accountability reports may be just reduced to bureaucratic communications and some insignificant stories to avoid public criticism (Christensen and Skærbæk 2007). It may be challenging to hold public officials accountable where monitors themselves are public servants (Cabral and Lazzarini 2015). What is still under debate is whether political pressure benefits or harms the public agency performance and outcomes (Rojas 2015). Project participant relationship is no doubt complex. Despite its rapid growth, this subject matter has received very little critical attention (Hodgson 2002).
There is little doubt that the agency theory has been extensively debated. This study, however, extends the theory to the under-researched subject matter of project participant relationships in the construction sector. The research is empirically based on a developing South Pacific country, Fiji.
Literature confirms the extensive application of the agency or principal-agent theory in construction, covering risks of adverse selection, moral hazard, and hold-up (Ceric 2013). Interestingly, there is no mention of the relationship between project managers in construction projects (Ceric 2013). As per Ceric (2013: 773), exploring the more complex project participant relationships deserve greater attention. This study is an attempt in this direction.
Theoretical Underpinnings
This study extends the agency theory by drawing factors from this theory and construction, public sector, project management, and accountability literature to include all project participants and risk factors. Ceric's (2013: 773) work is the first found in literature to have extended the agency theory to construction including other participants like project managers and contractors. To a lesser extent, another study by Hadi and McBride's (2000), also mentioned the role of the agent as more of a subcontractor as they applied the theory to study the role of marketing agents in the public sector information trading market.
The concept of principal and agent can be confusing in the contractual situations of public administration given involvement of multiple parties (Farazmand 2002). This research is thus a buildup of the pioneering work of Ceric (2013) in the construction sector that separates the role of such multiple actors. Like Ceric's (2013) work, this entry describes participants as agent, principal, contractor, and project manager to avoid the confusion of multiple agents/principals.
Literature has well established the relevance of the agency theory since it has been applied to a variety of settings and has been used by scholars of various disciplines (Eisenhardt 1989). The key actors in the agency theory are the principal and the agent. The principal pays the agent to carry out an activity. Interestingly, evidence also suggests reflexive principal-agent relationship, where an agent may enact the role of the principal (Wickramasinghe and Lamb 2002). Central to this theory is the assumption that an agent may optimize its profits at the expense of the principal (agent opportunism). Such a situation is possible because the agents do have more knowledge or information than the principal – they perform the activity with a certain degree of empowerment (Hadi and McBride 2000). However, in construction projects, the principal may also exhibit opportunism (Ceric 2013). Given self-interest, agents do not readily share information with the principal. It is this hidden information/hidden action that generates moral hazard risk (Ceric 2013). The principal will thus try to transfer its risk to the agent by either investing in monitoring systems to obtain enough information about the agency activities or offering incentives to motivate the agent to efficiently perform its interests (Hadi and McBride 2000). Studies such as that of Kauppi and Raaij (2015) argue that agency problems may not only arise with agents withholding information from principals but principals may also hold information from agents.
As per the research question and in keeping consistency with the literature reviewed, the following theoretical model was developed, illustrating the relationship between the key parties. The factors of four self-interested project participants are drawn from the study of Ceric (
2013
); moral hazard factor is drawn from Ceric (
2013
) and Klein's (
2009
) research and risk/issue factors are drawn from the studies of: Aritua et al. (
2011
) – changes in government policy, diverse stakeholder aspirations, multiple project procurement; Al-Sedairy (
1994
) – timing, project concepts, specification issues, costs; and Ceric (
2013
) – time, cost, quality, and poor communication (Fig.
1
).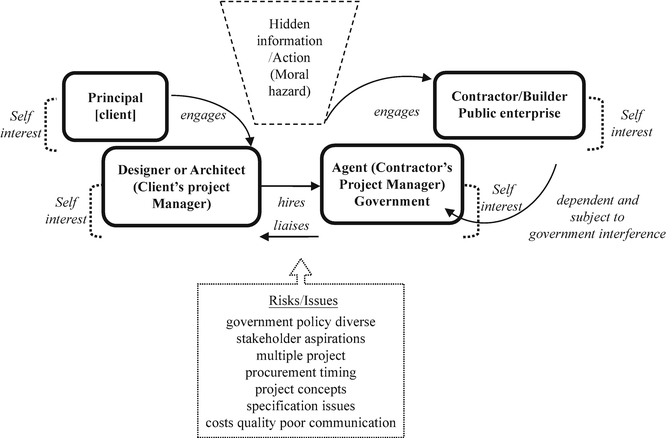 Methodology
Ceric's (2013) research was based on an exploratory survey and Delphi methods. This study differs as it employs a qualitative institutional case-based approach, employing convenience and snowballing nonrandom sampling techniques. Individuals who were easiest to reach out to were interviewed first (convenience) and they recommended others who could be interviewed (snowballing).
Data was gathered through in-depth face-to-face interviews and relevant document search. The enterprise annual reports, cabinet decisions, legislation and parliamentary reports, and reputable magazines were examined to formulate questions and to cross-check interviewee responses. The secondary sources were journal articles, textbooks, conference proceedings, theses and dissertations, newspapers, and the internet. In collecting data, information was gathered from many sources, enabling triangulation among different data sources (Eisenhardt 1989).
Overall 22 in-depth interviews were conducted only with those who could provide relevant information, those who were part of the project, and those who were still employed by GSPS at the time of research. Interviewee names and descriptions are withheld given political and job security reasons. Anonymity encouraged provision of substantial information without the fear of being questioned later. During interviews, the researcher used probes to gather more elaborate information. After the interviews, the researcher rephrased the interviewee responses in a summarized manner to correct inaccuracies and to ensure that the receiving, understanding, and interpretation of information were the same as expressed by the interviewees (Wilkinson and Birmingham 2003).
The collected data was analyzed on the basis of findings from the case study in forms of interviewee responses and relevant documents. This research used the logic of analytic rather than enumerative induction. The research used Gillham's (2001) transcription and analytical framework for the recording, verification, and analysis of data as follows. Substantive statements in each interview note and extra details (furnished during the interviews) were highlighted while repetitions, digressions, and irrelevant materials were put aside. Similar statements made by interviewees were noted as similarities and dissimilarities were marked. Following this, the researcher went through the collected primary documents to highlight noteworthy information. The researcher then went back to the entire interview notes and documents to note highlighted statements and categorized these as main events. The researcher first created major headings (preconstruction, construction, and postconstruction stage) to note the main events. For validity and reliability reasons, statements were cross-referenced between interviewee responses' and with documents such as the company and ministry documents, published interviews in reputable magazines, and newspaper articles. Dissimilar statements were marked as queries and after an interval of a few days were clarified through quick repeat interviews, emails, or telephone inquiries. The chronological listing was revised after sorting out queries.
This research is premised on a single-case study; as such, findings have limited comparability and generalizability (Blenker et al. 2014). Nonetheless, it can offer insights for later comparative studies of construction public enterprises in other countries, particularly developing countries. While the empirical study is premised on one small developing Pacific Island economy, the study does have potentially wider application for construction public enterprises elsewhere.
Conclusion
The theoretical contribution of this study is threefold. First, the study extended the agency theory to include the contractor (a public enterprise), the government as the agent, client as the principal, and the designer/architect as the client's project manager. This extended model was empirically tested and is supportive of the empirical findings. Second, this model helped to better understand how the involvement of four parties can complicate a construction project in the public sector – this paves the way for the development of even more effective models. Third, this study sheds light on political interference, an issue that has not been given due consideration in many public management studies (Walker et al. 2013). In addition, unlike the earlier study of Ceric (2013), this study reported new findings of agent's (government) interferences and mistakes leading to contractor (public enterprise owned by the agent) losing out, the outcome being negative for the contractor, the government, and even the principal (client). The government also chose to put more faith in the principal's project manager's estimates than its own contractor's estimates. This matter requires further investigation and findings of future study may bring about a more effective holistic theory. The findings are applicable to countries, construction companies, and public sectors where a government signs the deal and is the key decision maker for public enterprise projects.
Copyright information
© Springer International Publishing AG 2018