Use of Debt Relief for the Education Sector in the DRC
Living reference work entry
DOI:
https://doi.org/
10.1007/978-3-319-31816-5_3398-1
Definition
Debt relief granted to a debtor government, such as in the case for the DRC, may result in more public resources available and, through the conditions attached to receiving the debt relief, can lead to increased social sector spending, in general, and higher education sector spending, in particular, and may also, given particular other conditions fulfilled, cause improved effectiveness of this spending in terms of improved outcome and impact indicators for education.
Introduction
On July 1, 2010, the Executive Boards of the IMF and World Bank jointly announced, under the so-called heavily indebted poor countries (HIPC) and multilateral debt relief initiatives (MDRI), to irrevocably grant the Democratic Republic of the Congo (DRC) external debt relief of about 12.3 billion USD (IMF 2010). Initiated in 1996, these debt relief programs basically aim to act as a mechanism to help eligible countries not only restore debt sustainability but also increase macroeconomic stability, improve governance of public service provision, and reduce poverty. They intend to do so in two ways: first, they increase the country's available resources. Whereas savings on current and future debt service provide for a direct budget increase, the elimination of "debt overhang" also has an indirect positive effect on both domestic (through higher economic growth) and foreign resource availability (through more aid and foreign private investment). The second and maybe more important channel works through conditionalities attached to the deal, which focus on structural reforms to spur economic growth and reduce poverty, for example, by improving the governance and quality of basic health care, education, or other public services (IMF 2015).
When the debt relief was granted, the IMF considered these aims to be accomplished (IMF 2010: 1). Now, 8 years after the completion point, the IMF's claims on improved governance and service delivery can be reassessed with the benefit of hindsight. We focus on two questions in particular. We first question how and to what extent the HIPC debt relief program increased the availability of resources entering the public budget and how it triggered, reshaped, and sustained budgetary policies and priorities (Cassimon and Essers 2017). The second question asks how and to what extent the HIPC debt relief impacted on education, both in terms of sectoral resources and their allocation to schools and teachers and regarding the educational attainment of Congolese pupils. Our choice for education stems from the priority given to this sector by the Congolese government in the allocation of HIPC resources. Therefore, if any impact is to be expected, then it would become visible there first.
The DRC's History of Debt
The origin of the Congolese debt burden can be traced back to the period between 1973 and 1975. Totalling 544 million USD at the start of this period (representing 25% of the country's GNI and yielding a debt service of around 5% of the country's exports), the overall debt stock rose nearly sixfold, and debt service doubled within only 2 years. This increase can be mainly attributed to four major projects: INGA I, INGA II, and INGA Shaba (800 million USD), the Tenke Fungurume Mining Company (320 million USD), Maluku/SOSIDER (182 million USD), and the Cimenterie Nationale (100 million USD) (Marysse et al. 2012). As none of these projects realized its potential, especially after the nationalization policy introduced by Mobutu in 1973, debt servicing problems emerged very early in the DRC.
In June 1976, Zaire (as the DRC was then called) was the first African country to conclude a deal with the bilateral creditors of the Paris Club. However, as the authorities did not respect the stipulated repayment schedule, new deals followed, and penalty interests kept inflating the debt stock. Although this snowball effect was briefly halted in the early 1980s (when structural adjustment programs prioritized debt repayment over social spending, resulting in severe budget cuts to education and health care), poor economic and fiscal governance soon returned to Zaire, which further eroded the formal economy and did anything but prevent further debt accumulation during the last decades of the twentieth century. When Joseph Kabila took power in 2001, the new president inherited a total external debt of nearly 13 billion USD in nominal terms, nearly three quarters of which were arrears and additional debt service arrears adding 700 million USD per year.
Did the Process of HIPC Debt Relief Increase Resources?
In the case of the DRC, the process of debt relief was indeed accompanied by "new" resource inflows. These new resource inflows were quite limited, however, and they were only to a limited extent channeled through the Congolese government or state administration. Instead, the indirect resource effect has proved to be much more powerful: through the elimination of debt overhang and by stabilizing the macroeconomic landscape, which was partly a result of the country's pacification, partly triggered by the conditionalities attached to the HIPC deal, the country has managed to substantially broaden its fiscal base. Furthermore, a part of this increased Congolese budget has been successfully earmarked to social sectors, of which education received the biggest share. Figure
1
, which displays the evolution of two key macroeconomic indicators, shows that the adjustment program implemented between June 2001 and March 2002, succeeded in breaking the vicious cycle of hyperinflation. Since 2002, the DRC has further managed to keep inflation at relatively low levels, except for 2009 when the global economic crisis hit Africa. Moreover, the economic reforms resulted in the first positive economic growth rates in 13 years, a trend which continued and was only interrupted again in 2009. As a result of this global crisis, economic growth between 2008 and 2013 was lower than forecasted by the IMF growth models but still positive and resuming its upward trend in 2012. Even if we cannot fully attribute this economic trend shift to the process of debt relief, it is clear that the prospect of debt being cancelled was an important "carrot," which has helped produce this macroeconomic performance and attract attention from the donor community.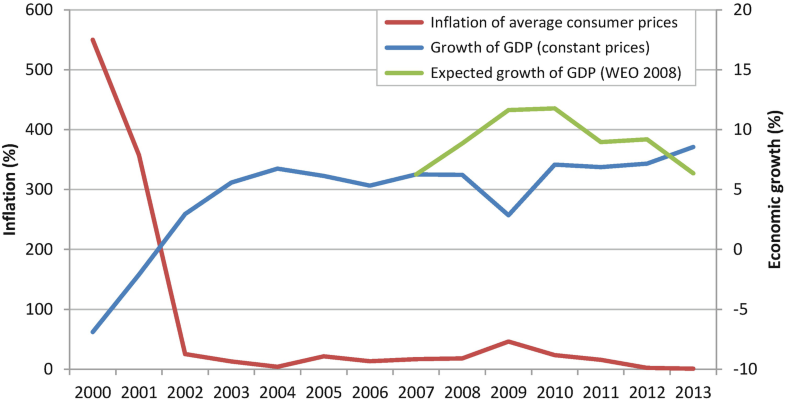 The resumption of economic growth and macroeconomic stability, combined with the pacification of the country, also had large effects on the evolution of the Congolese budget and the inflow of new aid. Figure
2
shows that the state budget, including aid resources registered on the budget, witnessed an impressive, almost sixfold increase over the period 2003–2013, from around 1 billion USD to nearly 6 billion USD in 2013. Compared with the additional funding obtained through aid (including the HIPC Initiative), the increase in tax revenues from merely 400 million USD to more than 4000 million USD, partly as a result of higher economic growth, is the most salient.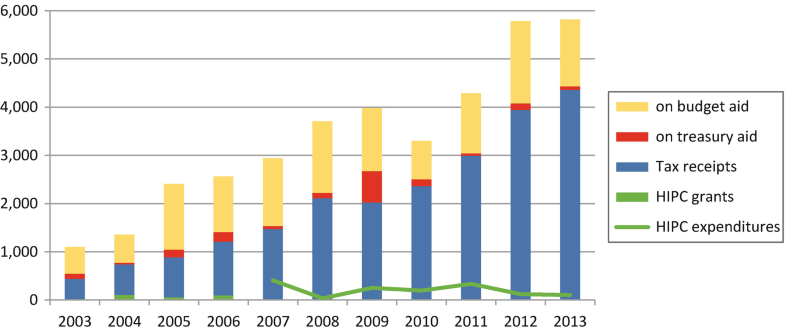 As such, significantly more resources have become available for public spending in general.
How Did the Debt Relief Process Impact on Education?
The success story of debt relief in the DRC needs to be curtailed halfway, and here we part ways with the IMF's conclusion: based on the data available for the education sector (where its effect should have been most visible), the debt relief process did not result in improved public service delivery. True, at the level of the Ministry of Education, the HIPC initiative and its conditionalities have reversed the downward trend and contributed to a sustained increase in budgetary resources. However, this increase was still insufficient to reach the average level of state expenditures allocated to education in other sub-Saharan African countries or to regain its pre-structural adjustment level of 1982.
Table
1
documents the sector's performance in the first decade of the twenty-first century. The evolution in gross enrolment rates of children between 5 and 18 years of age indicates a substantial increase in school participation between 2005 and 2012, from 55% to almost 70%. On the flip side, when considering disparities in school enrolment, we observe that they remain important in general, despite being (slightly) reduced in some respects. More specifically, boys still have a higher probability to be enrolled in school compared to girls, the urban sector is doing better than the rural, and richer households continue to outperform the poorer in terms of school participation of their children.
Table 1
Evolution in gross enrolment rates (age 5–18 years) by sector, gender, and consumption deciles (%), 2005–2012
 

2005

2012

Deciles

Urban

Rural

Total

Urban

Rural

Total

 

Boy

Girl

Boy

Girl

 

Boy

Girl

Boy

Girl

 

1

56.9

56.7

47.6

44.7

48.8

63.1

55.2

65.5

57.5

61.0

2

64.3

57.8

53.2

43.5

51.8

68.2

62.2

68.7

61.8

65.2

3

65.0

62.5

47.3

42.9

50.2

77.0

73.9

67.7

59.9

68.4

4

61.2

60.6

51.0

46.0

52.4

80.2

74.5

67.8

59.0

69.1

5

69.6

66.5

57.1

41.0

55.0

80.9

79.8

64.7

62.0

70.6

6

68.7

67.9

56.2

42.2

55.4

84.0

84.6

68.8

62.4

72.6

7

71.7

73.6

57.8

48.8

59.4

80.0

83.1

70.7

57.8

71.4

8

77.2

73.6

55.7

40.8

57.1

83.6

83.8

68.7

63.9

73.0

9

79.9

70.0

58.9

44.6

59.5

84.5

87.3

72.5

63.3

74.3

10

79.9

72.4

61.9

35.9

60.1

87.9

83.9

69.1

62.0

72.5

Total

69.7

66.6

53.9

43.3

54.7

78.9

77.4

68.2

60.8

69.5
Furthermore, according to a recent World Bank study, three problems of internal efficiency seem to persist. First, most children continue to enter school relatively late: they enter the system around the age of 9. Second, and related to the first problem, the percentage of children abandoning school remains about as high as before. And third, there is practically no change in the repetition rate, which amounts to approximately 10% in primary school (World Bank 2015). Finally, when it comes to the quality of education, there is not much reason for optimism either. Indeed, even though the data do not allow for an accurate comparison of literacy rates over time (the principal reason being the varying methods used by different surveys conducted in the DRC), some systematic but geographically limited studies report alarming figures. A study carried out in a series of primary schools in Katanga in 2011 reported that more than two thirds of the pupils from the second to the fourth grade were unable to read 10 words of text, and of those who could, only less than 10% actually understood what they were reading (Torrente et al. 2011). Another study, carried out in several schools in Bandundu, Orientale, and Equateur in 2010, reported that no less than 23% of the sixth grade children were unable to read a "single" word of French text (RTI International 2010: 2).
Mind the Political Economy of Debt Relief
In other words, there is quite some contrast between, on the one hand, the substantial increase of funds geared toward the education sector, and, on the other, the persisting disparities in schooling as well as the sector's poor performance in addressing internal efficiency and quality.
To understand this contrast, we need to disentangle the interests and logics of various stakeholders within the education sector. First and foremost, as the lion's share of overall resources spent on education is still directly provided by the parents through the payment of school fees, the education sector remained very much dominated by a market logic, with schools being accountable to the parents rather than to the education administration. As a result, private income inequalities are translated into disparities in schooling, despite the increase of the state education budget. Apart from this key explanation, the policy leverage to pursue larger degrees of schooling inclusiveness is further jeopardized by tensions within the good governance agenda as well as in relation to short-term political rent-seeking strategies. Whereas myopic reforms and the adoption of generic blueprints might produce some superficial results and maintain donor loyalty in the short run, they will most probably hinder the promotion of a more structural and domestically driven policy process in the longer run.
Conclusion
Replication of the IMF exercise for the process of debt relief in the DRC connects to a broader debate about whether it is possible to stimulate good governance from the outside, if country ownership is considered to be such a crucial ingredient. Indeed, the HIPC debt relief process builds on an aid architecture that considers country ownership as a basic building block for improved governance, and the Paris Declaration (2005) and Busan Conference (2011) reaffirmed this view. Several scholars remarked, however, that country ownership may be at odds with other commitments, such as managing for results or with good governance in general. First, the institutional weakness in various countries constitutes a chicken-and-egg problem (Gisselquist and Resnick 2014): the final outcome of a sector reform fully owned by a recipient country ultimately depends on the institutional capacity of the sector to conduct such a reform in the first place. In this respect, one should also mention the considerable administrative workload, manifest in the multiple restrictive and implicitly imposed M&E formats that accompany such reforms. Second, the tacit assumption behind the pursuit of increased country ownership is that political leadership is development-oriented, which is argued to be often in tension with countries' "short-term clientelistic strategies for gaining votes and seeking legitimacy" (Booth 2011: 15).
Given the varying degrees of institutional quality and diverse political incentives, it is thus unclear whether and to what extent foreign aid, in any particular setting, will be able to advance good governance and good policies. To address this issue, the generic answer is often to take context more seriously when designing, implementing, and monitoring reforms (Booth 2011; Gisselquist and Resnick 2014). Put differently, donors should "learn how to play local politics. If they want to be successful, they cannot refuse to be drawn into local events, despite their desire to appear neutral and giving only technical advice" (Marenin 2014: 159).
Now that we can judge with hindsight, our study of the debt relief process in the DRC teaches us what donors risk when they refuse to play local politics. Indeed, it is important to remark that our conclusions diverge from the IMF's assessment of 2010, particularly at the point of engaging in a local political economy analysis. A mere technical analysis of macro-level results and micro-level outcomes, especially in a context with data of debatable quality, clearly does not suffice to make a final judgment of the effectiveness of aid in improving governance. In this respect, we can only concur with Marenin's conclusion that if they want to be successful, donors should have a clearer idea about the intended effects of their actions on the beneficiary country's political economy.
Copyright information
© Springer Nature Switzerland AG 2018