Product Development Partnerships: Collaborative Multi-Sector Regimes to Accelerate Vaccine Development
Living reference work entry
DOI:
https://doi.org/
10.1007/978-3-319-31816-5_3123-1
Keywords
Vaccine Development 
Private Pharmaceutical Company 
Collaborative Governance 
Intellectual Property Policy 
Independent Regulatory Agency 
These keywords were added by machine and not by the authors. This process is experimental and the keywords may be updated as the learning algorithm improves.
Definition
Product development partnerships (PDPs) are innovative collaborations among public, private, and nonprofit institutions from around the world the purpose of which is to accelerate the development of vaccines to prevent communicable diseases within the poorest of nations.
Discussion
Vaccine Development: A Wicked Policy Problem
As shown in Table
1
, vaccine development for some of the deadliest and most contagious diseases in the world – like AIDS, malaria, TB, and the "neglected" tropical diseases (NTDs) – continues to remain a wicked policy problem for which no clear solution exists. These diseases affect more than a billion people (Hotez et al.
2006
,
2007
) and result in an estimated five million deaths annually (Kremer and Glennerster
2004
). The problem is exacerbated by the fact that most diseases for which vaccines do not exist disproportionately affect developing or underdeveloped countries which do not possess the financial, scientific, or human resources necessary to develop efficacious vaccines.
Table 1
Relevant policy actors for vaccine development for neglected tropical diseases
|   | Motivation | Funding | Capacity |
| --- | --- | --- | --- |
| Developing countries | ✓ | ✗ | ✗ |
| Developed countries | ✗ | ✓ | ✓ |
| Industry (pharmaceutical companies, university research centers) | ✗ | ✗ | ✓ |
On the other hand, large private pharmaceutical companies based in developed countries that have the capacity to carry out research and development (R&D) for vaccine development have little incentive to develop vaccines for the developing world due to limited profit opportunities; developing countries are seldom in a position to buy expensive vaccines unless they are heavily subsidized. Similarly, public health agencies within the developed countries – where these diseases are not endemic – have little political motivation to prioritize vaccine development for the developing world.
Emergence of the PDP Model
At the end of the twentieth century, several stakeholders acknowledged the growing developing world public health threat posed by diseases like AIDs, tuberculosis, and malaria. These stakeholders also recognized that no single government, sector, or organization could develop vaccines for such diseases on their own. The result was the emergence of shared motivation among relevant policy actors to do something about this important policy problem (Widdus and White 2004).
Collaborative meetings in the late 1990s among influential public and nonprofit organizations led to joint commitment to devise potential vaccine development solutions eventually leading to the emergence of the PDP model. While many organizations were involved, the Bill and Melinda Gates Foundation (BMGF) – an international nonprofit organization – played an especially important leadership role in the conceptualization, establishment, and funding of the PDP model, a role that continues today. Although similar organizations already existed, the International AIDS Vaccine Initiative (IAVI) was established in 1996 as the first organization designated as a vaccine-focused PDP, and more than 15 additional PDPs have been established since (see Table
2
).
Table 2
Important information about key product development partnerships (PDPs)
| PDP | Year established | Funding 2014 | Disease focus |
| --- | --- | --- | --- |
| Program for Appropriate Technology in Health (PATH) | 1977 | 121 Million | Multiple (Japanese encephalitis, malaria, diarrhea, rotavirus, ETEC, shigella, pneumonia, influenza, meningitis) |
| Medicine for Malaria Venture (MMV) | 1999 | 77 Million | Malaria |
| Drugs for Neglected Diseases Initiative (DNDi) | 2003 | 58 Million | Multiple (e.g., leishmaniosis, sleeping sickness, Chagas disease, malaria, pediatric HIV, filarial diseases) |
| TB Alliance | 2000 | 58 Million | Tuberculosis |
| Aeras: Advancing Tuberculosis Vaccines for the World | 2003 | 55 Million | Tuberculosis |
| International AIDS Vaccine Initiative (IAVI) | 1996 | 41 Million | HIV/AIDS |
| International Partnership for Microbicides (IPM) | 2002 | 29 Million | HIV/AIDS |
| Foundation for Innovative New Diagnostics (FIND) | 2003 | 26 Million | Multiple (tuberculosis, malaria, sleeping sickness, hepatitis C, HIV, leishmaniosis, Buruli ulcer and Chagas disease) |
| Contraceptive Research and Development Program (Conrad) | 1985 | 17 Million | HIV/AIDS |
| Infectious Disease Research Institute (IDRI) | 1993 | 14 Million | Multiple (malaria, leishmaniosis, tuberculosis, Chagas disease, leprosy, meningitis, pneumonia/influenza) |
| Innovative Vector Control Consortium (IVCC) | 2005 | 10 Million | Multiple (malaria, dengue) |
| International Vaccine Institute (IVI) | 1997 | 6.4 Million | Multiple (cholera, enteric fever, dengue) |
| Sabin PDP (initially HHVI) | 2000 | 5.7 Million | Multiple (human hookworm disease, leishmaniosis, Chagas disease, helminths, schistosomiasis) |
| European Vaccine Initiative (EVI) | Established as European Malaria Vaccine Initiative in 1998 | 3.4 Million | Multiple (malaria, leishmaniosis, tuberculosis, Chagas, dengue, HIV) |
| Tuberculosis Vaccine Initiative (TBVI) | 2008 | 1.5 Million | Tuberculosis |
| Institute for One World Health (OWH) | 2000–2011 | Funding included under PATH since 2013 | Multiple (malaria, leishmaniosis, helminths, cholera/diarrheal disease) |
The PDP Model
PDPs are nonprofit organizations which seek to focus constituent partners and their respective resources on accelerating the development of vaccines for the developing world. As Hayeter and Nisar (2016) note, PDPs may be characterized as a type of collaborative governance regime (CGR) (Emerson et al. 2012), "a system in which cross-boundary collaboration represents the predominate mode for conduct, decision making, and activity" (p. 10). PDPs attempt to address complex technical, financial, and human resource challenges that make vaccine development for tropical diseases a wicked policy problem.
PDPs are funded by charitable foundations, such as the Gates Foundation, and public sector development agencies such as The Department for International Development (DFID), United States Agency for International Development (USAID), and National Institute of Health (NIH) (Moran et al. 2014). Funds are used to carry out in-house vaccine research and development (R&D) or to partner with public and private institutions, such as universities or pharmaceutical companies, to develop potential new candidates for vaccine synthesis. Funded partnerships are especially important given that many of these organizations do not want to invest their own resources.
From identification of promising vaccine candidates and conducting preclinical and clinical trials to the manufacture of final vaccine products, PDPs typically focus on all the stages of vaccine development. PDPs employ a portfolio-based strategy (Grace 2010) through the identification of multiple promising vaccine compounds at different stages of vaccine development. This not only increases the likelihood of success but also minimizes technical and financial risk if some promising compounds fail during more advanced development stages. PDPs also seek to build developing world vaccine development capacity and establish regional offices to improve clinical access and the cultural sensitivity of their operations.
As shown in Table 2, PDPs differ in terms of their disease focus with some organizations focusing on individual diseases (e.g., IAVI, TBVI, TB Alliance) while others targeting multiple diseases (e.g., DNDi, FIND, IDRI). PDPs also differ in terms of the type of final product. While most PDPs focus on vaccine development, some PDPs focus on other aspects of diseases control (e.g., CONRAD and IVCC focus on disease or vector transmission).
In terms of internal management, PDPs are generally lean organizations employing various corporate management strategies to limit overhead costs and enable quick adaptive decision-making mandated by an unpredictable policy environment. Figure
1
presents a process representation of the PDP model.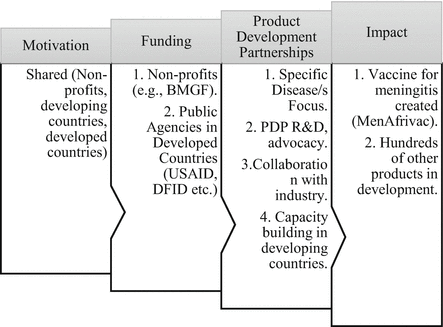 Impact
While, given the long time lines required to develop efficacious vaccines (generally 10–20 years), it is too early to assess the impact of PDPs; early results are promising. For example, between 2009 and 2013, more than half of the new vaccine products approved for tropical diseases were produced by PDPs (Cohen et al. 2014). According to other estimates (Breitstein and Spigelman 2013), more than 400 promising PDP-funded vaccines are currently in development. MenAfriVac, a vaccine developed by the PDP, Program for Appropriate Technology in Health (PATH), has been used to prevent meningitis among more than 200 million people globally. Further, multiple PDPs are working together to, for example, accelerate the development of TB vaccines through a process called Critical Path to TB Drug Regimens (CPTR) (Hayter and Nisar 2016).
PDPs also focus on various stages of vaccine development, not only the development of vaccine compounds and their manufacture. For example, the PDP Global Alliance for Vaccines and Immunization (GAVI) was established to guarantee bulk purchases for vaccine producers. This mechanism guarantees that vaccines producers will have a market large enough to cover their costs and effectively reduces the cost of individual vaccine doses. GAVI has been instrumental in the distribution of PDP-developed vaccines such as MenAfriVac to the poorest regions of Africa (Bishai et al. 2011).
Evolution
PDPs were originally established as independent, stand-alone organizations focused on one specific disease targets. PDPs often created their own policies and competed with other PDPs for scarce funding. However, as the collaborative vaccine development model matures, PDPs are increasingly collaborating with other PDPs to identify areas of common interest and take advantage of potential synergies. For example, in 2008, multiple PDPs to form the PDP access group the intention of which is to share best practices, resources, and expertise to further accelerate vaccine development for neglected tropical diseases (Hayter and Nisar 2016). Similarly, many PDPs have entered into formal bilateral collaborative agreements to enhance the overall efficiency of their vaccine development operations. Further, individual PDPs are expanding and/or shifting their goals in order to reflect the changing nature of the target disease, as is the case with IAVI and AIDS, or expand their focus to additional, related diseases as is the case with the Human Hookworm Vaccine Initiative (HHVI).
Challenges
The PDP model, despite its promise, continues to face challenges related to its sustainability, accountability, and impact. Most PDPs are almost entirely dependent on donors, especially BMGF, to sustain their operations. Thus, a change in donor priorities, global financial recession, or unexpected financial requirements pose an ever-present threat to the existence of PDPs. It is for this reason that financial sustainability poses the greatest challenges to the PDP vaccine development model (Hayter and Nisar 2016).
There also exist important legal and organizational hurdles around the collaborative agreements that constitute the PDP model. For example, intellectual property policies, increased industrial involvement, and the limited capacity of developing country partners are especially important challenges. Due to their transnational, nonprofit status, critics question the extent to which PDPs are accountable for public funds granted by individual governmental agencies. Similarly, due to the long-term nature of vaccine development and lack of known viable alternatives, the impacts of PDPs have yet to be fully understood; systematic evaluations of PDP efficacy may hold promise (Hayter and Nisar 2016). How PDPs respond to these emerging challenges will determine the extent to which the PDP vaccine development model can evolve or, alternatively, may eventually be replaced by another arrangement, such as direct funding by private, nonprofit, and governmental donors to private pharmaceutical companies or perhaps nothing at all.
In an increasingly interconnected world, where individual countries or sectors are seldom in a position to solve complex policy problems, the PDP model – despite its limitations – is a good illustration of the potential offered by collaborative governance to tackle major policy problems facing the world today.
Copyright information
© Springer International Publishing AG 2017