Keywords
Public Policy 
Public Sector 
Public Administration 
Relationship Marketing 
Public Performance 
These keywords were added by machine and not by the authors. This process is experimental and the keywords may be updated as the learning algorithm improves.
Trust is a key concept in many social scientific fields. A cross discipline review of the concept emphasizes the economist vision as "either calculative (…) or institutional" and the psychologists' vision to "assess trust in terms of attributes of trustors and trustees" (Rousseau et al. 1998, p. 393). In marketing, trust was listed as a core concept of relationship marketing to maintain fruitful relationships between partners (Morgan and Hunt 1994).
The cross discipline vision for the concept of trust wouldn't be "so different after all." Rousseau et al. state that "confident expectations and a willingness to be vulnerable are critical components of all definitions of trust reflected in the articles" (Rousseau et al. 1998, p. 394).
As a consensus administrative sciences suggest, a recent definition of trust as "a psychological state comprising the intention to accept vulnerability based upon positive expectations of the intentions or behavior of an actor" (Karens et al. 2016, p. 3).
In public administration, recent researches focus on the role of trust in government in public policy performance. However the relationship between trust in government and performance of services is not so direct, and it raises issues with causality (Van de Walle and Bouckaert 2003). Indeed, "it is obvious that performance of the public administration has a certain impact on trust in government, but existing levels of trust in government may also have an impact on perceptions of government performance" (Van de Walle and Bouckaert 2003, p. 891).
Trust in Government: Concept and Dimensions
According to previous definitions, trust in government refers to the confident expectations and the willingness to be vulnerable from citizens toward government (as a body, its individuals or its policy). Trust is not viewed as an attribute but as a perception of the trustworthiness of another (Grimmelikhuijsen et al. 2014). For trust in government, it encompasses the general relations of trust between citizens and individual politicians, between citizens and the global governmental organization (global governmental body), and between citizens and policies.
In the literature, trust is often seen as a multidimensional concept (Karens et al.
2016
). Grimmelikhuijsen and Meijer insist on a three-dimensional comprehensive measure of trust (Grimmelikhuijsen et al.
2014
):
Benevolence refers to the ethical perception of the government who really follows policy in the interest of citizens.

Perceived honesty of government depends on its ability to tell the truth and maintain its commitments.

Competence refers to "whether people perceive a government organization to be capable, effective, skillful, or professional in making decisions" (Grimmelikhuijsen et al. 2014, p. 8).
Trust as a Variable of Public Performance
Trust in government is a central concept for public performance on its "competence dimension." A deepening of scientific knowledge about the performance of public policies has focused on the question of trust in the relationship between the governors and the governed. Its relations with public performance require to deepen the concept of public performance.
As a complex topic, discontinuities in public performance of policies may be related to erroneous assumptions on which they are based. The latter may relate to the factual starting situation but also to the probability of generating the desired future state. Cognitive approaches to public policy have thus revealed that public decision-makers sometimes ignore the reality on which they intervene and that they possess a truncated representation of the behaviors they seek to modify (Sabatier and Schlager 2000). Moreover, this effectiveness can cause adverse effects. Indeed, although effective, policy instruments can produce unexpected consequences; which can lead to uneffectiveness of public policy.
The concept of trust is a key variable in many social sciences. It's often operationalized as an independent variable (causal), an intermediate variable (moderating or mediating), or a dependent variable (consequence). For instance Morgan and Hunt identified trust as a key mediating variable in relationship marketing between companies (Morgan and Hunt 1994). Karens et al. focused on trust as a consequence of a branding policy at the European Union level (Karens et al. 2016).
Trust in government can be viewed as a consequence and a determinant of public policy performance. The broad spectrum of performance offers different evaluation criteria for an efficient public sector. It makes it possible to concentrate on efficiency criteria by costs and outputs or on effectiveness criteria that more specifically concern the societal production function. Outside this perimeter of performance, the proposed extension to confidence focuses on the relationship between performance and inputs, outputs, and outcomes (Bouckaert and Halligan 2008). In the management of public policies, this broad spectrum of performance makes it possible to envisage different perimeters of the performance according to the different objectives pursued.
Following the first extension of the performance appraisal to the effects produced, a second extension of the perimeter thus extends the concept of performance to trust. Effects are not an end in themselves in the public sector, as the ultimate goal is to ensure a level trust by citizens toward all institutions and public organizations (Bouckaert and Halligan 2008). Thus, the outputs of public action must generate effects that will generate trust in governments (Van de Walle 2004). Indeed, an effective school, health system, or security police can generate a level of trust in these policies and systems. Trust can then be seen as a consequence of effective public policies.
In a circular way, these levels of trust will also contribute to the achievement of higher "outcomes" that will ensure the effectiveness of the public policy implemented. The link between effects and trust is the second "Grand Canyon" of the public sector (Fig.
1
).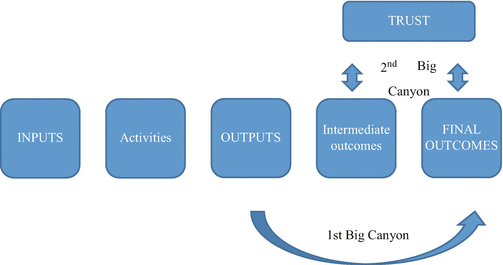 Assuming that effects can positively influence confidence is, however, a weak assumption that has not been corroborated by theories or empirical studies (Van de Walle and Bouckaert 2003). Nevertheless, it is recognized that nonmarket organizations need the trust of their publics for their "legitimacy, effectiveness, and non-financial or financial support" (Bryce 2007).
This relation between effects and trust thus presents a circular causality in which trust can also produce effects according to a "moderate opposite causal relationship" (Van de Walle and Bouckaert 2003). Indeed, trust can be an input for the public sector and not just an outcome. The effectiveness of public environmental policy can thus depend on the confidence that is sought to be increased through citizen participation and consultation (Collins et al. 2003).
The degree of public confidence in public organizations contributes, in fact, to their effectiveness. Indeed, trust levels can also have an impact on the level of outputs and satisfaction, but also outcomes (Bouckaert and Halligan 2008). For example, in the field of coproduction of a public service, trust is essential to enable the same quantity and quality of outputs to reach higher levels of efficiency. Moreover, it also contributes to the legitimacy of the organization. Transposed to the management of public policies, this confidence can also impact the "outcomes" because it will guarantee the effectiveness and especially the efficiency of the outputs. Indeed, the different instruments of public policy are all the more effective than they are based on a relationship of trust between governments who implement them and the governed who must comply with them. This conformation will therefore be facilitated by high levels of trust in instruments aimed at orienting the behavior of the target groups.
From a scientific point of view, theories of public sector management should increasingly integrate topics such as expectations management and perception management, which is a combined form of public sector marketing, as well as trust (Bouckaert and Halligan 2008). Models need to bridge these gaps between management concerns internal and external to the public sector. As long as there are gaps between public policy intentions and perceptions, citizen satisfaction and trust will remain key elements in achieving public policy performance. Actions must therefore be taken by public policy actors and researchers in the field in order to understand the impact of confidence on improving the outputs and outcomes of public action.
It constitutes a combined form of public marketing and trust management applied to the meso-performance of the public sector. However, this concept of trust is difficult to measure with indicators of satisfaction or governance (Van de Walle 2005). Indeed, public production is more frequently evaluated by its cost than by its capacity to meet expectations (Bureau and Mougeot 2007). Trust has thus been measured by more or less general scales of opinions, which are often difficult to relate to the outputs and outcomes observed.
Trust in government is a central concept for reforms of public policies based on performance.
Perceived in its ethical, commitment, or competence dimensions, trust in government is not a steady concept. It can be viewed as a cause or as a consequence of public performance. From a practitioner perspective, it can be considered as a mean or as an objective. This circular vision might reflect the reality and the complexity of public administration. Managing trust in government is similar to managing the three main objectives of public performance: efficiency and quality of outputs and effectiveness of outcomes. It can be a very helpful integrated concept to improve citizen orientation of managerial practices in public administration.
Copyright information
© Springer International Publishing AG 2017