The "Re-invention" of the Public Sector Training
Living reference work entry
DOI:
https://doi.org/
10.1007/978-3-319-31816-5_2545-1
Definition
Public sector training refers to an instructor-led, content-based intervention, leading to desired changes in civil servants' behavior.
Introduction
The significance of intellectual research into human resource management (HRM) in the public sector has long been disregarded or given only cursory recognition despite the distinctive context of the public sector (Brown 2004; Burke et al. 2013). Being a crucial part of HRM, training in the public sector has been unreasonably neglected. Central training agencies in many parts of the world have traditionally played an important role in formulating training policies and providing support to departments in training and development matters. When the New Public Management (NPM) reforms emerged, institutions' focus in providing training was altered. The NPM is a movement toward a greater stress in the use of government tools in the delivery of services (Sanchez 2003, p. 8). The reform has been aimed then to deregulate the activities of public officers, giving them more freedom to manage and to make the public sector less distinctive as separate social realm from the private sector (Sanchez 2003). Owing to the tide of reform, the original focus of training agencies in providing training has been enhanced, while departmental training or purchasing services from private providers. Such terms as "customer oriented" and "result oriented" are highlighted in the NPM vocabulary. Though not all countries and institutions threw themselves into the reforms, many picked something from the NPM menu (Pollitt and Bouckaert 2011).
Civil Service Training: From Traditional to "Customer-Oriented" Approach, From Centralization to Decentralization
During most of the twentieth century, training management in the public sector was mainly concerned with imposing standardized routines (Sanchez 2003, p. 10). The traditional language of training emphasizes teaching in line with the law. Training interventions were restricted to sporadic programs oriented to demonstrate the newest management tools available and update individuals' technological skills (Sanchez 2003, p. 10). As Schmidt (1991) argues, the traditional training model seems inadequate to fulfill the tasks contemporary public administration is required to perform. Rather, it seems to be too "generic, slow and tenuous" (Sanchez 2003). However, influenced by the ideas of NPM, public officials attending training programs are viewed as "customers" or "clients." "Customer focus" has become a burgeoning theme in public management. The prescriptions of being "close to" and "responsive" to customers originate from theoretical applications of economics as well as from the broad transfer of business practices to public management (Paarlberg 2007, p. 201). Increasingly, government training agencies are required to focus on customer satisfaction (Huque and Vyas 2008).
On the other hand, effectiveness rather than process has been emphasized to achieve result-oriented management. Training effectiveness is assessed by considering results or evaluation, trainees' performance, and their ability to transfer techniques to their jobs (Huque and Vyas 2008). The concept of customer orientation has been introduced and developed modeled on market orientation, which emphasizes responsiveness to customers' needs, competitiveness, and capacity to disseminate information (Narver and Slater 1990). Customer orientation, also known as customization, is "an employee's tendency or predisposition to meet customer needs in an on-the-job context" (Brown et al. 2002) and can be divided into three characteristics: prioritization of customer interests, use of customer information, and organizational measures to satisfy the customer (Paarlberg 2007).
The training aspect in the public sector has also turned to decentralization. Decentralization is defined as the transfer of authority or responsibility for decision-making, planning, management, or resource allocation from any level of government to its field units, district administrative units, other levels of government, regional or functional authorities, semiautonomous public authorities, parastatal organizations, private entities, and nongovernmental private or voluntary organizations (Hope and Chikulo 2000, p. 28). There can be horizontal decentralization which disperses power among institutions at the same level of vertical decentralization which allows some of the powers of a government to be delegated downward to lower tiers of authority (Hope and Chikulo 2000). The primary objectives of decentralization include, but are not limited to, overcoming the indifference of government bureaucrats to satisfying the needs of the public; improving the responsiveness of government to public concerns; and increasing the quality of service provided (Hope and Chikulo 2000, p. 29). It has the advantages of creating greater diversity of practices, better recruitment and training, and increased responsibility.
Civil Service Training in Hong Kong
In the early year, training and development of civil service was part of the localization policy of the colonial government to include local ethnic Chinese as far as possible (Burns 1988). Training programs were designed as induction courses of government departments and vocational training of administrative procedure within the government, which was mainly for newly recruited local staff. The Establish Branch (former Civil Service Bureau, CSB) formed the central training unit to coordinate all training and development issues, and the unit later restructured as the Government Training Division in 1967. The division was not just responsible for localization purpose but also efficiency improvement purpose (Burns 1988, p. 20). The training division later became two separated parts, including the Civil Service Training Centre (CSTC) offering general training in vocational, language, and management training to civil service and the Senior Staff Course Centre (SSCC) providing executive development at higher level.
Following the Sino-British Agreement in 1984, the localization of the Hong Kong civil service escalated. In response to calls to dismiss senior-level expatriates, the government launched an HRM consultation (Scott 2005) and decided against extending the contracts of civil servants employed on agreement terms, including expatriates (Cheek-Milby 1989), while new recruits would be employed on "new permanent and pensionable terms" (Civil Service Branch 1993). Consequently, the Civil Service Training Centre and Senior Staff Course Centre were combined in 1996 and renamed the Civil Service Training and Development Institute (CSTDI). It was intended to coordinate all civil service training activities and provide courses on national studies and Putonghua to help public servants understand the latest developments in Mainland China (Civil Service Branch 1994). Civil service training during the pre-handover period served not just localization but also the convergence of differences of administrative practice with China (Huque and Vyas 2008). After the handover in 1997, interaction and cooperation with China became more important in civil service training in the jurisdiction.
After the handover of sovereignty in 1997, chief executive Tung Chee-hwa launched consultation on human resource reform, which directly affected the structure of training. The consultation document,
Civil service reform: Civil Service into the 21st Century
, suggested that radical changes of civil service recruitment were necessary to ensure potential talents would not flow to the private sector and recommended that the permanent, pensionable terms appointment should change to contract agreement in recruitment (Civil Service Bureau
1999
). The initial impacts of these measures are limited because of the government's decision of freezing recruitment of civil service, and all newly recruited civil servants were required to serve on an initial probationary contract years for 3 years to judge their performance for 3 years further contract before accede to permanent and pensionable terms (Scott
2005
). Table
1
showed the key changes of structure in 2004 when CSTDI merged into Civil Service Bureau (CSB).
Table 1
Key changes of restructuring CSTDI
1. Reducing 30 % of staff and streamlining divisions in the central training institute
2. Increasing emphasis on e-learning as distinct from classroom mode of provision
3. Adopting an "account manager" approach to deal with departmental clients
4. Promoting a "managerialized" and "customerized" role of CSTDI to address clients' needs
5. Shifting direct control of training provision to advisory and consultative service
However, the civil service training function in this period became more decentralized, focusing on departmental needs and preparing for increasing demands on performance (Huque and Vyas
2008
). Figure
1
shows that the number of consultancy programs conducted by the CSTDI steadily increased between 2004 and 2010, revealing that the increasing trend of engaging advisory and consultancy services had become a major factor in training.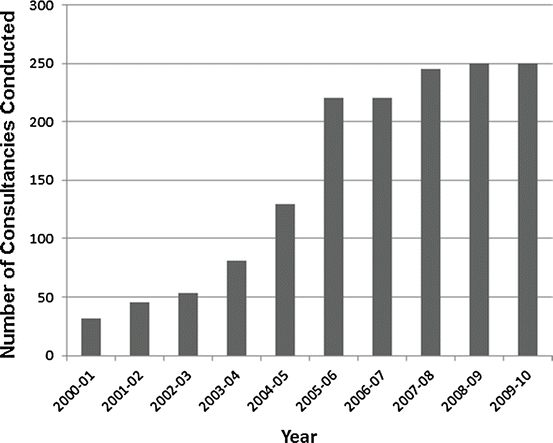 In Hong Kong SAR, the CSTDI is a designated agency with training of public servants as one of its main missions. In accordance with the Civil Service Bureau (2015b) and Legislative Council Panel on Public Service (2015), while policy bureaux and departments provide vocational training to meet job-specific needs of public servants, CSTDI focuses on training programs and activities (such as thematic workshops and seminars) that "are best provided by a central training agency," such as leadership and management, language and communication, etc., covering four core service areas, namely, senior executive development; national studies programs on the Basic Law and policies and developments of the Mainland on political, economic, social, and cultural aspects; HRM consultancy service; and promotion of a continuous learning culture. Such training programs are mainly tailor-made for senior civil servants, who are core employees in the government. Lepak and Snell (1999) described core employees as high-value, high-uniqueness employees whose skills and knowledge are a source of competitive value to organizations. Their value and uniqueness may be based on tacit knowledge that would be valuable to competitors, and these skills and knowledge are related to core processes developed internally and built up overtime. Senior civil servants as core employees play a critical role in the formulation and execution of the government's policies and strategies, and they serve as the linking pin between top managers and the operating core. They possess skills of high value and high uniqueness and contribute to the government's strategic objectives and help establish competitive advantages. Since their skill sets are not widely available in the external labor market, the training programs for senior civil servants tend to be centralized, which is suggestive of an internal development system. As for the junior civil servants, their skills are of lower value and uniqueness. The government therefore tends to engage in contractual relationships through outsourcing or the hiring of temporary trainers and manage their performance through compliance to ensure that clearly established standards are met. Under the compliance system, employees will receive the minimum training required to conform to organizational rules and to keep the labor costs low in order to match fluctuations in demand for goods and services. Hence, unlike senior civil servants, junior civil servants are exposed to less career development opportunities.
As for the content of the training provided by CSTDI, it is general in nature. Unlike job-specific training, general civil service training covers issues with high priority for the public service as a whole and requires uniform understanding, know-how, and principles of action to be adopted and implemented in different organizations in common areas (Metsma 2014). However, delivery of civil service training programs often engages private providers. According to the Civil Service Bureau, the leadership programs and management workshops conducted in 2012 and 2013, which targeted at senior civil servants, were led or delivered by local or distinguished scholars, prominent speakers, subject experts, and guest speakers from relevant fields, who were engaged to share their personal experiences and insights on topical subjects, such as executive health, social media, and global economic issues (Civil Service Bureau 2013). Job-specific training courses and experience sharing sessions, in contrast, are organized in-house by training units at policy bureaux and departments. For instance, the Staff Development Section at the Rating and Valuation Department of the HKSAR tailor-makes training programs for its civil servants on the Department's computer systems, valuation practices, and work procedures (Rating and Valuation Department 2010). In other words, training programs involving technical expertise, seminars, experience sharing sessions, and brainstorming sessions are outsourced to private service providers such as local universities and management consultants (Efficiency Unit 2008; Hong Kong Correctional Services 2013), considering that bureaux and departments may not have all the necessary skills and expertise required to manage the whole or part of the procurement process. Outsourcing sophisticated and complex outsourcing projects may be more effective and efficient to bring in specialist consultants with relevant knowledge and experience to assist them (Efficiency Unit 2007). Since 2001, the Efficiency Unit has established a dedicated team to assist government bureaux and departments to enhance the use of the private sector in the delivery of public services. In addition, a Training Sponsorship Scheme is offered to civil servants, encouraging them to pursue learning through external courses. Under the Scheme, civil servants remunerated on or below HK$28,140 or equivalent may apply for reimbursement of course fees for self-arranged studies. The sponsorship ceiling is HK$6,000 per applicant per year for a maximum of three courses, all to be pursued outside office hours (Civil Service Bureau 2015a).
Conclusion
Training can lead to the process of re-shaping organizational operation routine to increase productivity and efficiency. Decentralization of decision-making in training seems a solution to develop government employee competencies. Training in the Hong Kong public sector has become more demand driven rather than supply driven. Confronted with the issue of civil service training, the Hong Kong government initially chose the most hierarchical method of provision: centralization. As time passed, she could no longer rely only on centralized provision. Decentralization and outsourcing were introduced strategically in order to meet multiple demands. During the evolution of civil service training, it is obvious that centralization, decentralization, and contracting out are blended in the provision of training; nonetheless, governments may achieve the expected results with diverse means according to their own needs.
Copyright information
© Springer International Publishing Switzerland 2016