Herpangina
Living reference work entry
DOI:
https://doi.org/
10.1007/978-3-319-28845-1_728-1
Definition
Herpangina (HA) is an infection of the oral mucosa caused by Coxsackieviruses. Herpangina is most frequently produced by Coxsackie virus A2, A4, A10, A16 and enterovirus 71, just as hand-foot-and-mouth disease (HFMD), their predominance and prevalence varying with geographical location. Most cases of herpangina occur in the summer, affecting mostly children. However, it occasionally occurs in adolescents and adults. It begins with an acute onset of significant sore throat, dysphagia, and fever and may be accompanied by cough, rhinorrhea, anorexia, vomiting, diarrhea, myalgia, and headache. Most cases, however, are mild or subclinical.
Hypothesis about the seasonal pattern of HA and HFMD include host immune competence fluctuations mediated by seasonal factors, such as melatonin or vitamin D levels; seasonal behavioral factors, such as school attendance and indoor crowding; environmental factors, such as temperature and relative humidity (Chang et al. 2016).
The lesions are located in the posterior areas of the mouth and begin as small, red macules, which form vesicles, after rupture resulting in ulcerations (Fig.
1
).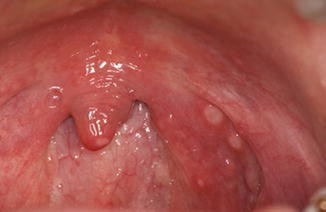 Clinical Features
Incidence
It is an endemic disease, which typically occurs during summer and spreads via the fecal-oral route or via respiratory droplets. Although the viruses are present in most countries, outbreaks of the disease have been predominantly found in the Asia-Pacific region.
Age
Most patients are very young (<4 years), with a peak incidence at 1 year of age.
Sex
Male predominance (male: female ratio 1.5–2.5:1).
Site
Lesions develop primarily in the posterior areas of the mouth, the soft palate, or tonsillar pillars. The lesions are usually multiple and small (2–6 mm).
Treatment
The lesions heal in 7–10 days. A diagnosis can be made from clinical signs and symptoms, and treatment consists of minimizing the discomfort of symptoms.
Microscopy
Microscopically, the lesion presents with intercellular and intracellular edema of the epithelium, leading to extensive spongiosis and formation of intraepithelial vesicles. The vesicles rupture through the basal cell layer, resulting in a subepithelial vesicle. This is followed by epithelial necrosis and ulceration with a mixed inflammatory infiltrate of the subepithelial connective tissues.
Molecular Features
Polymerase chain reaction (PCR) can be performed to confirm the diagnosis in questionable cases.
Enteroviruses belong to the family Picornaviridae. Coxsackievirus A (CVA) 2, 5, 6, 10, 16; coxsackievirus B (CVB) 1, 2, 5; and enterovirus (EV) 71 are the virsuses involved in HA and HFMS. Among these CVA 16 and EV71 caused most of the epidemics worldwide; however, outbreaks by other viruses (CVA2, 6) are increasing.
Differential Diagnosis
In hand-foot-and-mouth disease, the lesions are usually more numerous and not confined to the posterior areas of the mouth.
References and Further Reading
Copyright information
© Springer International Publishing AG 2017