Inflammatory Myofibroblastic Tumor
Living reference work entry
DOI:
https://doi.org/
10.1007/978-3-319-28845-1_4832-1
Definition
Inflammatory myofibroblastic tumor (IMT) is a tumor composed of myofibroblasts accompanied by a mixed inflammatory infiltrate.
Clinical Features
Incidence

IMT is a relatively rare tumor in the genitourinary system.

Age

It may occur at all ages, including in children. The mean age at diagnosis is 50 years.

Sex

It involves more frequently male subjects.

Site

Genitourinary IMT arise more frequently in the bladder, but cases have been reported also in the kidneys, prostate, spermatic cord, and testis.

Treatment

In the bladder, most cases are treated with transurethral resection. Some patients have undergone partial cystectomy.

Outcome

IMT is a locally aggressive neoplasm, with tendency to local recurrence, and rare incidence of metastasis.
Macroscopy
Grossly, IMT appears as a circumscribed solitary or multinodular mass with a white to tan fleshy and myxoid cut surface. In the bladder, the lesion often shows a polypoid appearance, sometimes with an ulcerated surface.
Microscopy
IMT presents with interlacing fascicles of myofibroblastic and fibroblastic spindle cells, interspersed with inflammatory cells, including lymphocytes, histiocytes, eosinophils, and neutrophils (Fig.
1
). Hypercellular areas, cellular pleomorphism, areas of necrosis, and atypical mitotic figures are seen in a minority of cases.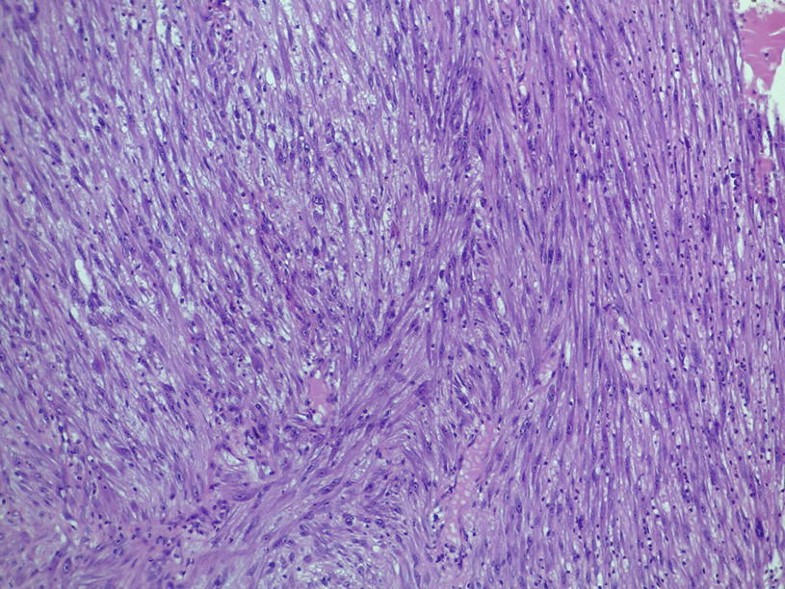 Immunophenotype
IMT is positive for smooth muscle actin and often for desmin, calponin, and caldesmon. Cytoplasmic positivity for ALK1 is detected in 50–60% of the cases. Focal positivity for cytokeratins may also be present.
Molecular Features
Rearrangements of the anaplastic lymphoma kinase (ALK) gene have been identified in the majority of IMTs.
Differential Diagnosis
The differential diagnosis of genitourinary IMT includes sarcomatoid carcinoma, leiomyosarcoma, and rhabdomyosarcoma. The distinction from sarcomatoid carcinoma may be particularly difficult because IMT may show focal positivity for cytokeratins. However, the presence of marked cytologic atypia, atypical mitotic figures, and areas with markedly increased cellularity supports the diagnosis of sarcomatoid carcinoma. Similarly, leiomyosarcoma usually shows a significant degree of cellular atypia, atypical mitoses, and necrosis, which are not found in IMT. Rhabdomyosarcoma is more easily separated for the presence of myogenin immunoreactivity. Finally, none of these malignancies presents rearrangements of the ALK gene.
It remains controversial whether IMT and the so-called pseudosarcomatous myofibroblastic tumors of the genitourinary tract (a.k.a. postoperative spindle cell nodule or pseudosarcomatous fibromyxoid tumor) are the same entity or should be differentiated. They are both formed by a proliferation of myofibroblasts, with a variably dense inflammatory infiltrate, but pseudosarcomatous myofibroblastic tumors lack the USP6 rearrangements that occur in nodular fasciitis, the ALK rearrangements, as well as alternative fusions found in ALK-negative inflammatory myofibroblastic tumors.
References and Further Reading
Copyright information
© Springer Nature Switzerland AG 2019