Idiopathic Granulomatous Epididymitis
Living reference work entry
DOI:
https://doi.org/
10.1007/978-3-319-28845-1_4828-1
Definition
Idiopathic granulomatous epididymitis (IGE) refers to a lesion of the epididymis requiring a period of ≥6 weeks for the duration of symptoms, while others accept a period of 3 months, with no identifiable etiology (Çek et al. 2017).
Clinical Feature
Incidence

Idiopathic granulomatous epididymitis is rare.

Age

It affects the adult male usually 40–59 years old.

Sex

Male.

Site

Typically unilateral swelling and tenderness of epididymis, usually beginning in the tail and spreading to involve the whole of the epididymis.

Treatment

Some patients who were only medically treated for granulomatous orchitis have recovered, but orchidectomy in cases without a preoperatory diagnosis is the treatment of choice (Morozumi et al. 2018).

Outcome

Patients with a 6 weeks or longer history of discomfort or pain in the epididymis may experience testicular pain generally without any signs of infection; induration involving the spermatic cord could be another symptom.
Macroscopy
A mass with small white yellow nodules occurs without necrotic areas. It occurs generally as solid and unilateral nodular enlargement of the testis.
Microscopy
Granulomatous lesions display predominantly histiocytic infiltrates and typically involve tubular walls. IGE typically lacks necrotizing granulomatous inflammation with palisading histocytes and Langhans giant cells observed in tuberculous epididymitis. Giant cells and plasma cells, lymphocytes, and neutrophils are frequently present (Fig.
1
).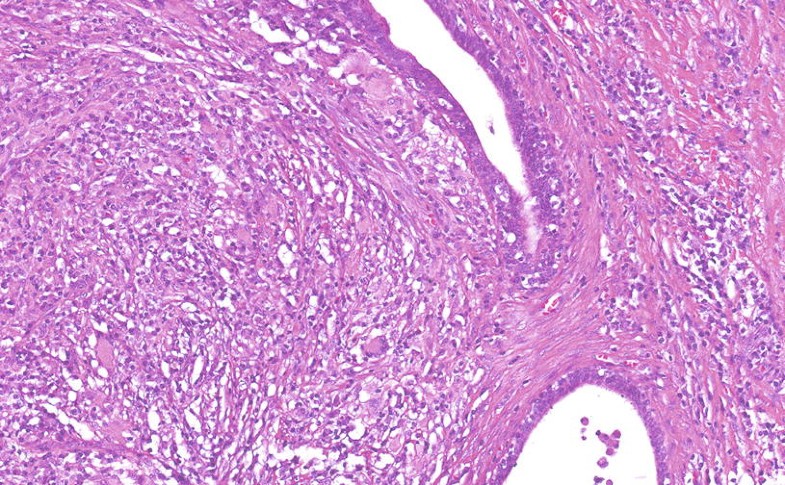 Differential Diagnosis
Ischemic granulomatous epididymitis at early stage presents necrosis affecting both the efferent ductules and the intertubular connective tissue. As the lesion progresses, efferent ductules are full of cholesterol crystals and giant cells with epididymal fibrosis at final stages (Nistal et al. 1997). Infectious nontubercular epididymitis is generally associated with brucella and blastomycosis: epididymal tubules have necrotic walls, and there is histiocytic infiltrate associated with squamous metaplasia. Other infective agents are fungal organisms and Gram-negative bacteria.
References and Further Reading
Çek, M., Sturdza, L., & Pilatz, A. (2017). Acute and chronic epididymitis.

European Urology Supplements, 16

, 124–131.

CrossRef

Google Scholar

Morozumi, K., Ozawa, M., Kuromoto, A., Sato, M., Hoshi, S., & Numahata, K. (2018). High orchidectomy and histopathology to differentiate granulomatous orchitis from testicular malignancy: Case report and literature review.

Hinyokika Kiyo, 64

(2), 75–78.

PubMed

Google Scholar

Nistal, M., Mate, A., & Paniagua, R. (1997). Granulomatous epididymal lesion of possible ischemic origin.

American Journal of Surgical Pathology, 21

(8), 951–956.

CrossRef

Google Scholar
Copyright information
© Springer Nature Switzerland AG 2019