Clear Cell Renal Cell Carcinoma
Living reference work entry
DOI:
https://doi.org/
10.1007/978-3-319-28845-1_4792-1
Definition
Clear cell renal cell carcinoma is a morphologically heterogeneous group of malignant tumors made up of cells with clear or eosinophilic cytoplasm and characteristic vessel formation.
Clinical Features
Seventy percent of cases are found incidentally on imaging. Hematuria and flank pain are the most common signs of the symptomatic cases. Clear cell renal cell carcinoma can be sporadic or occurs in Von Hippel–Lindau disease. It is a rare, autosomal dominant syndrome consisting of retinal angiomas, hemangioblastomas of the central nervous system, pheochromocytomas, and clear cell renal cell carcinoma.
Incidence

Clear cell renal cell carcinoma is the most common malignancy among renal cell neoplasms, representing roughly 70% of all renal cell tumors.

Age

It occurs in patients around 60–70 years of age.

Sex

Its male/female ratio is 2:1.

Site

There is no site predilection.

Treatment

Partial or radical nephrectomy is the standard treatment in clinically localized diseases. In metastatic cases, targeted therapies against angiogenesis and mammalian target of rapamycin (mTOR) pathway are extensively used either in patients previously treated by nephrectomy or without cytoreductive nephrectomy. Immunotherapy has recently shown promising clinical response.

Outcome

The behavior mainly depends on TNM, however, at the same stage, clear cell renal cell carcinoma appears to be more aggressive than papillary and chromophobe renal cell carcinoma. Clear cell renal cell carcinomas most commonly metastasizes hematogenously to the lung. Lymphatic metastases are less frequent and can occur in hilar, aortic, and caval lymph nodes. Unusual metastatic sites may be observed.
Macroscopy
Grossly, it usually presents as a solitary, well-circumscribed, or multinodular (mainly due to retrograde venous involvement of the parenchyma) solid-cystic yellowish mass. Additional gray and white foci can be observed corresponding to the undifferentiated tumor areas. White sclerotic septa, focal calcifications, necrosis, and irregular hemorrhage can be observed (Fig.
1a
).

Microscopy
Histologically, this tumor shows variable architecture, solid-acinar, or alveolar or tubulo-cystic morphologies, almost constantly intermixed with a dense network of blood capillaries. The cells have clear cytoplasm rich in lipids and glycogen, which are dissolved in routine histologic processing becoming optically empty by light microscopy (Fig.
1b
). In some of renal cell clear cell carcinomas, more or less wide areas are composed of cells with granular and eosinophilic cytoplasm due to the presence of a large number of mitochondria. The tumor cell nucleus can have extremely variable size and shape; in particular, nucleolar grade (Delahunt et al.
2013
) appears higher in the areas of the tumor composed of cells with eosinophilic and granular cytoplasm. Finally, it should be emphasized that within the same tumor, especially in those larger, the nucleolar grade may vary from area to area and therefore, in the course of microscopic analysis, the recognition of those area with higher nucleolar grade is important for a correct assignment of such significant prognostic parameter. In approximately 30% of clear cell renal cell carcinomas tumor necrosis of coagulative type is present, which can also be significantly extended resulting in the formation of pseudopapille. As nucleolar grade, tumor necrosis is another important prognostic feature. The sarcomatoid transformation/rabdhoid dedifferentiation occurs in about 5% of cases (Fig.
2
). Stage, nucleolar grade, and necrosis are the main prognostic features of this tumor.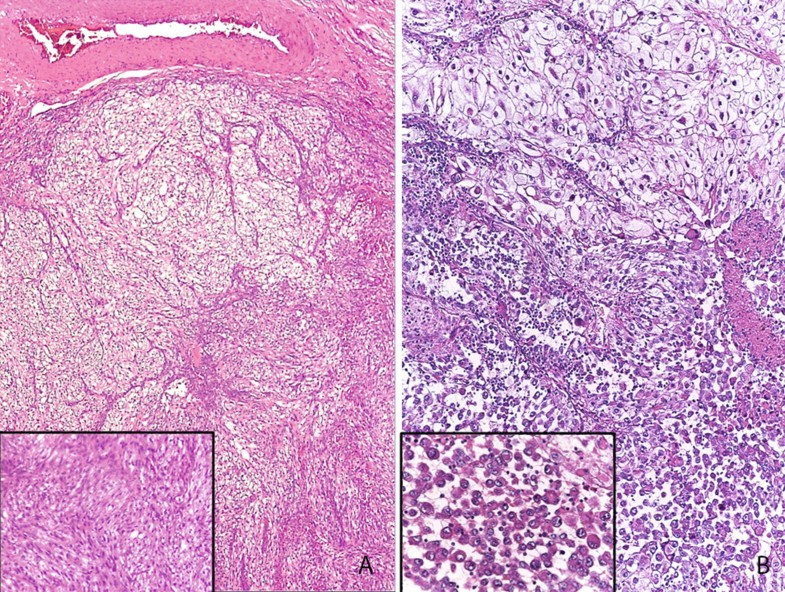 Immunophenotype
PAX-8 is a nuclear transcription factor expressed in virtually all clear cell renal cell carcinomas and therefore useful in metastasis and in particular differential diagnosis among primary tumors. Carbonic anhydrase IX (CAIX) stained 75–100% of clear cell renal cell carcinomas as a membranous box-shaped distribution. Cytokeratin 7 is usually negative, and if present, it is almost limited to the cystic areas. Clear cell renal cell carcinoma also expresses other epithelial markers. CD10, a proximal tubule marker, is positive in clear cell renal cell carcinoma in a membranous distribution. Vimentin is positive in clear cell renal cell carcinoma, more intensely in high grade areas.
Molecular Features
Clear cell renal cell carcinoma shows a highly specific deletion of chromosome 3p, which is considered one of the primary events in the development of this tumor. Mutation of the Von Hippel-Lindau (VHL) gene (3p25) occurs exclusively in this type of renal tumor, both in sporadic and hereditary forms. Genomic sequencing studies have demonstrated that the 3p locus harbors additional suppressor genes, such as SETD2, PBRM1, and BAP1.
Chromosome 14q allelic loss and loss of 9p have been associated with poor prognosis in clear cell renal cell carcinoma.
Differential Diagnosis
Several differential diagnoses should be considered. Among the low nucleolar grade tumors, the main differential diagnosis is with clear cell papillary renal cell carcinoma, in which different immunohistochemical expression of CAIX (box-shaped versus cup-shaped) and CK7 (negative versus positive) is useful. CK7 is often used to distinguish clear cell renal cell carcinomas from the chromophobe renal cell carcinomas almost made up of cells with flocculent clear cell cytoplasm, the latter demonstrating diffuse staining for CK7. Among the high nucleolar grade tumors, the main differential diagnosis are with MiT family translocation renal cell carcinomas and epithelioid angiomyolipoma/epithelioid PEComa, in which cathepsin K and melanogenic immunohistochemical markers are diagnostic.
Copyright information
© Springer Nature Switzerland AG 2019