Bladder Squamous Cell Papilloma
Living reference work entry
DOI:
https://doi.org/
10.1007/978-3-319-28845-1_4787-1
Definition
Exophytic core lined by cytologically benign squamous epithelium
Clinical Features
Incidence

Uncommon finding, less than 1% of the papillary tumor of the bladder

Age

It affects most commonly elderly patients (mean age of 65 years old).

Sex

It affects females slightly more than males.

Site

Bladder. Presentation symptoms include stress incontinence and gross hematuria (Guo et al. 2006).

Treatment

Surgical resection of the papillary lesion
Microscopy
Histologically, they are characterized by an exophytic lesion with papillary architecture, covered by keratinizing squamous epithelium without atypia or koilocytic changes (Wang et al.
2013
) (Fig.
1
).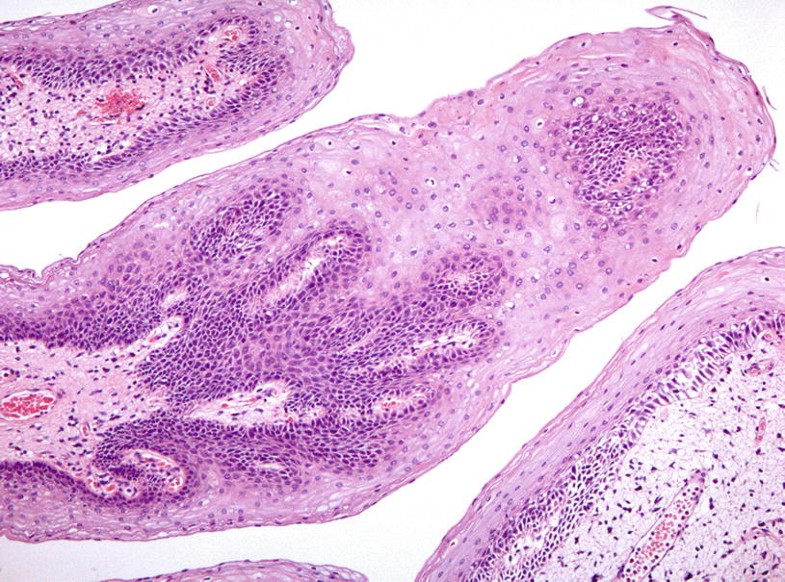 Molecular Features
The squamous papilloma is not associated with human papilloma virus infection (HPV), has no p53 nuclear accumulation, and is diploid (Cheng et al. 2000).
Epidermal growth factor receptor [EGFR] expression by immunohistochemistry was described in four of four squamous papilloma lesions tested (Guo et al. 2006).
Differential Diagnosis
Squamous papilloma must be differentiated from condyloma acuminatum and verrucous carcinoma (Cheng et al. 2000). Condyloma, unlike squamous papilloma, is HPV-related. Verrucous carcinoma is characterized by bland cytology without koilocytic changes, verrucoid architecture, and large masses without stromal invasion.
References and Further Reading
Copyright information
© Springer Nature Switzerland AG 2019