Angiosarcoma
Living reference work entry
DOI:
https://doi.org/
10.1007/978-3-319-28845-1_4780-1
Definition
Angiosarcoma (AS) is a malignant tumor of endothelial cells.
Clinical Features
Incidence

AS of the urogenital tract is very rare, with most studies consisting of single case reports. A weak association with previous radiotherapy has been reported.

Age

It occurs in adult and elderly patients.

Sex

AS of the kidney occurs more frequently in males than females (M:F = 7:1).

Site

Urogenital angiosarcomas arise more frequently in the kidney and prostate. Rare cases have been described in the ureter, the bladder, the epididymis, and the penis.

Treatment

Surgery is the primary treatment, with radiotherapy and chemotherapy employed in approximately 30% of the patients.

Outcome

AS is a high-grade tumor with frequent local relapse and lymph node and distant metastases. The lungs and liver are the most common sites of metastasis.
Macroscopy
Grossly, the tumor presents as an ill-defined, invasive hemorrhagic mass often with areas of necrosis. AS are often large lesions ranging from 3 to 30 cm in maximum dimension.
Microscopy
Histologically, AS consists of anastomosing vascular channels lined by atypical endothelial cells, often exhibiting multilayering and papillary tufting. Neoplastic cells present a spindle or epithelioid morphology (Fig.
1
). Foci of coagulative necrosis, extensive hemorrhage, and brisk mitotic activity are frequently seen.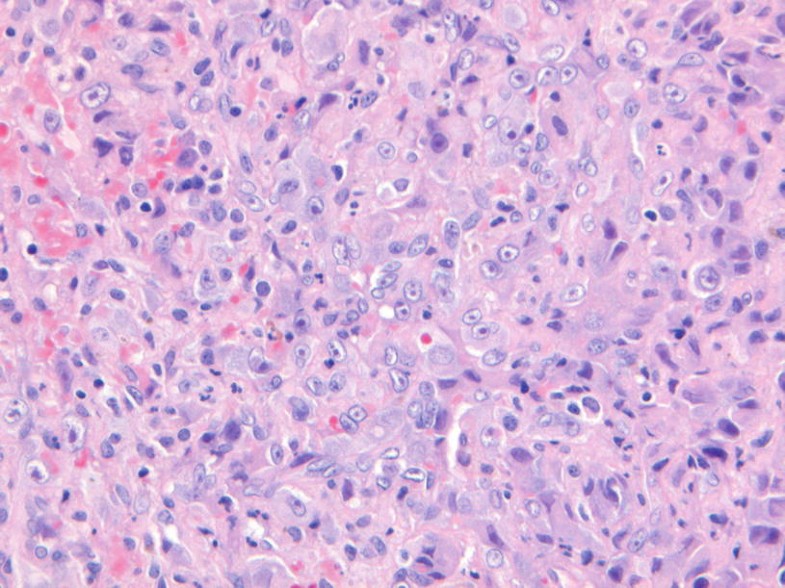 Immunophenotype
AS is positive for endothelial cell markers, including CD34, CD31, ERG, FLI1, and factor VIII-related antigen. The lymphatic endothelial marker podoplanin may also be expressed. Epithelioid AS is frequently immunoreactive for cytokeratins.
Molecular Features
Molecular studies have not been conducted so far on urogenital AS. In general, AS presents distinct upregulation of vascular-specific receptor tyrosine kinases and mutations of genes involved in the control of angiogenesis.
Differential Diagnosis
Well-differentiated AS may be difficult to distinguish from anastomosing hemangioma. This benign vascular tumor is composed of anastomosing capillary-sized vessels lined by cytologically bland endothelial cells with hobnail appearance. The complex architecture may resemble that of AS, but it lacks atypical features, including nuclear hyperchromasia, multilayering, atypical mitotic figures, and necrosis.
Poorly differentiated angiosarcomas with solid architecture must be distinguished from other high-grade sarcomas, from sarcomatoid carcinomas and melanoma. Kaposi sarcoma can be excluded based on the absence of HHV8 immunoreactivity.
References and Further Reading
Copyright information
© Springer Nature Switzerland AG 2019