Intraductal Papillary Carcinoma
Living reference work entry
DOI:
https://doi.org/
10.1007/978-3-319-28845-1_4757-1
Definition
In literature, an unambiguous definition and uniform criteria of intraductal papillary carcinoma is lacking. Often, it is described as a luminal epithelial neoplastic proliferation of the breast confined to the mammary ducts and lobules (also known as ductal carcinoma in situ, DCIS), characterized by a papillary growth pattern. It is considered a potential precursor lesion for breast cancer. Whether these lesions represent de novo malignant papillary epithelial proliferations or malignant epithelial populations transforming and replacing benign papillomas remains unclear.
Clinical Features
As intraductal papillary carcinoma is a morphological subtype of
DCIS
, the following features are derived from literature based on DCIS in general, combined with data specifically focusing on intraductal papillary carcinoma (also known as papillary DCIS).
Incidence: The incidence of DCIS has dramatically increased since the introduction of population-based breast cancer screening. Nowadays, approximately 20–25% of all breast neoplastic lesions are DCIS. A pure or predominant papillary growth pattern is however rare.

Age: The reported age range of the patients with malignant papillary lesions in general is 27–89 years with a mean age of 60 (Tse 2005).

Sex: Predominantly in women.

Site: The vast majority is asymptomatic and is detected by screening mammography. Symptoms such as nipple discharge, Paget's disease of the nipple, or a palpable mass sometimes occur. There is no preferential site for intraductal papillary carcinoma.

Treatment: Treatment is similar to DCIS in general. Currently almost all lesions are being treated to prevent the development of breast cancer. Breast conserving treatment followed by radiotherapy or in case of extensive lesions a mastectomy with or without immediate reconstruction are generally recommended. There is no consensus on the value of adjuvant hormonal treatment.

Outcome: The natural course of intraductal papillary carcinoma or papillary DCIS is largely unknown, as almost all lesions are treated. Fifteen years after DCIS diagnosis, including all subtypes, cumulative incidence of ipsilateral breast cancer was 1.9% after mastectomy, 8.8% after breast conservative surgery (BCS) plus radiotherapy, and 15.4% after BCS alone (Elshof et al. 2016).

Despite the increased detection and treatment of these potential precursor lesions for breast cancer, the incidence of breast cancer has not declined, suggesting overdiagnosis exists resulting in overtreatment. Unfortunately, we cannot, at present, distinguish innocent from aggressive DCIS lesions regarding their capacity to progress to invasive breast cancer. Therefore, biomarker studies in order to enable risk stratification and prospective trials investigating the safety of a wait-and-see strategy for low-risk ductal carcinoma in situ have emerged.
Macroscopy
As DCIS in general, intraductal papillary carcinoma is a segmental disease that can be associated with an impeccable breast parenchyma. Occasionally, dilated mammary ducts filled with necrotic debris and calcifications with or without fibrosis can be seen.
Microscopy
Intraductal papillary carcinoma is characterized by a segmental disease distribution. Involved spaces show intraluminal arborizing fibrovascular cores covered by neoplastic epithelium (Fig.
1a
, Fig.
2
-plate A1). In 1962, delicate and relatively inconspicuous fibrovascular cores were described as characteristic for malignant lesions such as intraductal papillary carcinoma (Kraus and Neubecker
1962
). More recently, however, others have refuted this statement, as they found broad fibrovascular cores even more often in malignant papillary lesions and concluded this morphologic feature was not a helpful feature to distinguish between benign and malignant lesions (Kraus and Neubecker
1962
; Yamaguchi et al.
2014
). The neoplastic epithelium often consists of one or more layers of uniform cuboidal to columnar epithelium with hyperchromatic nuclei of low to intermediate grade (Fig.
1b
, Fig.
2
-plate A2). Myoepithelial cells are absent within the fibrovascular cores but are seen at the periphery of the involved spaces, in line with an in situ process. It should be noted that a pure papillary architecture is rarely seen; often it is seen intermixed with other growth patterns, such as micropapillary, cribriform, or solid DCIS.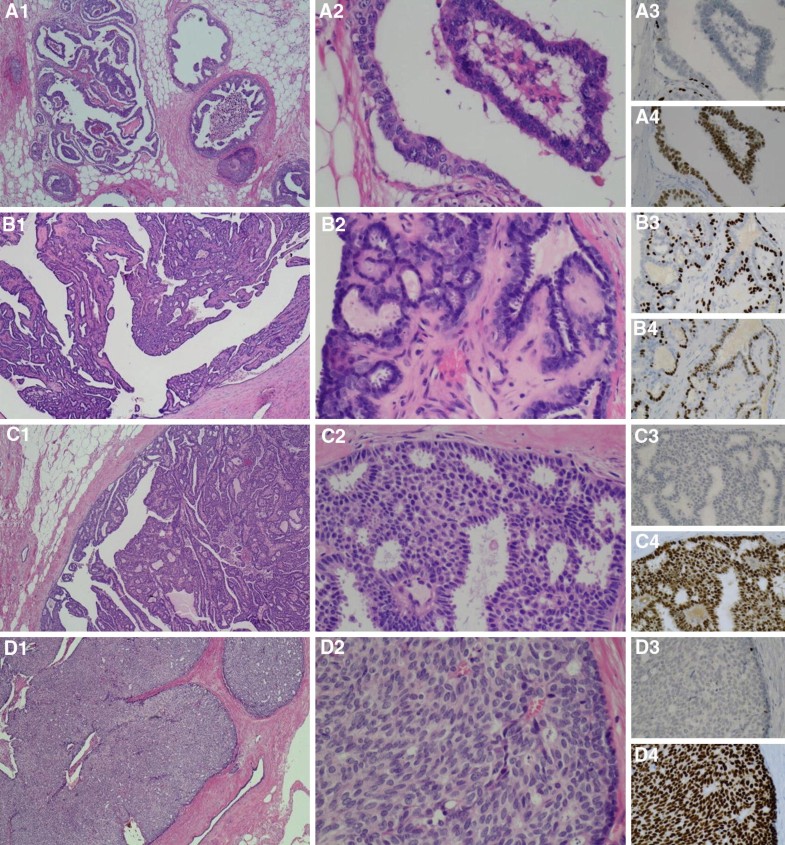 Pitfalls
In some cases, intraductal papillary carcinoma constitutes of a dimorphic epithelial cell population, in which an often basally located second population of cells with abundant pale cytoplasm ("globoid cells") is seen. These cells may be incorrectly interpreted as myoepithelial cells (Collins and Schnitt 2007). Immunohistochemical staining for epithelial and myoepithelial cells can resolve this issue and confirm the epithelial nature of these cells.
Dislodgement and displacement of fragments from papillary lesions into the surrounding breast stroma or even within lymphatic vascular spaces, especially after a biopsy procedure, is a well-known occurrence and should be interpreted with caution (Collins and Schnitt 2007; Kraus and Neubecker 1962; Ni and Tse 2015). In case of displacement into the surrounding breast stroma, epithelial components with some degree of degenerative changes are present within the confines of the biopsy tract with concomitant reactive changes such as reactive fibrous stroma, signs of associated hemorrhage, fat necrosis, and some degree of inflammation. Invasion should only be considered when epithelial structures are found well away from the biopsy site and show morphological features consistent with invasive cancer. Likewise, the presence of epithelial fragments in lymphatic vascular spaces or even lymph nodes should be doubted when no convincing invasive cancer is found elsewhere within the breast.
Immunohistochemistry to verify the presence or absence of myoepithelial cells in the distinction between true invasion and displacement is only useful when myoepithelial cells can be detected, because often only the luminal epithelial cells are displaced. Especially in intraductal papillary carcinoma where myoepithelial cells are only found at the periphery, immunohistochemistry is of limited value (Collins and Schnitt 2007; Ni and Tse 2015).
Immunophenotype
The neoplastic epithelial compartment often shows strong homogeneous staining for estrogen receptor (ER). To confirm the absence of myoepithelial cells within the papillary fibrovascular structures and the presence at the periphery of the involved spaces, a p63 stain is advised (see also below) (Fig. 2-plate A3, A4).
Molecular Features
Few studies have evaluated molecular alterations in intraductal papillary carcinoma specifically, in line with its rarity and the uncertainty regarding what can be considered as such a lesion. In addition, most studies have looked at only small and nonuniform series, variably including atypical papillomas, papillomas with DCIS, intraductal papillary carcinomas, or even invasive papillary carcinomas. Taking this into account, numerical or structural alterations in chromosome 17 and the accumulation of numerical alterations in chromosomes 3, 7, and X have been detected in a low percentage of the cases of papillary carcinoma, but not in papillomas (Tsuda et al. 1997).
A higher PIK3CA and AKT1 mutation frequency was found in papillomas compared to papillary carcinomas, which might suggest a different molecular origin of at least some papillary carcinomas (Troxell et al. 2009).
Whereas LOH at loci 16p13 and 16q21 could be detected in malignant as well as paired benign papillary lesions as obtained from adjacent tissue, LOH at locus 16q23 and at the TP53 locus was limited to malignant lesions, suggesting a role for the latter two in malignant transformation (Di Cristofano et al. 2005; Lininger et al. 1998). LOH at loci 16q12.2 and 16q21 was found exclusively in malignant intraductal papillary lesions in core needle biopsies. Therefore, these loci of LOH might be potential biomarkers in the differential diagnosis with benign lesions (Yoshida et al. 2012).
References and Further Reading
Copyright information
© Springer Nature Switzerland AG 2019