Invasive Carcinoma with Signet Ring Cell Differentiation
Living reference work entry
DOI:
https://doi.org/
10.1007/978-3-319-28845-1_4703-1
Definition
The definition of primary mammary invasive signet ring cell carcinoma (SRCC) varies in the limited number of published series to date. Some restrict the definition to lobular carcinoma (Merino and Livolsi 1981), with a population of signet ring cells present and exclude signet ring cell variant of invasive ductal/NST carcinoma or vica versa. Others recognize signet ring cell tumor cell morphology in invasive ductal, lobular, and mucinous carcinoma, and one recent study has shown no difference between these variants (Ohashi et al. 2016). The current 2012 WHO classification of breast tumors (Lakhani et al. 2012) includes SRCC as a subcategory of invasive mucinous carcinoma and uses the following definition, "Carcinomas with signet-ring-cell differentiation are characterized by abundant intracellular mucin that pushes the nucleus to one side, creating the characteristic signet-ring-cell morphology." The published series differ on the number of signet cells that must be present to label a carcinoma as SRCC, but generally require >10–20% signet ring cells as a minimum requirement.
Clinical Features
Incidence: Primary SRCC carcinoma of the breast is a very rare tumor subtype with few series published to date. It is exceptionally rare as a pure form but presence of SRCC cells have been reported to occur in between 1% and 4% of primary breast carcinomas; however, there are no detailed epidemiological or comparative studies available.

Age: No large series exist but the average age at presentation appears to be older than that for breast cancer as a whole.

Sex: Marked female predominance.

Site: Breast but exclusion of metastatic SRCC from distant sites particularly GI tract needs to be excluded.

Treatment: These tumors are generally recognized to have an aggressive behavior with higher frequency of vascular invasion and lymph node involvement. Treatment will be governed but the characteristics of the individual patient and based on tumor size, grade, lymph node stage, hormone receptor, and HER2 status.

Outcome: Most but not all of the published series recognize SRC to be more aggressive than mucinous carcinoma, invasive ductal carcinoma of no special type, and classic invasive lobular carcinoma of the breast, with frequent metastasis to regional lymph nodes and distant metastasis to the lung, liver, and bone but also with unusual sites of metastasis including the stomach, endometrium, cervix, serosa, gastrointestinal tract, urinary tract, and spleen.
Macroscopy
There are no specific macroscopic features.
Microscopy
SRCC has been defined as a lesion with diffuse infiltration of the stroma by mucin containing signet ring cells where mucin fills the cytoplasm and displaces nucleus. Prominent signet-ring-cell differentiation is most common in invasive lobular carcinomas but may also be seen in invasive carcinoma NST and other special type cancers, particularly mucinous carcinoma. Pure SRCC is exceptionally rare, and it has been argued that carcinomas with signet-ring-cell differentiation do not represent a distinct entity. The current 2012 WHO classification of breast tumors (Bussolati and Sapino
2012
) describes two cytological types of carcinomas with signet-ring-cell differentiation. One type characterized by large intracytoplasmic vacuoles, with a "target" appearance owing to the presence of large intracytoplasmic lumina containing a periodic acid Schiff (PAS)/Alcian blue and HMFG2-positive central globule. This cytological pattern is typically observed in lobular neoplasia, in classic
invasive lobular carcinoma
, and it has also been associated with the pleomorphic variant of lobular carcinoma (
Pleomorphic Lobular Carcinoma
). The other cytological type is similar to the cells of diffuse gastric carcinoma (Fig.
1
) and is characterized by acidic muco-substances that diffusely fill the cytoplasm and dislodge the nucleus to one pole of the cell. This type of signet-ring cell has also been described as a variant of DCIS.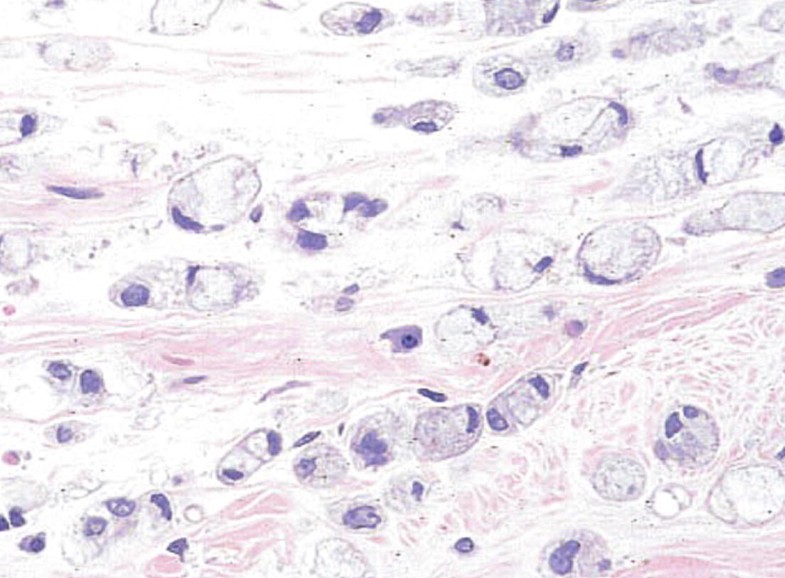 Immunophenotype
Primary breast SRCC are usually GCDFP-15 positive and approximately 80% are positive for estrogen receptor. HER2 status frequency is not well described but HER2 positive cases occur but at a lower frequency than breast cancer as a whole. These tumors typically have a luminal type cytokeratin profile being low molecular weight cytokeratin CK8/18 and CK7 positive. Lobular variants are usually E-Cadherin negative.
Molecular Features
There are no known specific genetic or molecular features.
Differential Diagnosis
The differential diagnosis includes mucinous carcinomas and clear cell carcinomas and metastasis from other sites. It is important to differentiate from these carcinomas as the treatment options and the outcome varies considerably. Metastases will lack an accompanying in situ carcinoma (DCIS or LCIS) component. A variety of immunohistochemical markers have been applied to distinguish SRCC from metastasis from different organs. SRCCs of the breast are generally immunohistochemically positive for GCDFP-15, whereas SRCCs of the gastrointestinal tract are negative. ER is very often positive in primary SRCC of the breast, but commonly negative in gastric and colonic SRCC. Adenocarcinomas of the breast, stomach, and colon also show different CK7 and CK20 expression patterns (Tot 2000). While primary SRCC of the breast is typically positive for CK7 but negative for CK20, the gastrointestinal SRCCs are commonly positive for CK20 but usually negative for CK7. In combination with ER staining, CK7 and CK20 expression patterns can be used to distinguish gastrointestinal SRCC from SRCC of the breast but it should be bourne in mind that approximately 20% of SRCCs of the breast are negative for ER (Tot 2000). Mucin secretion type may also be helpful (Chu and Weiss 2004). Adenocarcinomas of the breast usually express MUC1 but not MUC2, whereas gastrointestinal adenocarcinomas frequently express MUC2 but less frequently express MUC1. The combination of immunomarkers can substantially increase the sensitivity and specificity for diagnosing SRCCs of these organs. SRCC of the breast can be distinguished from gastrointestinal SRCC, if ER and MUC1 are used as markers for SRCC of the breast, and MUC2 and CDX2 can be used as markers for gastric and colon SRCCs. To distinguish SRCCs of gastric versus colonic origin, Hep Par1 and CDX2 strongly favor a gastric primary site, whereas Hep Par1 negativity and MUC2 positivity strongly favor a colonic primary site (Fan et al. 2003). E-Cadherin is less useful and lacks sensitivity.
References and Further Reading
Copyright information
© Springer Nature Switzerland AG 2019