Khanolkar, Vasant Ramji (1895–1978)
Living reference work entry
DOI:
https://doi.org/
10.1007/978-3-319-28845-1_4687-1
Aikat BK. Obituary. Vasant Ramji Khanolkar born 13th April 1895. Founder President of Indian Association of Pathologists. Indian J Pathol Microbiol. 1979; 22: preceding 1.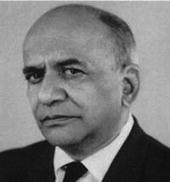 Keywords
Occupational Disease 
Young Colleague 
Indian Childhood Cirrhosis 
Coal Mining Industry 
Tata Memorial Hospital 
These keywords were added by machine and not by the authors. This process is experimental and the keywords may be updated as the learning algorithm improves.
References and Further Reading
Copyright information
© Springer International Publishing AG 2016