Cotran, Ramzi Suliman (1932–2000)
Living reference work entry
DOI:
https://doi.org/
10.1007/978-3-319-28845-1_4004-1
Keywords
Harvard Medical School 
Vascular Biology 
Chronic Pyelonephritis 
Investigative Work 
Boston City Hospital 
These keywords were added by machine and not by the authors. This process is experimental and the keywords may be updated as the learning algorithm improves.
Date, Country, and City of Birth
December 7, 1932, Haifa, Palestine
Date City of Death
October 23, 2000, Brookline, Massachusetts, USA
History of Life
Ramzi Suliman Cotran was born in Haifa to an Arab Palestinian family during the British Mandate rule over Palestine (1918–1948). His father Suliman was a successful businessman who owned a car dealership and real estate in Haifa and was a leader of the Greek Orthodox Christian community there. Suliman was the founder of the Arab Orthodox School in Haifa which thrives to this day. His mother Fadwa (nee Khoury) was a homemaker who raised five children. Cotran had three brothers and one sister. His oldest brother Taufik, born in 1926, studied law in England and later became a jurist and a Supreme Court judge in Britain and the Commonwealth countries including Sudan, Uganda, Lesotho, and Belize. He was named a Commander of the Most Excellent Order of the British Empire in 1980. Other brothers were Rafiq, an accountant who moved to the USA, and Shafiq, a civil engineer who settled in Beirut, Lebanon. His sister Salwa immigrated to Montreal, Canada, where she was a real estate agent.
He began high school in Jerusalem in 1946, and then his father sent him to Beirut, Lebanon, where he completed high school in 1948. After the withdrawal of the British and the partition of Palestine in 1948, the rest of the family moved to Beirut for their safety.
Cotran matriculated at the American University of Beirut (AUB) in 1949 and obtained his AB degree in 1952. He was admitted to the medical school at AUB and graduated in 1956 with highest honors. During his years of study at AUB, he was strongly influenced by the faculty pathologists there, namely, Dr. Philippe Sahyoun, a Lebanese pathologist who was trained in the USA and was on the staff of the School of Medicine at Virginia Commonwealth University in Richmond, before returning to Lebanon, and Dr. Nimr Toukan, a pathologist from Nablus, Palestine, who was trained in the UK. Ramzi's plan after graduating from AUB was to go to the USA to train in internal medicine, intending then to return to Lebanon to practice. However, Dr. Sahyoun convinced him to apply to the pathology residency instead to improve his chances of admission – which proved to be the defining decision of his career. He joined Boston City Hospital in 1956, starting his training at the Mallory Institute of Pathology. Here he started his investigative work with Dr. Ed Kass and Dr. Maxwell, who were impressed with his intelligence and encouraged his independent research efforts. He then spent a year at the Department of Pathology at Memorial Sloan-Kettering Cancer Center in New York before returning to the Mallory Institute.
In 1960, he joined the Harvard faculty and rose through its academic ranks. In 1972, he was named the Frank B. Mallory Professor of Pathology at what was then Peter Bent Brigham Hospital, a teaching hospital of Harvard Medical School. Two years later, he was named Pathologist in Chief. Under his leadership over 25 years, the department developed into the top-ranked pathology service in the nation and helped transform the Brigham and Women's Hospital into one of the most productive academic and research institutions in the world. In 1990, Dr. Cotran also was appointed Chairman of Pathology at the Boston Children's Hospital, a position he held concurrently until the time of his death (Saxon 2000; Gimbrone et al. 2003).
During his training years in Boston, he met Kerstin Larson, a 22-year-old Swedish college student who was in the USA for what was expected to be a short stay. It was love at first sight, and they got married in 1957. They had four children: Paul, an ophthalmologist at Lahey Clinic in Boston; Leila, a senior business systems analyst at Dassault Systemes; Suzanne, a mathematics teacher; and Nina, an internist at Brigham and Women's Hospital.
After an illustrious and long career that spanned three decades at Harvard Medical School and its affiliated hospitals, Ramzi was diagnosed with ocular melanoma. Five years after the diagnosis, he died of its complications at his home in Brookline, Massachusetts, on October 23, 2000, at the age of 67 years.
Cotran was arguably the most influential leader of the modern discipline of pathology in the latter half of the twentieth century and an internationally recognized scholar, educator, and clinician scientist. His leadership rapidly extended beyond the boundaries of Harvard to the national academic pathology scene where Cotran became recognized as a "pathologist's pathologist" and a "chairman's chairman." But, above and beyond these professional accomplishments, he is remembered for his outstanding human qualities – as a loyal friend, devoted mentor, and wise counselor (Gimbrone et al. 2003).
Cotran was appointed as a trustee of the American Board of Pathology and was the president of the American Association of Pathologists (1986), the president of the United States Canadian Academy of Pathology (USCAP) (1993–1994), president of the American society of Nephrology (1994–1995), and was a member of the Institute of Medicine of the National Academy of Sciences. He was on the editorial board of many scholarly journals including Laboratory Investigation, Circulation Research, Experimental and Molecular Pathology, Microvascular Research, Clinical Nephrology, and Blood Vessels.
One of his most lasting legacies was his teaching. He mentored and trained many of the most talented pathologists today. More than a dozen of American departmental chairs trained with him and learned both their technical and leadership skills from his teaching and example (3). The Ramzi S. Cotran Professorship in Pathology was established by Harvard Medical School in 2005, and he was awarded a Lifetime Achievement Award in Mentoring and the Dean's Award for Support and Advancement of Women Faculty (Saxon
2000
). A new lecture hall at the Brigham and Women's Hospital was also named in honor of Dr. Cotran in recognition of his excellence in teaching. The USCAP Board of Directors established in 1996 "The Ramzi S. Cotran Young Investigator Award" to recognize a body of investigative work which has contributed significantly to the diagnosis and understanding of human disease and is restricted to USCAP members who are under the age of 45 (Fig.
1
).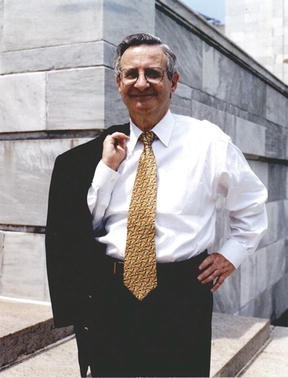 Main Achievements to Medicine/Pathology
From his earliest days at the Mallory Institute, Ramzi Cotran exhibited a real aptitude for investigative pathology that he passionately pursued throughout his career. This aspect of his career would be remarkably productive both for his personal contributions with more than 180 publications in the areas of renal and vascular disease (Gimbrone et al. 2003). He became a research fellow with Edward Kass in 1957. Their seminal studies on the consequences of recurrent urinary tract infections in young women established the importance of these seemingly transient episodes in the pathogenesis of chronic pyelonephritis (Cotran et al. 1963). This was the beginning of a lifelong interest in diseases of the kidney.
In the early 1960s, he spent 2 years in the laboratory of Guido Majno at the Harvard Medical School quadrangle, employing electron microscopy to probe the structural basis of small blood vessel permeability in inflammation (Cotran and Majno 1964).
When he became Pathologist in Chief at Peter Bent Brigham Hospital in 1974, he recruited a group of young talented investigators, including Venkatachalam, Abbas, Rennke, Gimbrone, Madara, Pober, Davies, Bevilacqua, and Collins, and with them helped to establish the Brigham and Women's Hospital at the forefront of experimental pathology and, in particular, the newly evolving field of vascular biology (Gimbrone et al. 2003). His pioneering work with endothelial cells and vascular smooth muscle cells in tissue culture, performed with Michael Gimbrone and R. Judah Folkman (Gimbrone et al. 1974), made him one of the founders of the modern field of vascular biology. He exerted an enormous impact on both vascular biology and nephrology research (Buja 2001).
He collaborated early on with Morris Karnovsky at Harvard Medical School Quadrangle Department, and they did research on vascular and glomerular permeability utilizing horseradish peroxidase as a marker (Venkatachalam et al. 1969). His many collaborations with other investigators at Harvard, nationally, and internationally led to important advances in the understanding of leukocyte endothelial interactions in inflammation (including identification of the first endothelial-specific leukocyte adhesion molecule, ELAM-1 or E-selectin) (Bevilacqua et al. 1987) and the documentation of the importance of endothelial activation and adhesion molecules in vivo.
In 1979, Dr. Cotran became the senior author of
Robbins Pathologic Basis of Disease
, one of the most widely read textbooks in medicine. The book was initially authored by Dr. Stanley Robbins (1915–2003) in 1974. It was translated into more than a dozen languages. This "bible" of disease pathogenesis and pathophysiology has enlightened thousands of medical students. This textbook is now in its ninth edition, now named Robbins and Cotran Pathologic Basis of Disease, and is currently edited by eminent academic pathologists who were trained by Ramzi Cotran during their residency and fellowship years (Fig.
2
).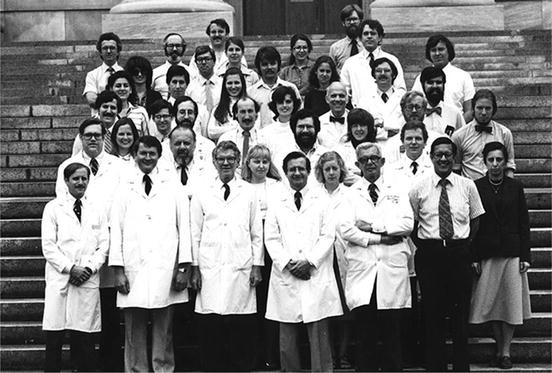 Notes
Acknowledgment
Dr. Paul R Cotran kindly provided details about the family of his father Dr. Ramzi Cotran, reviewed the article, and provided the images. Dr. Frederick Schoen also contributed images.
References and Further Reading
Copyright information
© Springer International Publishing AG 2016