Bartholin, Caspar (1655–1783)
Living reference work entry
DOI:
https://doi.org/
10.1007/978-3-319-28845-1_3954-1
Keywords
Public Health 
Salivary Gland 
Medical Study 
Medical Faculty 
Severe Illness 
These keywords were added by machine and not by the authors. This process is experimental and the keywords may be updated as the learning algorithm improves.
English Names
Caspar Bartholin (the Younger)
Original Names
Caspar Thomassøn Bartholin
Other Names
Casparus Bartholinus Secundus
Date, Country and City of Birth
September 10, 1655, Copenhagen, Denmark
Date City of Death
June 11, 1738, Copenhagen, Denmark
Caspar Bartholin the Younger was born as the son of Thomas Bartholin in a famous intellectual family. His father was professor of mathematics and anatomy. His grandfather was the anatomist Caspar Bartholin (the Elder) who later in his life also studied theology after being cured from a severe illness; subsequently his grandfather was also appointed as theology professor. Caspar had an older brother, a historian, who was called Thomas like his father. Caspar Bartholin started his medical studies in 1671 at the age of 16 and was, 3 years later by King Christian V, appointed as professor of philosophy. However, first he traveled for 3 years extensively in Europe studying in the Netherlands under the anatomist Frederik Ruysch and the biologist Jan Swammerdam, in Paris under the anatomist Guichard Joseph Duverney, and in Italy he met Marcello Malpighi in Bologna. Wherever he came, his unusual erudition was noted. Several manuscripts from his hand in these years are witness of his broad interests, dealing with various topics such as medical ones and others dealing with classical archeology.
After his return to Copenhagen in 1677, he started his professorial activities with lectures on anatomy and physics; in the same year, he described the glands that still bear his name. In 1680 he became member of the medical faculty and later he was for three periods rector of the university. A peculiar feature of the family was their propensity to some nepotism, especially regarding the provision of academic positions, although it must be said that the Bartholin lineage has provided very gifted and talented scientist.
In the same period, he became involved in civilian activities; he was nominated in the Supreme Court in 1691, and in 1719 the king made him attorney general, a position he held for 10 years. In 1724 he became also finance minister. King Frederick IV awarded him in 1927 with the highest order of the crown.
Main Achievements to Medicine/Pathology
Caspar Bartholin's name is mainly known because of the eponym "Bartholin's gland," described by him in 1677 in a letter to the Roman anatomist Giovanni Riva (1621–1677). In addition to his glandular studies, also salivary glands, he published many other papers on anatomy and physiology. They, however, have not left a lasting impression, like the work of his father and grandfather (Fig.
1
).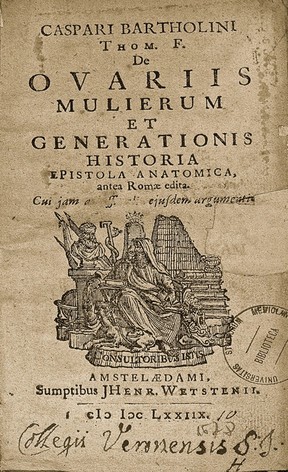 It is noteworthy to mention that Guichard Joseph Duverney detected the glands before Bartholin (Meissen).
Copyright information
© Springer International Publishing AG 2016