Martin Daly and Margo Wilson (Founders of Evolutionary Psychology)
Living reference work entry
DOI:
https://doi.org/
10.1007/978-3-319-16999-6_3583-1
Keywords
Evolutionary Psychology 
Homicide Rate 
Maternal Grandfather 
Lethal Violence 
Ashkenazi Jewish Ancestry 
These keywords were added by machine and not by the authors. This process is experimental and the keywords may be updated as the learning algorithm improves.
Definition
Canadian academics whose scholarly contributions and leadership roles in the Human Behavior and Evolution Society and its flagship journal were significant in the emergence of evolutionary psychology.
Introduction
When published in 1859, On the Origin of Species received a cool reception in Canada, owing to reservations of the nation's most renowned nineteenth-century scholars, including J. W. Dawson, Principal of McGill College, and D. Wilson, Professor, University College, Toronto (Zeller 1998). The latter, a historian, artist, early archaeologist, and anthropologist coined the term "prehistory" (Trigger 1966). As its first president, he set the University of Toronto on the road to success and international renown. Unlike critiques of Darwin's natural selection theory based wholly on religious grounds, Wilson's complex views included scientific misgivings over the discounting of uniquely human mental qualities in describing the continuity of species (Trigger 1966). It is perhaps somewhat fitting that just over 100 years later, two Canadians, who would be at the forefront of the emerging field of evolutionary psychology, should meet at the University of Toronto, Wilson's greatest legacy. One, coincidentally, would have the same surname. After receiving their Ph.Ds., Drs. Margo Wilson and Martin Daly met at the university in 1974 (Belluz 2009). There they would begin a great academic and personal partnership that would span almost 35 years and help propel and instantiate an evolutionary approach in psychology and behavior not just in Canada but in the USA and abroad.
Margo Wilson: Early Years in Northern Climes
Margo Ings Wilson was born in Winnipeg, Manitoba, on October 1st, 1942 to Edith Helen Ings, a nurse and daughter of Col. A. Ernest Ings and Clara S. B. Dodge. Before Margo's birth Edith was in England assisting in the war effort. Col. Ings's father had emigrated from Portsmouth, England to Prince Edward Island (P.E.I.) and ran The Island newspaper. Clara Dodge's father was a doctor in Halifax, Nova Scotia. Margo's maternal grandfather was originally trained as a barrister, then served in the 104/105th Battalion in WWl, and later held executive positions in a number of PEI utility companies ("Death in Winnipeg" 1944). The Ings family was prosperous and lived in a grand house on the Esplanade in Charlottetown overlooking the water. Margo would not come to know her maternal grandparents, nor their lifestyle, however, as both had died by 1944. By then Edith had returned from the war and was living in Winnipeg with her little daughter and husband, Major Tom Smith.
In 1948, Edith Ings Smith, now widowed, left Winnipeg with 6-year-old Margo and moved to the Gwich'in community of Fort McPherson in the Northwest Territories (Belluz 2009; Krupp and Barclay 2010; Daly 2012; Gaulin and Fessler 2010). Fort McPherson was originally founded in 1840 by the Hudson's Bay Company and called Peel River House. It is located about 65 miles above the Arctic Circle in the Peel River watershed, a place of great natural beauty belonging to indigenous peoples for centuries. As the only medical professional, Edith provided much needed medical care for the local residents, at times even having to do surgery in communication with a doctor from Inuvik via Morse code. Margo went to the little local one-roomed school where she was the only nonindigenous child in attendance. At a young age, Margo began to understand what it was like to be an outsider but, at the same time, showed empathy for those less fortunate. Throughout her life Margo would support and promote "out group" members or those less advantaged (Belluz 2009; Daly 2012). Taken aback by the poverty and inability of the local parents to pay for children's school lunches, to raise money, Margo ran a miniature dogsled to trap muskrats and sell their furs in cooperation with her classmates (Daly 2012; Gaulin and Fessler 2010; Krupp and Barclay 2010).
In 1952, Edith married the Hudson's Bay Company factor, J. E. J. "Jack" Wilson, posted at the fort ("Happenings" 1952), who bought furs from the locals and ran the company store. A kindly, low-key, pipe-smoking man Jack took Margo under his wing, likely offering advice on her fur-trapping enterprise. About a decade earlier, he had provided natural history information about the fur bearing and game species in the Severn area to researchers from the Royal Ontario Museum of Zoology ("Field work" 1940). One wonders if Margo herself had begun studying animal behavior and physiology, while managing her mixed-breed dog team and checking the trap line. In addition, both Edith and Jack were avid readers and possible models for Margo's developing appetite for knowledge and greater understanding. Together, the three Wilsons kept busy, and their minds occupied many dark cold winters and long-lit summers at Fort McPherson.
Margo went to high school in Victoria, B.C., where her mother arranged for her to stay with a family. In 1960, she earned a Queen Elizabeth II Provincial Scholarship and after graduating high school was admitted directly to the University of Alberta in Edmonton. Margo entered the nursing program, but found the restrictions on student nurses, such as having to live in the residence, a 10 p.m. curfew, and prohibitions against male guests and marriage, outdated and intolerable. She dropped out after about 6 months and, according to her, started a bit of a rebellion, as a high proportion of the other women subsequently left and the administration was forced to remove some of the restrictions. Margo switched programs and graduated with a degree in psychology in 1964. She originally intended to become a clinician, but after brief experiences working in an Oregon mental institution, versus an avian embryology lab, she chose a physiological approach (Belluz 2009; Daly 2012). Satisfying both her physiological interests and desire for a milder clime, Margo entered the masters program at the University of California at Davis in 1965 where she worked with Gordon Bermant studying the behavioral endocrinology of chickens and Japanese quail.
After finishing her masters in 1967, Margo won a Commonwealth Scholarship to study at University College, London, England. There she examined the sexual behavior of rhesus monkeys, including the behavioral effects of castration and hormone replacement on males (Michael and Wilson 1974). She and fellow student, Barry Keverne, worked at the Bethlhem Royal Hospital, known as "Bedlam", the oldest mental institution (Belluz 2009). Her supervisor, Richard P. Michael, a psychiatrist, was also an early behavioral endocrinologist. Working doggedly into the night typing her thesis by candlelight, due to power restrictions, Margo completed her Ph.D. in 1972. After earning her degree, Dr. Wilson returned to Canada. She began teaching classes at the University of Toronto as Lecturer (1972–1973) and Visiting Assistant Professor (1973–1975) and cobbled together a research lab without funding. She also sat on a university ethics committee to review proposals for research on nonhuman animals. One day she received an ethics application in person from a recently arrived postdoctoral researcher. His name was Dr. Martin Daly.
Martin Daly: From Toronto to Algeria and Back
James Martin Daly was born on November 15, 1944, in Toronto, Ontario. His mother was Ida Simon, the daughter of parents of Ashkenazi Jewish ancestry who immigrated to Canada from Latvia in the early 1900s. Before the first Russian revolution, Martin's maternal grandfather was drafted into the Russian army to tend his unit's horses, but was left behind after being kicked by a horse. Later, in Canada, he worked at a cleaner's pressing pants for a living. Martin's father, James Alexander Daly, was the son of two Irish immigrants. Growing up in Toronto, Martin attended Bennington Heights Elementary School, then York Mills and Don Mills Collegiates. He did especially well in mathematics and won an international mathematics contest award in 1961. After graduating (1962) with an open scholarship, he attended the University of Toronto, obtaining a B.A. (Honors Psychology) in 1967 and becoming the first in his family to earn a university degree. With his supervisor, Gary Walters, Martin examined the effects of injections of scopolamine on the disruption of memory formation in rats. That same year he married Sandra Fiegehen, whom he had known since high school. They moved to Montreal where she became a teacher, and Martin received an M.A. in psychology at McGill University in 1968 for his thesis on the satiation of hoarding behavior in rats. At McGill, Martin attended a seminar given by Donald Hebb, a highly admired and respected early Canadian psychologist who inspired his students not to just sop up current knowledge but to seek out uncharted academic territories.
Before going to Montreal, Martin had realized that he was far more interested in studying species-specific animal behavior than conducting physiological manipulations. He returned to the University of Toronto for his Ph.D. to work with Jerry A. Hogan, whose ethological perspective he had admired in undergraduate classes (Daly 2015). Hogan transfixed Martin with both his enthusiasm and strong opinions. Martin worked in Hogan's lab, aka the "Chicken House," completing his Ph.D. thesis, Behavioural development, early experiences, and maternal behaviour in golden hamsters (Mesocricetus auratus), in 1971. After studying behavior in the lab, Martin decided to undertake fieldwork to understand how differences in the social behavior of closely related species relate to features of their ecology. He moved to the University of Bristol to work with John H. Crook, the founder of socioecology. Funded by postdoctoral fellowships, Martin undertook research at a French research station in Algeria, where Sandra assisted with the field research on the feeding behavior and socioecology of Saharan gerbils (e.g., Daly and Daly 1973). At the end of the postdoc and looking for a change, Martin and Sandra bought an old Victorian house in Nova Scotia and planned to live off the land. They planted vegetables and bought a goat to make their own yogurt. As the winter approached, however, Martin became intellectually bored, having read all the books in the bookmobile parked nearby. Sandra also had a change of heart about their lifestyle. Their back-to-the-land experiment and marriage ended.
Martin Daly returned to the University of Toronto in late 1974 where he worked as a volunteer postdoc with his previous supervisor, J. Hogan, and began applying for academic jobs. After first meeting Margo Wilson on campus when submitting an ethics application, they met again in the summer of 1975 at the meeting of the Animal Behavior Society in North Carolina (Belluz 2009; Daly 2012). At that time, the conference was a common meeting ground for those interested in both nonhuman and human behavior. The pair's interests coincided, and according to Martin, at the end of the meeting, "I followed her home back to Toronto, and I wouldn't leave." (Belluz 2009). It was the beginning of a long and productive personal and academic partnership.
Daly and Wilson: A First Book with Longevity
His job search successful, Martin Daly was Lecturer and Assistant Professor in Psychology at the University of California, Riverside from 1975 to 1978. Margo accompanied him and was Visiting Assistant Professor at the University of Southern California (1977) and Visiting Scholar, University of California, Riverside (1977–1978). During their first year, they attended a seminar where participants discussed each chapter of E. O. Wilson's groundbreaking new book Sociobiology: The New Synthesis (1975). In the oversized volume, Wilson assembled the foundations of a new discipline encompassing an evolutionary functional analysis of social behavior. Convinced by the approach and wishing to extend its coverage of human behavior, Daly and Wilson decided to write a book to marry proximate and ultimate approaches in the behavioral sciences (Daly and Wilson 1983; Krupp and Barclay 2010). They began working on their first book Sex, Evolution, and Behavior (1978), and by 1976, it was largely complete. After Martin attended the conference of the American Anthropological Association in Washington, D.C., they added two final chapters devoted to human evolution and psychology. The book brought together basic evolutionary concepts and theory, including natural selection, fitness, evolution of sex, sex allocation, parent-offspring conflict, sexual selection, and life history strategies, with numerous applications to the behavior and physiology of both nonhumans and Homo sapiens. Filling a new niche in a highly readable way, the volume was immediately taken up by students, academics, and the lay public, with a second edition following in 1983. The clarity and accuracy, with which the chapters covered the theoretical foundations while peppered with real-world examples, resulted in it serving as a textbook for many years, even as recently as a few years ago. Due to the interest and rapid research progress largely inspired by Daly and Wilson's first book and approach, ironically the only chapters that became quickly outdated were the final ones devoted to human evolution and psychology.
In 1978, the pair returned to Canada with Martin taking up the position of Associate Professor of Psychology at McMaster, where he taught some of the earliest classes on sociobiology and human evolution and behavior. Margo became a Research Associate, as antiquated regulations against hiring faculty members' spouses prohibited her from a formal university position for decades (Krupp and Barclay 2010). Every November the couple packed up their station wagon in Hamilton and traveled south. While at Riverside, they had begun conducting field research on the behavior and ecology of Merriam's kangaroo rats at the Boyd Deep Canyon Research Center near Palm Desert, California. Although a research station in the desert sounds completely idyllic, along with their students and postdoc, Daly and Wilson put in long hours tracking kangaroo rats at night. At times, when nighttime temperatures plummeted, they would huddle up under newspapers to keep warm. The fieldwork continued for about three decades and resulted in numerous contributions concerning the ecology and behavior of the nocturnal rodents, including the function of scatter hoarding in reducing major cache loss and modulation of differential predation risk according to moon phase (e.g., Daly et al. 1992). Each year throughout the 1980s on their way to and from the field station, Randy Thornhill recollects the couple visiting his home in New Mexico, which was also his study site for a project on sexual selection in red junglefowl. True to form, Margo and Martin enjoyed watching and hypothesizing about the junglefowl's behavior. Always up for a good meal, they also joined the Thornhills in feasting on the birds during their many stopovers.
In the late 1970s, during their stay in California or return to Canada, Margo began thinking about undertaking research on Homo sapiens. After some time she was struck with the idea that the incidence of human homicide may serve as a porthole through which evolved human passions and biases could be revealed. She readily convinced Martin they should conduct epidemiological analyses of patterns of risk for violence in different kinds of human relationships, such as marital, parent-offspring, and male-male. Thus began a 30-year program of research that would be the focus of much of their later human empirical studies. Soon after, Margo and Martin visited the Detroit police station to discuss researching their homicide records, launching a long-term cooperative enterprise including the police and several other researchers in fields related to jurisprudence and law enforcement (Daly and Wilson 1988; Daly 2016).
Patterns of Homicide and the Birth of a Society
In 1978, Daly and Wilson were invited to an informal conference on human behavior and evolution organized by Richard Alexander and Donald Tinkle at the University of Michigan in Ann Arbor. The meeting also included William Irons, Napoleon Chagnon, and their students from Northwestern University. Over the next 10 years, Wilson, Daly, and their students would regularly drive from McMaster to Ann Arbor for the continuing meetings. Between 1986 and 1995, the Evolution and Human Behavior Program was supported by the University of Michigan. In addition to the main organizers, Richard Alexander and Bobbi Low, others affiliated with the program or attending meetings who would make their own mark on the discipline included David Buss, Barbara Smuts, Laura Betzig, Paul Turke, Monique Borgerhoff-Mulder, Beverly Strassmann, Randolph Nesse, Richard Wrangham, Eugene Burnstein, Elizabeth Hill, Mark Flinn, Warren Holmes, George Williams, William Hamilton, Robert Axelrod, Jack Beckstrom, Mildred Dickemann, John Hartung, and Randy and Nancy Thornhill. Initially the meetings were sufficiently small and informal that a reception was usually held at someone's home, including Richard Alexander's farm.
Cross-border exchanges continued, and in 1984–1985, Wilson and Daly were Visiting Scholars in Biological Anthropology at Harvard University. There they took part in the "Simian Seminars" held by the prominent Harvard primatologist and anthropologist, Irven DeVore, at his Cambridge home (Hrdy 2005) and attended less formal meetings at North House (Daly and Wilson 1988). During this time Martin and Margo first met Leda Cosmides and John Tooby, who (along with others like Don Symons) would champion a focus on evolved mental mechanisms rather than behavior per se (e.g., Tooby and Cosmides 1989), and David Buss, whose seminal work on human mate selection would establish a new and popular subfield. A special project "Foundations of Evolutionary Psychology" proposed by Buss (Buss 2008) resulted in the four working together in 1989–1990 at the Center for Advanced Study in the Behavioral Sciences at Stanford University where they cemented their mutual and individual approaches. By this time Wilson and Daly had also given numerous presentations to colleagues and students at developing centers of interest in Canada, such as those led by Charles Crawford and Dennis Krebs at Simon Fraser University and Irwin Silverman at York University.
Throughout the 1980s Margo and Martin pursued their epidemiological investigations of human violence. An initial foray with colleague Suzanne Weghorst produced the striking and novel finding that stepchildren were about 100 times more likely to be lethally abused than biological children (Wilson et al. 1980). This they attributed to an evolved bias in parental solicitude favoring one's own biological children, now widely known as "discriminative parental solicitude" (Daly and Wilson 1980). Predicting that male-male competition over mates would also impact violence, they found that male sexual jealousy and suspicions of infidelity were predominant motives in lethal assaults of wives (Daly et al. 1982). Moreover, they suggested that the heightened levels of violence displayed by young men, or "the young male syndrome," may reflect sexually selected competitive risk-taking (Wilson and Daly 1985). In 1988, Daly and Wilson published their second book, Homicide, a landmark describing many of their previous studies and serving as a model for future research programs. The book began with the theoretical underpinnings of the evolution of motivations toward lethal violence. In subsequent chapters predictions regarding the expected patterns of interpersonal conflict, violence, and homicide were tested citing their earlier findings, other modern samples, and diverse datasets, including those based on hunter-gatherers, indigenous peoples on the Indian subcontinent, a thirteenth-century English sample, and cases of infanticide in the Human Relations and Area files. Interestingly, the book also considered the codevelopment of legal systems constructed to contend with violence. Their investigations had piqued Margo's interest in law, and in 1987, she became the first graduate of the Masters of Studies in Law program at the University of Toronto (Belluz 2009; Daly 2012; Gaulin and Fessler 2010). Although she had not known her maternal grandfather, in later life Margo had come to share his calling, receiving a law degree about 90 years after he was called to the bar.
In 1988, two larger formal conferences, the Evolution and Human Behavior Conference and Evolutionary Psychology and Psychiatry Conference were held at the University of Michigan. At the latter, Wilson and Daly attended a meeting to discuss future conferences and creation of a formal society. As a result the Human Behavior and Evolution Society (HBES) was founded October 29, 1988 with William Hamilton elected first president (Low and Nesse 1989) and the inaugural meeting held at Northwestern University in 1989. A primary instigator, Randy Nesse, remembers that along with others, Martin and Margo were initially skeptical about the success of the new society. However, they quickly became two of its greatest adherents, cheerfully greeting other participants at the meetings each year. Along with Daly and Wilson, several of the early attendees would be recognized as founding members of the society and the new discipline of evolutionary psychology. Thus with the 1980s coming to a close, a new offshoot of E. O. Wilson's Sociobiology, focusing more specifically on the functional evolution of human psychological mechanisms and behavior with its own society, had firmly taken root.
Maturation and Internationalization of the New Discipline
During the decades bookending the turn of the millennium, Wilson and Daly played important roles in guiding the further progress and internationalization of evolutionary psychology. Martin Daly was president of the Human Behavior and Evolution Society in 1991–1993 and executive council member from 1989 to 1995. Margo Wilson served as president from 1997 to 1999 and as executive board member from 1992 to 1999. During that time the society's membership and conference attendance rose steeply. In 1996, Evolution and Human Behavior (formerly Ethology and Sociobiology) became the flagship journal of HBES, and Daly and Wilson became coeditors in chief for the next 10 years. Through their expert stewardship, rigorous standards, and constructive criticism, the journal became a highly cited repository of cutting edge research and theory. For some time it was the primary journal where articles taking a functional approach to human behavior and psychology could be reviewed without fear of disqualification due to antievolutionary biases. Advancement of the journal at this juncture was critical to the expansion and progress of the new discipline.
In concert with the success of the international society came further involvement with researchers in other countries. In 1993, Margo and Martin spent time with colleagues at Rockefeller Foundation Center in Bellagio, Italy, were Visiting Professors at the University of New Mexico (1996–1997), and fellows at the Wissenschaftskolleg zu Berlin in 2002. In addition to presentations in Canada and the USA, Daly and Wilson gave numerous invited lectures in diverse countries, including Brazil, the Netherlands, Turkey, Japan, Germany, Australia, Sweden, Chile, and the UK. The pair actively promoted international and interdisciplinary research and supported colleagues in other nations, with Margo assisting them in successful grant applications (Daly 2012; Krupp and Barclay 2010). In addition, Martin served terms on the executive committees of the International Society for Behavioural Ecology and Animal Behavior Society, and both sat on editorial boards for other respected journals. With their international reputations firmly established, in 1998, Margo Wilson and Martin Daly were honored in their home country when they were named fellows of the Royal Society of Canada.
With funding from several bodies, including the prestigious Harry Frank Guggenheim Foundation and armed with theoretically derived predictions, Daly and Wilson meticulously raked extant homicide and new datasets, turning up a chain of novel findings. Margo was particularly interested in identifying the determinants of spousal homicide and violence against women and found, for example, that the risk of uxoricide (killing one's wife) was heightened following a separation, and among younger wives and those in common-law relationships (Wilson et al. 1995). She argued that male sexual jealousy and possessiveness or "male sexual proprietariness" was a primary motivation of spousal violence (Wilson and Daly 1996). Building upon their earlier proposition that elevated male aggression is related to risk-taking, Margo reasoned that risk acceptance or future discounting and homicide rates may be heightened when life expectancy is low. Sure enough, a study of Chicago neighborhoods showed local life expectancy was a major predictor of homicide rate and future discounting, as measured by age of first reproduction (Wilson and Daly 1997). Moreover, income inequality was a positive predictor of homicide rates. A later related experimental study indicated that men shown photographs of attractive women to induce a "present oriented mindset" discounted the future more than those shown less attractive photographs of women (Wilson and Daly 2003). Martin followed up on the findings of increased risk of violence toward stepchildren, dubbed the Cinderella effect, finding that women with children from a previous partner were at increased risk of uxoricide (Daly et al. 1997). In 1998, he and Margo published their third book, The Truth about Cinderella, a volume in the popular series Darwinism Today, covering much of their work on discriminative parental solicitude.
After holding adjunct positions at McMaster University for a decade, Margo Wilson was formally appointed Professor of Psychology in 1998. In their classes and busy research lab at McMaster, Margo and Martin encouraged the academic careers of their students. Genuinely interested in their students' lives, the pair held get-togethers at their home where tasty dishes always complemented the social menu. Never assuming credit for students' original work, they published with them as colleagues on diverse topics, such as variability in sociosexuality, birth order and familial sentiment, differential cache pilferage, and evolution of the family. In 2003, Margo was diagnosed with non-Hodgkin's lymphoma, but nevertheless continued with her active life, teaching, and research. Fulfilling a long-held wish, during the summer of 2008, Martin and Margo took a cruise to the Galapagos Islands, a location fomenting Darwin's greatest insight (Fig.
1
). There they took in the scenery, peered at the peculiar island inhabitants, and added Darwin's finches to their bird life lists accumulated over many years as avid birdwatchers.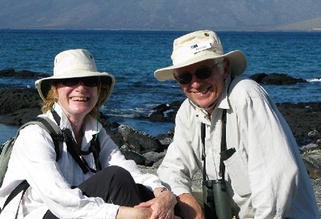 In 2009, Daly and Wilson were honored with a Lifetime Achievement Award by the HBES at the first meeting the couple would miss, due to Margo's failing health. The society and discipline lost a much-admired pioneer when Margo died in Hamilton on September 24, 2009. In 2010, the first Margo Wilson Award of the HBES, honoring her contributions to the society and discipline, was presented at the annual meeting. Martin retired from McMaster in 2011, but took up a Research Professorship at the University of Missouri the following year, continuing his research alongside his present wife, Gretchen Perry. While in Missouri, he wrote his recent book Killing the Competition: Economic Inequality and Homicide (2016). In an engaging, personal style, Martin convincingly lays out the case that economic disparity within populations is not just positively correlated with homicide rates across populations but is causal. His argument builds upon he and Margo's 1997 findings, as well as those showing reduced homicide rates and income inequity in Canada versus the USA (Daly et al. 2001). Also highly relevant is their finding that the most common form of lethal violence, male-male violence, is the most variable across populations (Daly and Wilson 1988) and perhaps the most amenable to economic intervention. As in Homicide (1988), his case is made through the presentation of an array of empirical findings, coupled with established theory and undeniable logic. In the process, Martin dissects and debunks myths including that it is absolute level of resources, not inequity, that drives violence, and that financial policies to reduce inequities inevitably decrease productivity and economic growth.
Conclusion
Together Margo Wilson and Martin Daly introduced a wide audience to evolutionary thinking in the behavioral sciences through their four books and over 250 theoretical, review, and empirical papers. Their work appears in more than 70 different journals, signaling its broad appeal across disciplines, including criminology, biology, anthropology, law, sociology, and economics. Additionally, they have given at least 200 invited talks or presentations and nurtured the careers of over 20 graduate students and postdocs. Spanning several decades and continents, Martin Daly and Margo Wilson's scientific rigor and zeal galvanized others, helping to carve a clear pathway for the emerging field of evolutionary psychology. Their contributions to the HBES and Evolution and Human Behavior remain ever inscribed reminders of the extensive and enduring stretch of their influence. Although Darwinism had a slow start in Canada, Daly and Wilson played crucial roles at the frontier of its most modern application to psychology and behavior.
Copyright information
© Springer International Publishing AG 2016
Section editors and affiliations