Artistic Data Visualization in the Making
Living reference work entry
DOI:
https://doi.org/
10.1007/978-3-319-08234-9_60-1
Definition
Artistic data visualization is visualization of data done by artists with the intent of expressing a point of view.
Introduction
In recent years, we have seen an increasing of interest in data visualization in the artistic community. Many data-oriented artworks use sophisticated visualization techniques to express point of views or achieve persuasive goals. Meanwhile the attitude that visualizations can be used to persuade as well as analyze has been embraced by more people in the information visualization community.
Here I will share my experience and reflection in creating data visualization as artwork via case study of two recent projects. It presents a workflow from conceptual development, data analysis, to algorithm development, procedural modeling, and then final image production. It hopes to offer insight into the artist's effort of finding balance between persuasive goals and analytic tasks. Furthermore, it raises the question of the roles of artistic data visualization played in assisting people to comprehend data and the influence of this artistic exploration in visualization might have injected in shifting public opinions.
Case Study: Out of Statistics: Beyond Legal
This project produces a series of 52 abstract drawings based on US crime statistics as digital prints on rice paper and silk panels. Each image represents the crime status in one of the states, with the seven most significant crime-conviction statistics of each state embedded.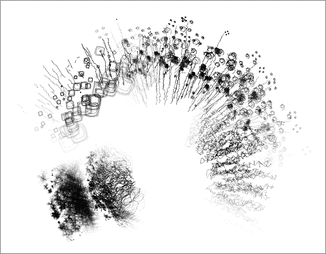 Case Study: Perpetual Flow
This project explores an aesthetic-oriented approach to visualizing federal spending in the United States as 3D compositions in a photorealistic style. Using procedural modeling with Python programming and Maya API, an organic flow of intermingled geometrical units is formed to represent the profile of federal spending for each state, loosely resembling the idea of money flow. The total amount of spending is scaled to a per capita basis to make different states comparable, while the overall surface area or volume occupied by each type of geometrical pattern represents its associated spending data (Xu and Zhai
2013
).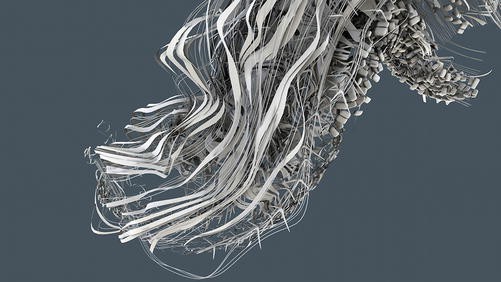 Biography
Rebecca Ruige Xu currently teaches computer art and animation as an Associate Professor in College of Visual and Performing Arts at Syracuse University. Her artwork and research interests include experimental animation, visual music, artistic data visualization, interactive installations, digital performance, and virtual reality. Her recent work has been appeared at Ars Electronica; SIGGRAPH Art Gallery; Museum of Contemporary Art, Italy; Aesthetica Short Film Festival, UK; CYNETart, Germany; International Digital Art Exhibition, China; Los Angeles Center for Digital Art; Boston Cyberarts Festival. She has also been a research fellow at Transactional Records Access Clearinghouse, Syracuse University since 2011.
References
Xu, R.R., Zhai, H.S.: Visualizing federal spending. Leonardo J. Int. Soc. Arts Sci. Technol.

46

(4), 414–415 (2013)

Google Scholar
Copyright information
© Springer International Publishing Switzerland 2016