Vatable, François
Born: ca. 1495, Gamaches (Picardy, Fr)
Died: 16 March 1547, Paris
Living reference work entry
DOI:
https://doi.org/
10.1007/978-3-319-02848-4_658-1
Abstract
François Vatable was a collaborator of Jacques Lefèvre d'Etaples at the Faculty of Arts in Paris in the 1510s. He translated, coedited, and published Old and New Latin translations of Greek philosophical texts (mainly Aristotle). He also assisted Lefèvre in the Evangelical reform experiment in the diocese of Meaux (1521–1525). In 1530, he became the first royal lecturer of Hebrew (later became the Collège Royal). He coedited and published the first Hebrew Bible (Robert Estienne) and participated in the production of a series of magisterial Latin Bibles also by Estienne. His name is associated with Estienne's Latin Bible of 1545, a parallel edition of the Vulgate and a New Latin translation. Since Estienne attributes the explanatory notes in this Bible to Vatable, it became known as the Vatable Bible.
Biography
François Vatable was born in Gamaches (Picardy) as François Wattebled, probably in the last decade of the fifteenth century. After an education at the cathedral school of Amiens, he enrolled as a student in Paris. From 1511 onward, his name appears in books, prefaces, and other documents. He collaborated with Girard Roussel in providing a textbook for students on Aristotelian logic (
logices adminicula
). On behalf of Girolamo Aleandro, he completed an edition of the Greek grammar of Chrysoloras (1512). He appears to have been a young, dynamic postgraduate member of the Faculty of Arts in Paris, active at the
Collège Cardinal-Lemoine
, first as a student and soon lecturing himself. Pedagogically and spiritually, he belonged to the Christian humanist circle around Jacques Lefèvre d'Etaples. Apparently languages were Vatable's forte. After having perfected his knowledge of the Greek tongue under the tutelage of Aleandro, he moved to Avignon to study Hebrew. After his return (ca. 1516), he embarked on the revision and translation from the Greek of a number of important philosophical treatises of Aristotle. He revised the old Medieval Latin translations, he edited available up-to-date translations (Argyropoulos), and if no modern translation was available, he provided one, based on Greek manuscripts and/or the famous Aldus edition –
Ex physiologia Aristotelis libri duodetriginta... Francisco Vatablo interprete. Quibus omnibus, antiqua tralatio tricenos libros continens, ad Græcum per eundem Vatablum recognita: columnatim respondet
(Henri Estienne: Paris, 1518 – Crantz/Schmitt 107.850). This voluminous book (336 folios) contains the old and the new translation side by side (the old though in a larger type), with summarized introductions and marginal notes. It appeared in print in 1518 with Henri Estienne. The texts in question,
Physica, De Caelo, De Anima, De Generatione et Corruptione
, and the so-called
Parva Naturalia
, are all works from Aristotle, "the Philosopher" as he was then called, dealing with the world we live in, inquiries in physics, human and animal nature, psychology, astronomy, and meteorology. Separate editions of the works of Aristotle were extracted from this compendium and printed as student textbooks (for an example, see fig.
2
).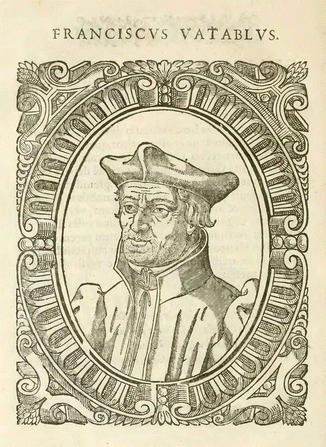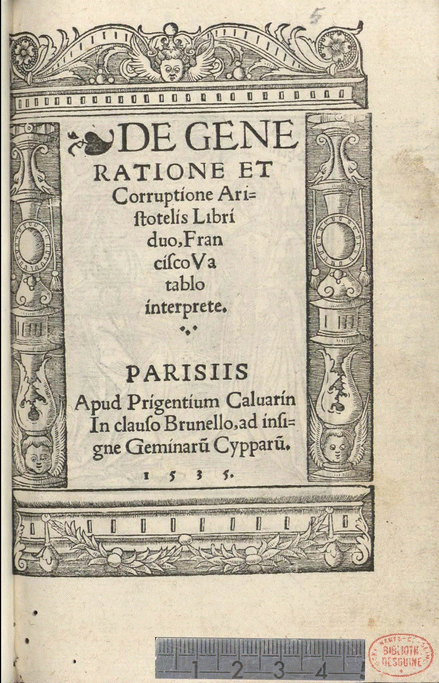 In the 1520s, Vatable followed Lefèvre to Meaux to assist Bishop Guillaume Briçonnet in his experiment to reform his diocese. Whether he actually preached or only assisted in the production of elementary biblical and homiletical material is not known. Under pressure from the conservative party in Paris, the experiment collapsed. In 1530, King Francis I appointed Vatable as a royal lecturer of Hebrew. This implied a public reading of texts (
lectio
), translating and explaining them (
sensus
). As such he taught an entire generation of French scholars to read and understand the Hebrew tongue. Very similar to what he had done with Aristotle, he now began to do with the text of the Bible: editing, emending existing translations by referring to the original texts, and – if necessary – providing new translations. For this, he – and his colleague royal lecturers, but his name is singled out several times – collaborated with Robert Estienne (1538 onward), providing trustworthy editions of the Bible from a text critical edition of the Vulgate (with marginal notes, 1540) to Hebrew Bibles
in quarto
in which almost every Bible book has a title page of its own (bilingual: Hebrew and Latin, 1539–1544). Vatable's name is explicitly connected to an edition of the 12 minor prophets in Hebrew, supplemented with the rabbinical commentary of David Kimhi (only the first had a Latin title; the rest was in Hebrew). He is explicitly mentioned as the one who provided didactical illustrations of Noah's Ark, the Tabernacle, and the Temple in Estienne's 1540 Bible. These were no products of an artist's imagination but carefully drawn scholarly representations based on the indications in the Bible itself, as explained below the pictures. A series of reprints of the Hebrew bible (this time in pocket size) appearing from 1543–1546 (13 parts) was apparently destined for students to make notes while Vatable lectured. Finally Estienne claimed he used student notes of Vatable's
lectiones
, integrating them in the marginal explanatory notes of his beautiful Latin Bible
in octavo
of 1545. This Bible contains a parallel edition of the Vulgate and a new Latin translation from the original tongues with explanatory marginal notes. This Bible is sometimes called the
Vatable Bible
and the notes
Vatable's notes,
although many of the notes are also present in the 1543 Zurich Bible. In 1543, Vatable was named commendatory abbot of the Abbey of Bellozane (in the diocese of Rouen), a title and income he kept until his death on 16 March 1547.
Heritage and Rupture with the Tradition
With his translations and editions, Vatable is anchored in the humanist tradition of returning to the sources: Ad fontes. He wanted to restore the works of Greek and Hebrew authors by republishing them from trustworthy sources and if necessary translating them into Latin. The translation of the philosophical curriculum was a collective effort taking place under the aegis of Jacques Lefèvre d'Etaples. It was spread over three decades (1490–1522). Next to Lefèvre, Vatable collaborated with Josse Clichtove, Charles de Bouvelles, and Girard Roussel. By means of fluent Latin translations (imported from Italy or self-made), commentaries, introductions, and paraphrases, these scholars tried to recover and put to light the true value of these ancient works. They were working on a linguistic level – new translation into Latin following the rules of Latin syntax, grammar, and idiom – rejecting the medieval way (almost verbally Latinizing the Greek, deprecated as "barbarous"), because it was not acceptable anymore to the Latinists of the Renaissance and obstructed the reading and understanding of the texts. A similar motivation is behind Vatable's biblical activity: a text-critical edition of the Vulgate and editions of the Bible texts in the original tongue, with and without translations and notes. Since this implies a tacit deprecation of the church's official textbook and Jerome's translation, this could only be achieved because the King himself protected both Vatable (royal lecturer) and Robert Estienne (royal printer). In theological matters, Vatable also showed himself a true disciple of Lefèvre d'Etaples, whose idea of combining pietas and scholarship, philology and theology, and tradition and modernity he seems to have interiorized. As in his work on Aristotle, Vatable wanted to improve the edition of texts, to help readers understand them properly, always keen on keeping in touch with tradition that has gone before (tralatio nova et vetus), even when the errors and shortcomings in the old translation are not covered up, building bridges rather than destructing bonds.
Innovative and Original Aspects
In his translation of Aristotle, Vatable shows a profound and deep knowledge of both the similarities and differences between Greek and Latin. He sometimes drops the generally accepted titles with which Aristotle's works in Latin were known. Editing Περὶ γενέσεως καὶ φθορᾶς (De Generatione et Corruptione), the custom translation of the first line remains as title, but the book begins with "De ortu autem, ac interitu eorum…," in English "On coming-to-be and passing-away." Concerning his biblical work, together with Robert Estienne, he prepared the first Hebrew Bible to be printed in France. Comparing this edition with its predecessors (the Rabbinical Bible of Bomberg, Venice, and the Polyglot Bible of Alcala), Estienne's editions have some particularities which suggest that his editors were familiar with the Masoretic tradition. Most particular for this Bible, and exclusively Vatable, is the publication of Kimhi's commentary on the Minor Prophets. The way these texts are edited betrays the influence of Jewish publications dating back to the time before the Rabbinical Bible appeared. The notes in the Latin Bible of 1545 and the student notes of some of his lectures (reportationes) are characterized by a profound knowledge of the Hebrew language, syntax, and idiom. They also show that Vatable himself had found the commentary of Kimhi very useful for studying the Bible. He shared Kimhi's conviction that the literal and historical meaning of a text (rabbinical: "peshat") is the most important and should be established based on a sustained philological reading of the text. This became a common exegetical praxis among biblical scholars and a characteristic element of reformed hermeneutics.
Impact and Legacy
Vatable's Aristotle translations were reprinted many times, and separate editions of them (in small booklets for students) were used to teach philosophy, not only in Paris but also in Lyon and soon also outside France. All his translations were included in Aristotle's Opera omnia edition which appeared in Frankfurt in 1593. From these translations, De Generatione et Corruptione, Meteorologica, and Parva Naturalia, were the most successful and had long-lasting effects. Vatable was known and respected as a translator, editor, and commentator of philosophical texts throughout Europe. The impact of Vatable's Hebrew teaching and his cooperation with Estienne in publishing the source texts of the Bible is also considerable. The attribution of the scholarly notes in Estienne's Latin Bible of 1545 spread his fame over Europe. These notes were de facto anonymous and only partly by Vatable, but since they were copied over and again in successive scholarly Bible editions (to name only the two most influential: Estienne's Geneva Bible of 1556 and the Salamanca Bible of 1584), these notes made his name. The full set was also included in Pearson's Critici Sacri (1660), a protestant Bible compendium which served as a source for other compendia for centuries. The same goes for the Roman Catholic tradition because Menochio included them in his Brevis Explicatio Sensus Literalis Sacræ Scripturæ (1630). In secondary literature based on these editions, the glosses are often introduced with phrases like "Vatablus vertit…" or "ut interpretatur Vatablus," thus rightfully honoring the quality of Vatable's teaching while greatly overestimating the quantity of his contribution.
Copyright information
© Springer International Publishing AG 2017
Section editors and affiliations