Multilocular Cystic Renal Neoplasm of Low Malignant Potential
Reference work entry
DOI:
https://doi.org/
10.1007/978-3-030-41894-6_4855
Synonyms
This tumor was previously named "multilocular cystic renal cell carcinoma."
Definition
Multicystic tumor with septa containing individual or groups of clear cells with ISUP/WHO 2016 low nucleolar grade (1–2).
Clinical Features
Incidence

This tumor accounts for less than 1% of all renal tumors, usually incidentally discovered.

Age

It occurs in middle-age adults.

Sex

There is no difference between male and female.

Site

There is no site predilection.

Treatment

Partial or radical nephrectomy is the surgical treatment of choice.

Outcome

To date there are no evidence of recurrence or metastasis.
Macroscopy
The tumor consists exclusively of variably sized cysts separated by thin septa and filled with clear, serous, or gelatinous fluid (Fig.
1
). Solid, grossly discernible tumor mural nodules are incompatible with the diagnosis.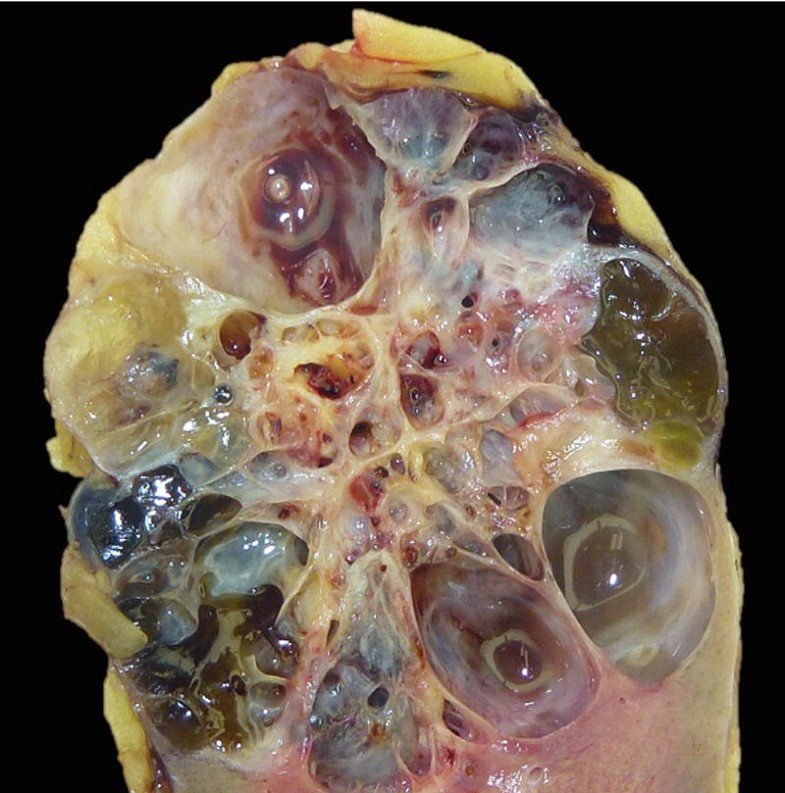 References and Further Reading
Suzigan, S., López-Beltrán, A., Montironi, R., et al. (2006). Multilocular cystic renal cell carcinoma : A report of 45 cases of a kidney tumor of low malignant potential.

American Journal of Clinical Pathology, 125

(2), 217–222.

PubMed

CrossRef

Google Scholar

Tretiakova, M., Mehta, V., Kocherginsky, M., Minor, A., Shen, S.S., Sirintrapun, S.J., Yao, J.L., Alvarado-Cabrero, I., Antic, T., Eggener, S.E., Picken, M.M., & Paner, G.P. (2018) Predominantly cystic clear cell renal cell carcinoma and multilocular cystic renal neoplasm of low malignant potential form a low-grade spectrum.

Virchows Archiv, 473

, 85–93. [Epub ahead of print].

Google Scholar

Williamson, S. R., Halat, S., Eble, J. N., Grignon, D. J., Lopez-Beltran, A., Montironi, R., Tan, P. H., Wang, M., Zhang, S., Maclennan, G. T., Baldridge, L. A., & Cheng, L. (2012). Multilocular cystic renal cell carcinoma: Similarities and differences in immunoprofile compared with clear cell renal cell carcinoma.

The American Journal of Surgical Pathology, 36

(10), 1425–1433.

PubMed

CrossRef

Google Scholar
Copyright information
© Springer Nature Switzerland AG 2020