Action Research
Living reference work entry
DOI:
https://doi.org/
10.1007/978-3-030-02006-4_143-1
Synonyms
Action research has over 30 versions. Among the most well-known are: action science, cooperative enquiry, participatory action research, development action enquiry, Living educational theories.
Definition
Action research is a form of enquiry that integrates theory and action to address real life problems. It enables practitioners to systematically evaluate and improve their practice. The number of types of action researches has multiplied over the last 50 years (Fourali
2016
) or so and, accordingly, so did the number of definitions offered. These usually refer to the following characteristics of AR:
1.

Use of an iterative model (e.g., Kolb's model) for systematically analyzing, testing, and reviewing the reality being faced

 

2.

Involve the participation of stakeholders with a purpose of co-design of solution

 

3.

Support in depth analysis of faced situation that goes beyond addressing the symptoms

 

4.

May refer to several disciplines to help understand and address the faced problems

 

5.

Is inclusive and ethically informed

 
Various authors were identified as the originators of action-led research and learning. These included Kurt Lewin, Reg Revans, and Kolb. Fourali argued that the approach has been used by some authors more than others its steps are akin to what might be labeled a problem-solving perspective which may not only apply to education but all scientific enterprises facing practical problems. Accordingly, all civilizations who developed solutions to practical problems may be seen to have contributed to the action research methodology.
Introduction
Action research has been developed to remind us that all practitioners (initially, in education, but later, in any discipline) can develop their professional expertise through undertaking action research to any problematic situation they may face and that may involve one or a multitude of cases. Also practitioner-researchers may not be restricted by the circumstances of the "accepted ideologies" of received research reports. Hence, AR is an empowering method that does not simply encourage practitioners to wait for the research undertaken by the experts but, rather, encourage them to seek their own solutions that may be particularly suited to the unique situation they may be facing. Such benefits were particularly demonstrated by practitioner researchers such as Paolo Freire (1970).
As stated above, there are a number of iterative steps that have been developed to guide action researchers. One model stipulates the following steps: Diagnosing, Action planning, Taking action, Evaluating, and Specifying learning. Another simply suggests four steps: Reflecting, Planning, Acting, and Observing. Recently, Fourali (
2016
) suggested that since all steps require "reflection" they should be reflected with the model as follows: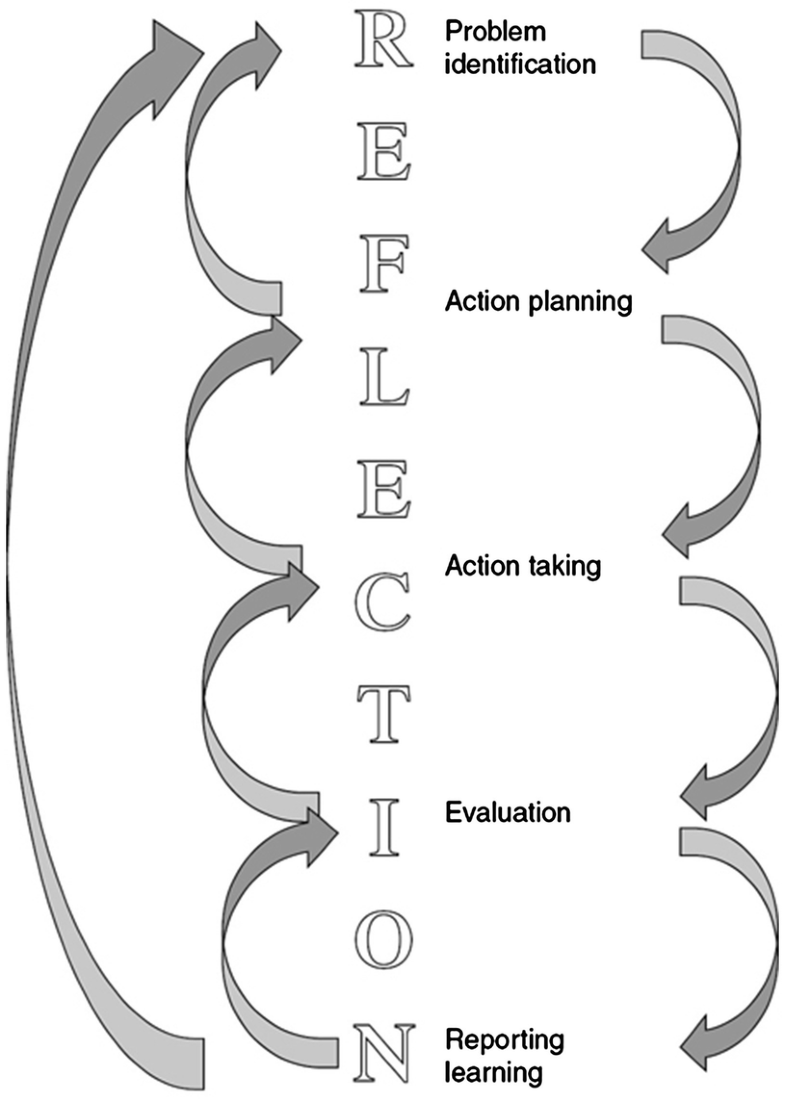 Key Issues
As stated above, action research is seen as a family of approaches rather than one particular technique. Some classify it as "qualitative approach" while others classify it as a mixed design approach to the problem addressed. The later view seems to be closer to the reality since a researcher may combine both quantitative and qualitative (say bottom up approach) to understand and find a way forward for the addressed problem. At the moment one might argue that five versions of AR have been particularly used. These include (McNiff and Whitehead 2011; Coghlan and Brannick 2005):
Action science: This approach differentiates the researchers formally adopted theories and their individual theories of action.
Cooperative/collaborative enquiry: This approach advocates going through four stages of "propositional knowing," researcher's "practical knowing," externally verified "experiential knowing," and "creating new knowledge and ways of acting." If the last stage is unsatisfactory then another iteration through the four stages is advised.
Participatory AR: Although this approach was initially associated the critical pedagogy movement promoted by Paulo Freire, it has developed multiple perspectives with the dual aims of knowledge making and social change. It accounts the present by referring to historical factors and aims to establish a more just society through promoting a more inclusive democratic perspective.
Developmental action research enquiry: This is perhaps one of the most challenging versions of Ars since its aim is not simply adopting a detached approach to a practical problem. Rather, AR in this instance is applied simultaneously to the researcher (first person), the second person relationships the researcher is engaged with, and, on the third-person, institutions that may be implicated in the issues being addressed. Accordingly, this perspective should lead to both changes of consciousness (through new realizations/interpretations of reality) but also cultural transformations.
Living educational theories: This perspective particularly highlights the importance of the effect of the researcher and the research process on the outcome of the research and accordingly, encourages transparency and honesty about these two dimensions. This approach encourages the researcher to be authentic about his/her views and subsequent transformations highlighting associated existential and spiritual issues.
Summary and Future Directions
As stated above, AR has come to reflect a family of approaches whose main thrust is to make research accessible to practitioners be they educationists, psychologists, sociologists, or managers. One of the challenges is how to ensure that such variety of approaches will not be considered equally valid alternative approaches given the various levels of foci since clearly approaches with multiple level of foci are much richer in clarifying issues and tend to be more robust in deriving solutions than some approaches that may be simply focused at one level of the problem.
The issues of "objectivity" of research outcomes have been raised and will still be raised, by the puritan positivists who leveled the charge that AR is too subjective. However, the response is that action researchers usually deal with social issues and, as such, such subjectivity is very much the target of many problematic practical situations and may need observing in their natural environment. Addressing the imagery, opinions and perceptions of stakeholders are necessary steps of helping to resolve practical issues such as emotional coping or understanding the values that underpin certain social behaviors.
The last point is very much linked to the context of AR in a addressing a sustainable issue. While some experimental types of research may help identify sources and effect of some environmental problems, it is clear that understanding multifaceted dimensions of human behavior may require the input of various practitioners helping address a problem that may be affected by several factors. Accordingly, sustainability issues require an army of researchers working in various contexts using various techniques. This means that environmental researchers will require an armamentarium of methods and techniques from which they will be able to choose those relevant to the problem at hand.
AR has come a long way from being just seen as an adjunct approach to what came to be termed "qualitative/soft" methods, to being seen as a valid approach that may entail the use of multiple quantitative and qualitative techniques.
Section editors and affiliations