Cryptococcosis and HIV
Living reference work entry
DOI:
https://doi.org/
10.1007/978-1-4614-9610-6_417-1
Definition
Cryptococcus neoformans
and
Cryptococcus gattii
are encapsulated yeasts found in the environment.
Cryptococcus neoformans
is classically isolated from the soil and from bird guano.
Cryptococcus gattii
has been isolated from plants and trees, classically eucalyptus trees. This fungus infrequently causes infection in healthy persons but is also an opportunistic pathogen in persons with defects in cell-mediated immunity, such as HIV. In HIV-infected persons, those with a CD4 < 100 cell/μL are at particular risk of developing cryptococcal infection.
Cryptococcus
yeasts are acquired through inhalation, with ubiquitous environmental exposure (Fig.
1
). As the immune system weakens, from conditions such as HIV infection, organ transplantation, cirrhosis, or corticosteroid use, the fungus can disseminate from the lungs throughout the body, including the brain, skin, and other organs.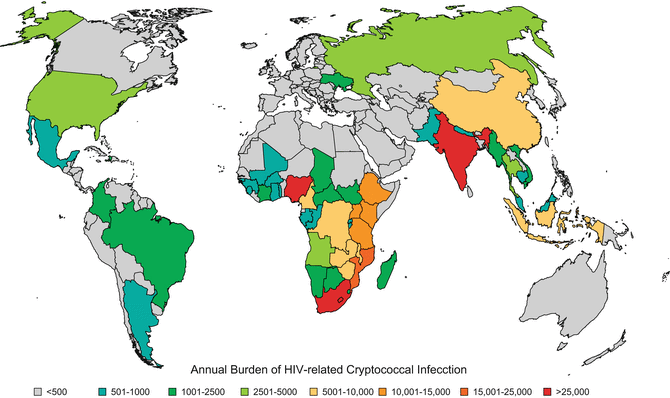 Keywords
Immune Reconstitution Inflammatory Syndrome 
Cryptococcal Meningitis 
Elevated Intracranial Pressure 
Preemptive Therapy 
Cryptococcal Infection 
These keywords were added by machine and not by the authors. This process is experimental and the keywords may be updated as the learning algorithm improves.
Copyright information
© Springer Science+Business Media New York 2016