Sastruga
Living reference work entry
DOI:
https://doi.org/
10.1007/978-1-4614-9213-9_619-1
Definition
Meter-scale longitudinal snow feature produced by strong winds.
Plural
Sastrugi (Russian); variation, zastruga; synonym, skavler
Description
Sastrugi are irregular, wavelike, or domical ridges or grooves (Doumani
1967
), which align parallel with the prevailing wind direction (Fig.
1
). Similar to other erosional features and unlike depositional features, their steep face is on the windward side (Daffern
2009
) and may be overhanging, forming a snow cornice (Averianov
1969
, p. 28). Sastrugi fields – e.g., ridges separated by grooves – can produce a terrain of extreme surface roughness (Benson
1971
). Sets of sastrugi of different orientations can form a network of ridges (Warren et al.
1998
).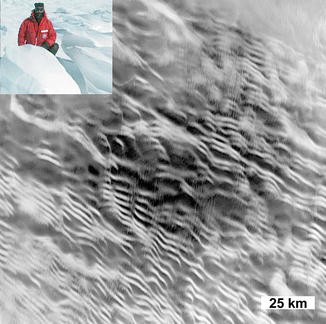 Keywords
Wind Direction 
Prevailing Wind 
Windward Side 
Extreme Surface 
Erosional Feature 
These keywords were added by machine and not by the authors. This process is experimental and the keywords may be updated as the learning algorithm improves.
Copyright information
© Springer Science+Business Media New York 2014