Amphitheater-Headed Valley (Venus)
Living reference work entry
DOI:
https://doi.org/
10.1007/978-1-4614-9213-9_332-1
Keywords
Fluid Flow 
Fracture System 
Descriptor Term 
Permeable Medium 
Rock Debris 
These keywords were added by machine and not by the authors. This process is experimental and the keywords may be updated as the learning algorithm improves.
Definition
Amphitheater-headed elongate depressions (valleys and/or channels) cut into topography on Venus.
Subtypes
(1)

Valley networks on Venus formed initially from fracture systems and became enlarged by inferred low-viscosity lava sapping processes (Komatsu et al. 2001; Oshigami et al. 2009) (Lava Channel) (Fig. 1).

 

(2)

Subsidiary channels associated with chaotic terrain at the source of outflow channels. Example: 5–10 km long valleys or channels at 40°S, 202°E (Kargel et al. 1994).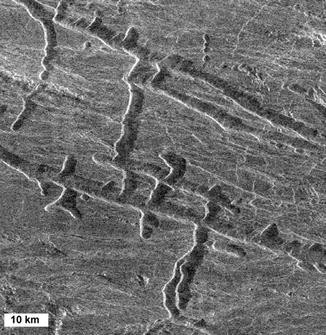 Interpretation
Arcuate reentrants resulted from slumping, collapse, and sapping (e.g., Kargel et al. 1994).
Formation
Outflow of low-viscosity subsurface fluids (on Venus: lava) augmented by surface flow causes undermining and subsequent collapse of surface material, producing valley networks. This process was named lava sapping (Komatsu et al. 1992). The lavas probably moved through permeable media and fractures (Komatsu et al. 2001). Subsidiary channels were hypothesized to have formed also by sapping, involving subsurface "aquifers" of low-viscosity liquids that reached the surface at low discharge rates and could flow for tens of km without solidifying. The ground fluid then transports downstream the rock debris produced by fluid flow and mass wasting (Baker et al. 1992; Kargel et al. 1994).
Copyright information
© Springer Science+Business Media New York 2014