Bright Halo Crater (Impact)
Living reference work entry
DOI:
https://doi.org/
10.1007/978-1-4614-9213-9_24-1
Definition
Halo around fresh impact craters displaying brighter optical albedo, higher radar backscatter, and distinctive thermal properties relative to their surroundings.
Description
Optical and radar-bright halo surrounding fresh craters; often occurring with bright
crater rays
(Pieters et al.
1985
) (Fig.
1
). In some cases, a dark collar also is seen adjacent to crater (
Dark Halo Crater
; impact, optical). Most optically bright fresh craters also have a radar-bright ring (Fig.
2
); however, the reverse is not true (Thomson et al.
2013
).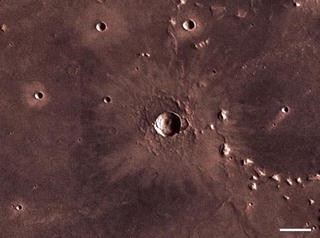 Keywords
Impact Crater 
Dark Halo 
Radar Backscatter 
Secondary Crater 
Ejecta Blanket 
These keywords were added by machine and not by the authors. This process is experimental and the keywords may be updated as the learning algorithm improves.
Copyright information
© Springer Science+Business Media New York 2014