Somatosensory Cortex: Organization
Living reference work entry
DOI:
https://doi.org/
10.1007/978-1-4614-7320-6_385-1
History
In 1909, Brodmann published maps of the different regions of cortex in humans and monkeys (Brodmann 1909). He partitioned the postcentral gyrus into three distinct areas based on cytoarchitecture and cell organization. From rostral to caudal, he designated these areas as areas 3, 1, and 2. Later studies showed that Brodmann's area 3 could be functionally and structurally divided into two distinct areas now labeled areas 3a and 3b (Vogt and Vogt 1919). Although all four brain areas are often together designated primary somatosensory cortex (S1) and to an extent respond to cutaneous stimulation, area 3b is most analogous to the other primary sensory cortices given its similarity in inputs and laminar structure. Area 3b is thus S1 proper.
Later, in 1940 Adrian discovered a second brain region, adjacent to S1, which contained representations of the forefoot and hindfoot in cats (Adrian 1940). Adrian initially thought this area to be a cortex dedicated to the cats' special ability to extend and retract their claws; however, Woolsey was able to show that this additional somatosensory area, now known as the secondary somatosensory cortex (S2), is shared by monkeys and other animals (Woolsey 1943).
Structural Organization
Area 3a is located in the fundus of the central sulcus, contiguous to primary motor cortex (area 4) on the rostral side and to area 3b on the caudal side. Area 3b lies on the rostral bank of the postcentral gyrus and, proceeding caudally, abuts area 1, located at the apex of the postcentral gyrus, followed by area 2, which lies on the apex and sometimes on the caudal bank of the postcentral gyrus (Fig.
1
).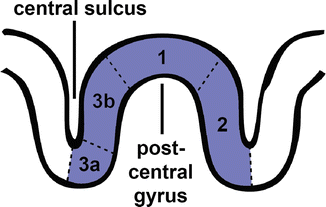 Each of the four brain areas comprises a distinct cortical representation of the contralateral body (Kaas et al.
1979
) (Fig.
2
). The representation of each body part in the cortex is not proportional to its physical size or mass. Instead, the parts of the body with dense innervations (i.e., the hand or face) have larger cortical representations than do parts that are more sparsely innervated (i.e., the back or leg) and likely contribute to a richer sensory representation.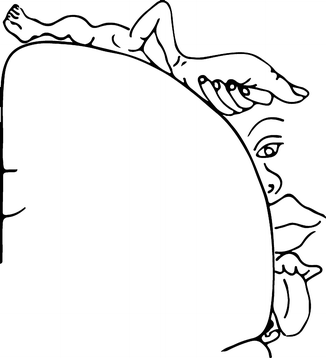 S2 is located in the parietal operculum on the upper bank and ceiling of the lateral sulcus (Woolsey et al. 1979). The structural organization of S2 is not as well characterized as is that of S1 but is thought to comprise at least two distinct cortical representation of the contralateral body (Krubitzer et al. 1995).
Functional Organization
Area 3a, considered a transitional zone between the motor and somatosensory cortices, receives and processes information about muscle stretch, joint movement, and posture from muscle receptors (Yumiya et al. 1974) and possibly other proprioceptors. Area 3a is thought to contribute to the sense of proprioception, the awareness of the position, and movements of one's body. Its dense reciprocal connections with motor cortex (Zarzecki et al. 1978) suggest a role in the coordination of movements.
Tactile information is processed in areas 3b, 1, and 2 in a hierarchical fashion (Iwamura 1998). Cutaneous signals are first processed in area 3b (via projections from the ventral posterior nucleus of the thalamus) then are further elaborated in areas 1 and 2 (which also receive some thalamic input) before being sent to S2 or other associative areas for further processing. The hierarchical progression is observed in the increasing latencies of the responses to tactile stimuli (Lebedev and Nelson 1996) and in the response properties of neurons. Indeed, receptive fields (RFs) get larger as one ascends the processing pathway from area 3b to 2, and neurons exhibit increasingly complex response properties as one proceeds caudally (Iwamura et al. 1993), such as a selectivity for direction of motion (Pei et al. 2010) or the orientation of edges (Bensmaia et al. 2008). In addition to exhibiting complex cutaneous RFs, neurons in area 2 also receive proprioceptive input, suggesting that this area mediates the integration of cutaneous and proprioceptive information to achieve a three-dimensional percept of objects.
Cutaneous and proprioceptive neurons from S1 then project to S2, which is functionally divided into different fields: anterior, central, and posterior (Fitzgerald et al. 2004). Neurons in the central field are sensitive to cutaneous stimuli with RFs that often span multiple digits (Krubitzer et al. 1995). Some neurons exhibit orientation selectivity over their (large) RFs (Fitzgerald et al. 2006) and even more complex shape tuning properties such as a selectivity for orientation (Yau et al. 2009). In contrast, neurons in the anterior and posterior fields are more sensitive to proprioceptive stimuli than to cutaneous stimuli (Fitzgerald et al. 2004).
In addition to processing cutaneous and proprioceptive stimuli, both S1 and S2 process noxious stimuli (Treede et al. 1999): S1 neurons seem to encode pain intensity while S2 neurons may be involved in signaling the presence of any pain (Timmermann et al. 2001).
Cross-References/Related Terms
Copyright information
© Springer Science+Business Media New York 2013