Recombineering
Living reference work entry
DOI:
https://doi.org/
10.1007/978-1-4614-6436-5_96-2
Definition
Recombineering is a method for constructing recombinant DNA molecules in vivo, using homologous recombination in
E. coli
or other cells (Sawitzke et al.
2007
; Sharan et al.
2009
). In this approach, linear dsDNA molecules introduced into the cell undergo recombination at homologous sequences to generate novel sequence combinations or to insert DNA into the chromosome. The cells used in the method express three bacteriophage proteins that (1) degrade the 5′-end of one strand of the dsDNA, (2) bind the resulting single-stranded DNA and promote its annealing with complementary DNA, and (3) protect the linear DNA from degradation by the
E. coli
RecBCD enzyme. The combined action of these three proteins brings about recombination of the linear DNA with homologous sequences in the cell's chromosome or in other DNA in the cell, such as a plasmid or BAC (Fig.
1
).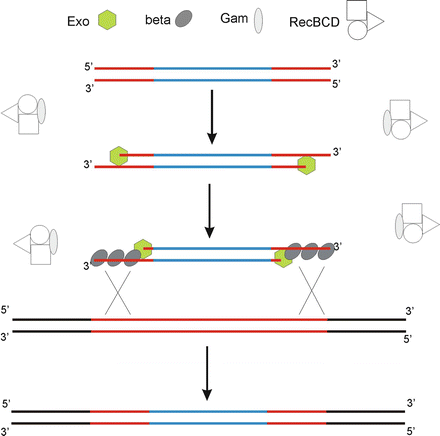 Keywords
Bacteriophage Lambda 
dsDNA Molecule 
Introduce Point Mutation 
Linear dsDNA 
Lambda Exonuclease 
These keywords were added by machine and not by the authors. This process is experimental and the keywords may be updated as the learning algorithm improves.
Copyright information
© Springer Science+Business Media New York 2014