Linear Fresnel Collectors
Reference work entry
DOI:
https://doi.org/
10.1007/978-1-4614-5806-7_679
Definition of the Subject and Its Importance
Linear Fresnel Collectors are a subgroup of linear concentrating collectors . They use linear receivers and reflectors, which are segmented in single axis tracking heliostats. The reflector segments are typically aligned horizontally and track the sun such that the receiver is illuminated without need to be moved (see Fig.
1
).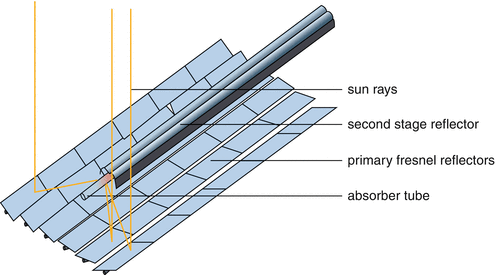 Bibliography
1.

Silvi C (2009) The pioneering work on linear Fresnel reflector concentrators (LFCs) in Italy. In: Proceedings SolarPACES 2009, Berlin

Google Scholar

2.

Rabl A (1985) Active solar collectors and their applications. Oxford University Press, New York

Google Scholar

3.

Welford WT, Winston R (1978) The optics of nonimaging concentrators. Academic, New York

Google Scholar
Copyright information
© Springer Science+Business Media New York 2013