Cycloid (Europa)
Reference work entry
DOI:
https://doi.org/
10.1007/978-1-4614-3134-3_95
Definition
Chains of arcuate segments linked by cusps (Kattenhorn and Hurford 2009).
Related Terms
Cycloidal ridge, Cycloidal crack, Cycloidal band, Flexus
Description
A cycloid is a series of linked arcuate segments. Cycloids have been observed on Europa at both global and regional scales and with a variety of morphologies. Some appear to be hairline fractures, while others have well-developed flanking ridges. Several wide bands have been identified with the characteristic linked segment morphology of cycloids, and many of these also exhibit strike-slip offsets (Kattenhorn and Hurford 2009, and references therein).
Morphometry
Widths similar to other cracks, ridges, and bands. Ridges consisting of multiple segments up to >1,000 km long (Fig.
1
).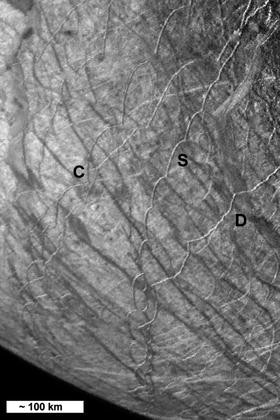 Copyright information
© Springer Science+Business Media New York 2015