Cutoff Chute
Reference work entry
DOI:
https://doi.org/
10.1007/978-1-4614-3134-3_94
Definition
A flood-incised chute or floodplain channel that evolves into the dominant conveyor of river discharge (Constantine et al. 2010).
Description
A new channel section along a swale between point bars (Stolum 1996).
Formation
A cutoff chute develops when the river cuts through its own point bar (Fig.
1
), producing a new channel across the neck of a meander (e.g., Güneralp and Marston
2012
). It leaves two channels in the meander bend with an island instead of a point bar near the apex of the river bend (Julien
2002
).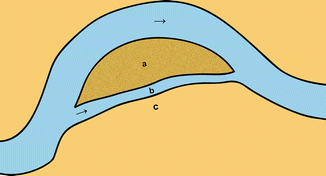 Copyright information
© Springer Science+Business Media New York 2015