Crater Floor with Irregular Depressions
Reference work entry
DOI:
https://doi.org/
10.1007/978-1-4614-3134-3_75
Definition
Steep-walled depressions on the floors of craters.
Description
Mars: depressions on the floor units of impact craters (Fig.
1
). Depression walls often have straight segments and exhibit layering. The parent craters tend to be shallower than the surrounding (i.e., 'notdepressed') craters (Korteniemi et al.
2005
,
2006
).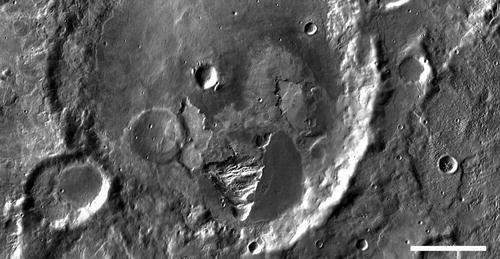 References
Korteniemi J, Kostama VP, Törmänen T, Aittola M., Öhman T, Lahtela H, Raitala J, Neukum G (2005) Complex geology of two large impact craters in Tyrrhena Terra, Mars: detailed analysis using MEX HRSC camera data. J Geophys Res 110, E12S18. doi:10.1029/2005JE002427

Google Scholar

Korteniemi J, Aittola M, Öhman T, Raitala J (2006) Floor-fractured craters on the terrestrial planets – the Martian perspective. In: Wilson A (ed) Proceedings, 40th ESLAB – first international conference on impact cratering in the solar system. ESA special publication SP-612. ESA-ESTEC, Noordwijk, The Netherlands, pp 193–198 (CD-ROM)

Google Scholar
Copyright information
© Springer Science+Business Media New York 2015