Crater Cluster (Atmospheric Breakup)
Reference work entry
DOI:
https://doi.org/
10.1007/978-1-4614-3134-3_74
Definition
Group of separated (sometimes overlapping) impact craters that formed simultaneously, likely by the breakup of an impacting body in the atmosphere.
Description
A given cluster's size depends on atmospheric density, strength and density of the impactor, and speed and angle of atmospheric entry. Individual craters in Martian clusters have diameters of a few tens of meters down to the limit of detection, and the clusters can be spread over areas from 10s of meters to a few 100 m across (Popova et al.
2003
;
2007
; Daubar et al.
2013
). On Venus, irregular craters are a tight cluster of 1–10 km-sized impact craters characterized by irregular and/or discontinuous rims and hummocky or multiple floors (Fig.
1
).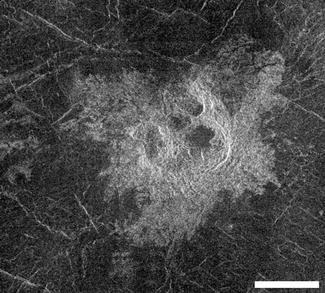 Copyright information
© Springer Science+Business Media New York 2015